Beware the Delivery Skipper

Renegade
Tony Porter
Thu 12 Nov 2009 20:43
Well finally here we are with the Renegade all back together and re-commissioned; for those of us who may at one time or another wish to have our 'Pride & Joy' delivered from one place to another, without being on board 'Beware!!'
Attached to this blog are some of the damage sustained photo's - During the lengthy correspondence with my 'Professional Skipper' let me use just one quote for your amusement -
"I accept no liability for the peripheral damage caused by the strong wind incident during the early hours of 22rd July, nor for what can only be described of wear and tear of running rigging. This passage involved approx 1200nm offshore. The reason your yacht was insured for all risks is because there is a likelihood of damage from the elements during such a passage. I am not responsible for the outcome of a situation I did not cause either by negligence or mishandling."
Unfortunately I cannot attach more as this whole issue is the subject of pending litigation. Except to give you a little list of the damage initially (minor) reported and then subsequently found:
Main sheet blocks smashed, sheet fixing point pulled out of boom, sheet frayed

2nd reefing line snapped, blocks crushed at mast foot, block detached from becket on sail.

Underdeck organiser crushed pulley from overstress

Main Sail slides ripped out at mast and boom outhaul, 2 battens smashed, ends through sail

Portside both guardrail wire stranded and stanchion bent over (preventer was rigged through the guard rail to midships cleat!!)

Water (fresh) damage in for'd cabin from hatch being left open in rain

Flat screen tv & laptop serial interface cable sea water damage (both had to be replaced) from port cabin top window open sea water ingress

Paserelle (fixed down on deck) caught up in mainsheet, axle & wheel bent and gel coat damage on coach roof hatch garage from at least 4 impacts of axle (uncintrolled gybe's)

Spray hood top torn by boom gybe when vang pulled down hard

Mold in plate/cutlery lockers, bunk cushions, not a single clean cloth or towel left!!

More than 190 hrs put on the engine (on a Hanse 370...renown for its legendary sailing capability!!)

Stbd cockpit locker, liner split and water damage through to stbd aft cabin (they put the full spare diesel fuel cans in there!!)

Water in the bilges and every where...
My sympathy is with those delivery skippers who do take care and treat our 'Pride and Joy' as their own; such a shame that the minority can behave in such an entirely un professional manner; So owners be warned, check him out well, I did'nt I was in a rush to get home to a very 'poorly' 87 year old mother and expected an advert in Yachting Monthly to be 'bona fida'......
In more than 40 years of sailing I have always looked after charter and friends boats as my own and this recent experience has certainly opened my eyes especially that in the view of my delivery skipper "The reason your yacht was insured for all risks is because there is a likelihood of damage from the elements during such a passage." Perhaps it is reasonable to assume that given good seamanship in fact much or all of the damage could have been prevented; oh and his report stated the max wind at the time of the damage was 28knots with gusts to 34knots!!...oh and he was in his bunk at the time!!...with a thunderstorm and just one crewman on the helm!!....just as well they were not out in a real 'blow' eh !!
Skip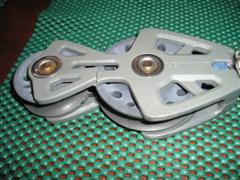 ---