Next attempt for Portugal

Quesera
Sun 7 Sep 2008 08:48
Sunday 31 August saw us back on the boat to try again.The radar seemed to have repaired itself, and we set off to cross Biscay, again heading for Portugal. Biscay has a well-deserved reputation and we seem to have met most of it on the way. Our jib furler had jammed, our rod kicker had snapped, the spinnaker pole and some life saving equipment ( life buoy and inflatable drogue) was ripped off the boat by the most enormous wave and the radar failed again. We rescued the life buoy etc in steep seas as I certainly didn't want it with the boat's name on it floating around in Biscay! We were going due south rather than where we should be and then suddenly there was no wind at all ( as indeed was predicted by the Grib files we were able to download -great system).
On the way we used the Hydrovane self steering which coped magnificently and the Duogen for electricity which is also a most impressive piece of kit.
We could see there was another mighty storm on the way around Finistere so we decided to hole up in La Coruna on the north coast of Spain for shelter and to arrange such repairs as we can manage. There were about 8 other ARC boats with the same idea. Coruna is lovely and the Marina staff were most helpful, but it was not that convenient for our flights which were prebooked from Oporto needing a train trip to Vigo then bus onwards!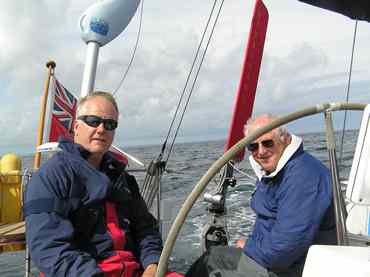 Attempting to repair Radar Jock and Gerald enjoying the Duogen in wind mode and the Hydrovane
---