Day 23 - End of 3 Men in a Boat Saga: We Arrive

Quesera
Mon 15 Dec 2008 13:08
Well, we haven't arrived yet actually!
It's just that my publication deadlines mean that I am obliged to report News before it has happened. This is a common and unfortunate feature of all modern media communications. You know the sort of thing: " Gordon Brown will say in his speech to Parliament today blah, blah,blah…". It's really monstrous behaviour in reporting because it's bad enough having to hear what he says when it happens let alone having the day ruined by hearing it twice!
Be that as it may. We have had a real variety of weather over the last two days. Saturday afternoon was a real disaster with a forecast for winds in the 10-15 kts bracket. Sadly the day was spent at the bottom end and even below that. Que Sera sails well in a 15, she doesn't in a 10 at which point the wind is just not enough to fill the sails sufficient to overcome the motion of the sea. We then just flop around with flapping sails. So it was all rather depressing given we only had 2 days to go. We re-advised our ETA to Monday Night/ Tuesday morning.
However at dusk the wind picked up and squalls started coming through. These were the biggest we have encountered on the whole trip. I saw a small one develop in front of my own eyes about 8 miles away. We had the spinnaker up which makes it difficult to manoeuvre on a one person watch. I sheeted in, pointed up and tried to escape it. No way – It had my name on it! And it just got bigger and bigger. I called the crew up (well that's what the crew is there for isn't it?) and we just got the spin down in time and then I had a massive soaking for half an hour. We measured it on the radar and it was 6 miles long and wide, and that's out of a mere cloud formation 45 minutes earlier. After that we went with poled out the jib and pottered along again…..
…until the next Biggy - my experience was nothing compared to Jock's.
As his watch as due to end at 3 am, he was hit by a quite violent rain storm with wind coming from all directions/going round in circles. The boat gybed which broke the safety link in the preventer. Mike came up for his watch and was incredulous at what he saw. He said he was as wet in 30 seconds as if he had fallen in a swimming pool! Between them they were able to get matters straight. I fortunately slept through the whole thing (well that's what the crew is there for isn't it?).
Sunday – non Blog day – gave us a better forecast. In fact the winds during the day and night have beaten that. Average wind speeds of 18 kts with highs of 23/25 have kept us bowling along at 7 kts or so. In fact it is the best wind and sailing of the whole trip! This means we should make our tea-tine arrival this evening. So another revised ETA has been posted off. It is our last 24 hrs and there was no squall during the night (they like to come between 10 pm and 3 am apparently)!
What an experience it has all been. The experience of being with 2 mates for 3 weeks cooped up in a space 11 by 3.5 mtrs max is one (and, yes, we are still mates. Well that's my view and as skipper I decide these things). The sailing experience and techniques learnt is another. But I think my best 'experience' has been the quite wonderful, and wondersome even, views of the skies – the dawns, the clouds, the dusks, the moons and stars – which I waxed lyrical about last week. And it's certainly not the daily view of the innards of the water maker which I have had to coax to life (but to be fair it has produced around 1,500 ltrs of water which it would nave been most inconvenient to have forgone to say the least).
And, my greatest regret/disappointment? Well, in the same vein it has to be not taking a picture of Mike rushing around the cockpit in the rain with every conceivable water receptacle to catch the showers when we went onto emergency water rations. We had buckets, saucepans and bowls everywhere!
And Jock's: (Jock –'The Auto' if you recall as our indefatigable helmsman). His greatest experience is the feeling of surfing down the waves with spinnaker in full bloom, as it were, which he describes as "similar to off-piste skiing – you know you're on the edge, not in control and could come a cropper at any minute!" (Ed: not sure I really want to know this). And his biggest regret/disappointment is not having the Radar on at the time of the aforementioned squall in order to save battery power. This he describes as "a false economy and rank stupidity"!
And Mike's: Well he found it difficult to pick a favourite. Top was probably the awesome power and scale of the ocean coupled with the ability to surf on the top of it. Also the skies with, in particular, the most amazing shooting star he saw last night. And disappointment: "The morale sapping 2 days going into a head wind coupled with the watermaker breakdown" Quite! But he has just given me another:" The sight of you, Gerald, reaching up in front of the squall - a bit like tilting at windmills Don Quixote style with the spinnaker pole!" Honesty compels me to include it……
So the blogging will shortly end. Having atrociously announced the News of our arrival today, I will do a postscript tomorrow to report how the finish actually went. We think we can see St Lucia in the distance. You can tell islands because they normally sit under a cloud but with so many clouds we may be going to wrong island! Who knows?
It is my custom to append a photograph or two. To be honest I am rather running out of items to publish! It would have been nice to have had a picture of Pigeon Island as we approached the finish, but as noted we're not there yet. So what I have done is to include a rather artistic view of a winch, with the "winch 'andle" in it, in juxtaposition to the main sheet. This is to remind everybody: a) never to do this, and b) to remind us of the one that the main sheet sent to Davy Jones' locker. The torch is also the third of two that went overboard!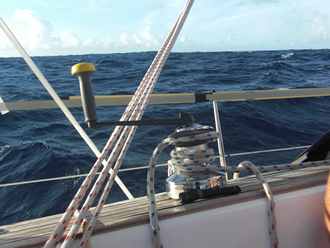 About to be an ex winch 'andle. Do not try this at home............

By the way "winch 'andle" is our take on the Two Ronnies sketch (four candles/fork 'andles). It has us in stitches constantly – well come on there's not much to laugh at at out here!
Final update tomorrow, Bye for now.
---