Day 18 - The spinnaker is a necessary inconvenience!

Quesera
Wed 10 Dec 2008 16:18
Well at least that's my view. They are great when they are flying, but getting the contraptions up and down and trying to unwrap them from around the forestay requires the patience of Job, the strength of Hercules and the brain of The Mighty Wizard. Collectively this skipper and crew lack such much needed skills!
Our fortunes changed dramatically yesterday around midday just after sending yesterdays hitherto depressing wind conditions. It went right round to come from ENE at around 10 kts. So up went the PARASAIL which we held up all day until the first watch when we poled out the jib in view of the increasing winds. We have been going like a rocket and will pass ''750 miles to go' in a few hours. Most uplifting!
Unlike some of our spinnaker moments:
As avid readers of this blog will be aware, we are carrying and use at various times two types of spinnaker. The first is our normal, petty spinnaker (now sadly patched with a tear) and the other is the new Parasailor which is resplendent in ARC livery and which will in due course probably prove to be either our saviour in terms of getting to the finish( as it is currently) or our total embarrassment.
Both devilish inventions have 'socks' to let free and fly and also to capture them with. With so many pieces of string (uphaul, two downhauls, pole up/down, sheet, guy, sock up, sock down), together with all the other paraphernalia at the bow, it means something is bound to go wrong. And it did/does! Add to that a guy that detaches itself for no apparently good reason which then lets the spinnaker wrap half the top round the forestay and even more turns round the bottom and you have a complete fiasco.
Our parasail (picture in earlier blog) is huge; 105 sq meters to be precise. Our mast is 14 mtrs high and the sail reaches top to bottom. So if you muck it up (and it has a particularly accursed rope on the sock which pulls from both the top, middle and bottom on one continuous loop), then you end up repacking on an 11mtr boat, with useable space of about half that, whilst endeavouring to ensure it is not going to go up twisted again. This is a real challenge! (See pic).
What irks me most though is the trouble we had with my normal spinnaker. When we used this for the first time we took it from its bag all freshly cleaned, serviced and repacked by a so called professional firm. But it wasn't. It had twists and turns in it everywhere with the rope and pulley of the sock set in completely the wrong place. Imagine what that must have looked like to the casual passing boat. Fortunately there wasn't one for miles! Lesson learnt I think…………..
The infernal things are quite enough to send one to drink. Except that that is just not possible as we are a dry boat without a drop of the juice and just able to partake of a 'Sagres Zero - Sans Alcool'. Yes - believe it!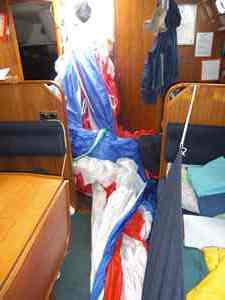 A dry boat! Note the team shirts.This sadly has a picture of my bottom stuck out of
with my head stuck in the Stb'd locker trying to fix the self steering on the passage A ghastly spinnaker re-pack
down. It has the caption " Gerald's leadership style...." It's a so called joke from the
team at Ernst & Young. Very funny - Ha, Ha
Did you know that by entering in the ARC I am raising money for 3 excellent Children's Charities? We have raised a magnificent
£ 9,000 so far. Our ambitious target is £10,000. Please could I encourage a donation through our 'Just Giving' website?
From memory it's www.justgiving.com/geraldrussell
or you can Google your way through it and look for Action For Children
All for now
---