The last leg of Portugal to Lagos

Quesera
Sat 11 Oct 2008 08:37
Well now we back on schedule and sailing from Povoa de Varzim ( an excellent stopover) to Lagos in the Algarve via Lisbon for a change of crew.
First crew was son James and two friends, Will (a doctor)and Bogush (a lawyer), so excellent people to have aboard to discuss the world banking crisis! Great weather for most of the trip, again masses of Dolphins but some motoring on the last day to make our time to Lisbon.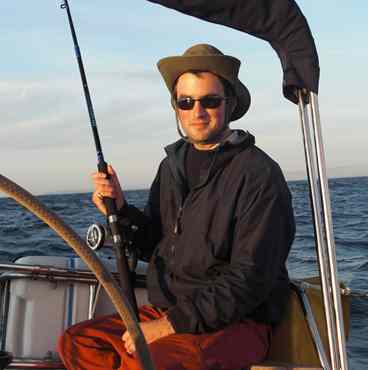 James, will and Bog Attempting some fishing - without any success!
The next leg was from Lisbon to Lagos where Mike and Pat came out for the trip. Sadly we had to motor much of the first 2 days but the weather was glorious.
Rounding Cape St Vincent was spectacular and the wind picked up for a beam reach to Lagos with Que Sera going 8 knots+so we ended there on Wednesday 8 October as planned feeling much exhilarated. This was the second time this trip we were able to catch the right pre-booked flights home. So far the score is 50/50.
Mike and Pat - much needed glamour! Happy helm in Ernst & Young cap
---