15:51.69N 61:36.09W Respect is not Eric Spaghetti

Lady Corinne
iain and gaynor macalister
Mon 5 Apr 2010 21:50
Hi to everyone and, slightly belated, Easter greetings from on board Lady C in the French Islands of Les Saints just South of Guadeloupe. We arrived here this afternoon after another " on the nose" performance from the wind. It's around 18 miles from Dominica to where we're anchored, in a small bay known as Pan de Sucre (A spectacular promontory with basalt pillars) and I'm beginning to think it all looks very civilised. Dominica, a small island with a population of 70,000, was just as we expected it to be and we spent a glorious week there, it was absolutely beautiful and has been relatively unspoilt by the levels of tourism that have affected the other areas of the Caribbean. We spent one night anchored in the picturesque Coconut Beach in the South of Portsmouth and then on Sunday we moved up to the North end of the bay and put our hook just outside Big Pappa's bar. As soon as we'd arrived a boat boy approached but rather than hassle us to buy something he invited us to their Sunday barbecue. They hold one every week to raise money for the yacht security that they offer which involves a boatwatch scheme and night patrols, on the water, around the anchored and moored visiting yachts. It's a good scheme and I'm sure it's well intentioned but I'm not altogether convinced it's needed as the Dominican people on the whole are a very lovely race and are very kind and helpful. I was quite surprised on Good Friday when Gaynor and I had taken our dingy up onto the beach and gone off to snorkel and look for turtles. When we got back to the beach I was aware that a situation had developed where a local guy and his brother had floated out, on a big inner tube, to where an American yacht was anchored. They went fairly close and started talking to the people on board who apparently got "Very personal" and threatened to call the police, one of the security boats that was around saw something going on and came to check it out and told the locals to go away from the boats. I was greeted later on the beach by the so called "perpetrator" and can only say that he was one of the nicest Rastas you could meet and we chatted for some time. He was interested in meeting people who visited his country as a lot of them are. I think that paranoid visitors do overreact when they are approached by locals and am appalled that a local guy coming to a beach in his country can be threatened with police action for talking to a visiting boat.
Apart from that one incident the rest of our time on "The Nature Island" was bliss and we hired a car for two days and went off exploring. We visited Rainforest trails, Cold Sulphur pools, Waterfalls and rivers and we loved every minute of it. The Island is far from big and the rich diversity of it's topography makes it very interesting. The roads are, considering how challenging the environment is, on the whole very good although we did come to one area where there had been a big landslide and we had to wait for the diggers to clear a path for us. The views are spectacular, the scenery larger than life and the vegetation is ridiculous in its variety, size and quantity. We have never seen so much of everything growing and, as they don't really harvest it, it just appears to fall from the trees and be left on the ground. The Mango trees are heavily laden with fruit and next month will certainly be a really good time to be there. The volcanic soil is extremely fertile and everything grows in abundance, my favorite find was the cashew nut, we stopped to get a drink and some fruit from a roadside vendor and they had a very strange looking fruit with a thing on the top that looked like a parrot's beak. It was one single cashew nut and the guy there showed us how to cut the shell in half to get the nut out and said you can also eat the fruit. I was amazed and, determined to see where they grow, accosted a very old Rasta who was walking down the road, a little bit later on, carrying a bag of fruit. I asked if he knew where I could see cashews growing and he said that while he didn't have any he knew where one of his neighbors had some and said if I parked up he would take us there. They are truly amazing and it's no wonder they're so expensive as each single nut has a fruit attached to it the size of an apple which you can eat or make juice out of and the nut sits in it's shell on top of it, I will stop complaining at the price now that I have seen them growing. We ended up near to an Eco-lodge and decided to have a look, it was set in beautiful land and was owned by an English guy. We asked to see the huts and were told it was a hard 15 minute hike up to it. Feeling sure we would like it we ordered dinner, which was outsourced and delivered and served in the Al Fresco dining room at the bottom, and set off up the hill with Lincoln the guide. It certainly was a hard climb and arriving at dusk, with no electricity in the hut and facing the prospect of a 15 min. walk back down to eat and then up again to sleep we decided that, after such a long time on the boat we really wanted a little more comfort that the lodge could offer. We headed back down and told the owner that we weren't going to stay but as the food had been started agreed to stay and eat there. He told us of another place and we went there and spent a very comfortable night in a bed that didn't move once and woke in the morning to find a spectacular view across the Rainforest to the sea. We ran out of time and energy traveling around, as it is a very physical place to explore, and arrived back in Portsmouth late on the second day. We also went up the Indian River , which is another of the "Pirates of the Caribbean" film locations, with a boat boy on an organised tour where they row you up and down. Then on Saturday we decided to do a walk that was fairly close to Portsmouth called "The Syndicate Trail" We had asked the taxi drivers how much they would charge to take us there and they wanted 100$ US which I thought was a bit too much. We asked some locals and they told us we could get bus up to where the road turns off to the trail and then walk up. This was looking good, the bus cost us 6$ EC ( about £1.50 ) and we set off, once again as mad dogs, and started walking up the hill. Well we walked for 6.5 hours and I promise none of it was flat and the heat was intense, we were completely exhausted but it was a lovely day. On the way back down at around 5pm we were rewarded by a pink flowering bush which, at the moment we chose to pass it, was hosting the "Prettiest Hummingbird on the Island" competition and they were all around showing off their aerobatics and at the same time exposing the most amazing array of electric colours I have ever witnessed. The picture I have attached by no means does it justice and most of the brighter colours are only visible when they are in flight, we did manage to get some video footage of them though so I'm hoping that shows it better. These little birds are usually very hard to spot but they were in abundance all around this bush and we saw several different species. They appeared to be quite territorial and were chasing each other away in a fairly aggressive manner but they were such a treat to behold. The blog title is another example of the strange things these people write, this one is the name on one of the boat boys boats. On our last night in Dominica we met John, who had sailed here from the UK with his brother Chris. John was on his own as his brother had returned to England for a short time. On talking to him about fishing, it turned out that he had a lot of fishing equipment with him and that he was selling it to help finance his trip. As Gaynor has still not had any success as a Billinsgate supplier John convinced her that she needed a silver squid lure and that if she had one she would be assured a regular and copious quantity of Dorado,Tuna,Barracuda and Dolphin fish. Well before we left we visited John and purchased said lure which we trailed on the way here, admittedly it was neither early morning or late afternoon,apparently when fish feed, but we didn't even get a bite. After a few days in Les Saints we are heading for Marie Galant a short stop in Guadeloupe and then Antigua for the Classics racing week which starts on the 15th April. When that finishes we will be heading to Sint Maarten, to visit Gaynors friend Rebecca (who sailed across the Atlantic with her and Duncan to Gibraltar) before returning to Antigua to meet Zara & Simon when they come out for the week.
Hasta Marie Galant
LadyC and her fish starved crew.
Tristan. So good to hear from you and we all miss you lots too and wish you were still with us - watch this space for some mega fish catching stories in the next couple of weeks.
Portsmouth harbour Dominica.lnk
Description: Binary data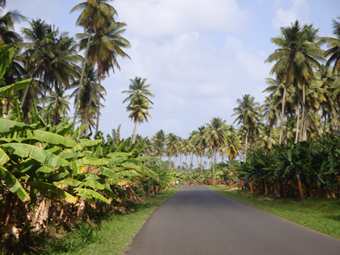 ---