Dexter comes of age 21:54.17N 20:15.65W

Lady Corinne
iain and gaynor macalister
Mon 21 Dec 2009 11:01
I left Corrine way across the sea. I left Corrine way across the sea. If you see Corrine,send her back to me. Corrina, Corrine, Corrina, Corrine, I Iove you so.(Dean Martin)

Good evening and welcome aboard, we start tonight's blog with the very exciting news that this afternoon we welcomed on board "Tristan el Dorado" thanks to the sublime combination of Dexter de Lure and Max Dixon. After our Marsupial nephew and crewmate trailed a lure for the entire 1700 mile passage from the UK to the Canaries to no avail we had all but given up hope of a catch. But tonight's dinner will be mostly line caught Dorado fillets pan fried in garlic and olive oil and of course it's dedicated to you Tristan, What a stunningly beautiful fish, with bright golden yellow skin and a blue comb like fin running the length of it's back, it probably weighed around 2 kilos - Dinner for 3? If there's some left over I'll get Max to hang it in the rigging to dry and we'll make it into tollo and send it to you "down under" you deserve it, you worked so hard on the way down and finding you baiting the hooks with Branston pickle only made me realise just how desperate you were to catch a fish. Yesterday we were unable to make much progress as the wind was very light. In the morning we dropped the Twistle and got out the big boy Cruising chute (Large lightweight sail that goes right at the front, it's got quite a full shape to catch what wind there is) Max spent the whole day on the helm hand steering and had us all very involved in serious racing tactics, Gaynor and I had to sit on the leeward rail (the edge of the boat which is away from the wind) alongside full diesel containers and then we dropped the boom right down to the leeward rail as well for additional weight! We were hardly allowed to move from our positions, which as it was a nice bright sunny day wasn't too much hardship. All this was to keep the boat trimmed and try to keep the sail filled with wind as we went up and down on the Atlantic swell. As a result we did make progress until the evening then the breeze died and started going round and round in circles until we were eventually becalmed. Gaynor had a nocturnal visit from some more dolphins which she says were spectacular as they were cavorting around and highlighting the phosphorescence making them appear like torpedoes under the water, I thought they only did matinees I'll have to keep a lookout for the nighttime spectaculars. Today was a day of steady progress in the right direction and ship's log shows over 600 miles traveled so far, not bad considering the petulant weather we have had to deal with. We managed to get the wind instrument talking to the Autohelm computer today and are now able to set it to sail by maintaining the wind set degrees off the bow and it reacts to the wind shifts and maintains the setting, all very clever and as we are in changing winds an absolute godsend. We've had it on since this afternoon just before we caught the fish (sorry Tristan)) and we're currently cruising at 5+ knots with the wind at 60 degrees off the stb'd bow all sails set and the boat seems very happy and "in the groove". It's a beautiful clear night with a 3 day old moon hanging in the sky like a big, happy, ear to ear grin and casting a silver path across the water to where I'm sitting to write this. The sky is totally clear and by the time I come out for my next watch at 0200 hrs the moon will have gone below the horizon and the familiar canopy of out of place stars will, I hope, be at it's enchanting best. I'm very sorry for the shaky start to the blog postings but all modern technology has weak links and in the case of our communications system I am, a little reluctantly, holding my hand up because it would seem as though it's me. I hope I've cracked it now but I would like to know if the pictures I send with this are rubbish so I can find the optimum settings for the programme that I use to resize them and make them into smaller files that the sat phone modem can handle.
Hasta Pronto
Lady Corinne and all the crew (Except Tristran el Dorado 'cos we've just eaten him, and very nice he was too!)
Louis - Dad says you'll be very pleased to see that you can catch fish with a rod and line, and very proud that he is the first person to bring a fish aboard Lady C. Thanks to you and Bibi for letting us borrow him and we'll return him soon - nice tortilla Bibi
Richard and Anne - Welcome aboard, It was lovely to meet you both in Mogan,do keep in touch.
Pam and Vic - Sorry for the coms probs - all down to me being a numpty I'm afraid.
Alex - Max sends his love as do we all - Hope you'll be very happy in your new place thanks for the update and please give our love to Jeannie.
Salsa peeps - Have you all forgotten me already?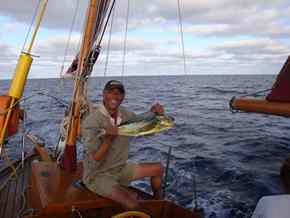 ---