Home again

Lady Corinne
iain and gaynor macalister
Tue 2 Feb 2010 20:39
We're back on board! Thanks to everyone for their messages of sympathy,
they were gratefully received at such a dificult time. We left Rodney bay
last Sunday and got a taxi to the airport where, shortly after booking in,
we heard an announcement telling us that the flight we were supposed to be
on was postponed until 10.00 am the following day as the captain was sick.
A very pleasant Lady from Virgin said she would see if she could get us
onto a BA flght, with 10 available seats, that was leaving 5 hours later
and managed to do just that. Although the circumstances, of our return
to England, were very sad it was good to see loved ones again and a real
bonus when our son Duncan turned up, totally surprising us from Australia,
on Tuesday morning. We managed to give Jeannie a good send off and on
Friday we all departed, in different directions, us to St Lucia, Duncan to
Sydney and, shortly afterwards Zara & Simon to Tignes for a snowboarding
holiday. When we got back to St Lucia Gaynor and I decided to have a
couple of days off to get back into holiday mode as I was still feeling a
little sad and didn't actually want to come back and carry on. I did
realise that not coming back wasn't an option and felt sure that the
feeling would pass. We got up on Saturday morning and blew up the dingy
and went off to Redouit beach where we landed in front of the St Lucia
Yacht Club. From there we walked along the beautiful golden sand with the
turquoise Caribbean water, kissing the beach after it's long voyage, to
the far end and whilst Gaynor went for a quick snorkel I got talking to a
local guy who'd just arrived on the beach by windsurfer. His name was Gill
and we chatted for a while before he offered me his windsurfer and I had a
go, unfortunately the wind had died and we were in a very sheltered area
but I did just manage to get it going a couple of times before giving up.
He told us that he ran a fish fry at Gros Islet, a short distance from the
Marina and said that we should go there to eat later. Gros Islet is where
they have a "Jump Up" every Friday that we had intended to go to but,
having only had 2 hours sleep before our flight as we were up to say
goodbye to Duncan at 4am, we made the fatal mistake of just having a rest
before we went and missing the whole thing. We left Gill and walked back
along the waterfront to the Yacht Club where we had a drink, looking out
over the spectacular Rodney Bay with all the different boats lying to
their anchors, while Hobie cats,windsurfers and all manner of colourful
small craft plyed back and forth between them. Back at the Marina some
Italians on a ship called "Brigante" that we had met in Cape Verde had
been to our boat looking for us so we went to find them and exchanged
stories of Trans-Atlantic passages, probably a bit like fishermens tales,
before heading out of the marina and getting into a bus to the fish fry.
Arriving in Gros Islet we asked for Gill in one of the many bars and there
was no hint of recognition. Then, as we walked down one of the poorly-lit
streets, we were spoken to by an elderly man who, when we said we were
looking for Gill, said that he had heard of us as Gill had told him of our
trip, talk about a chance encounter! He took us to the place where Gill
worked and we ate the most amazing seafood, sitting outside, in the warm
evening air, as a very full moon rose behind some fluffy clouds that were
framed by the fronds of a coconut palm. The scene was idyllic and the
food wonderfull, and so cheap, I had a Marlin steak and gaynor a small
tuna fish both cooked to perfection. She also wanted to try Conch (Lambi)
and as I had heard that it has to be cooked just right I thought we were
probably in the best place to try it we ordered one as dessert.
Unfortunately she didn't like it but at least she tried it in the right
place. With 6 beers and a rum for Gill the bill was only 80 EC Dollars
which is arounf £20. I invited Gill to the boat to see our home the next
day and took the dingy to his beach at 11 am where he was waiting and
brought him aboard LadyC for tea and cake (Simnel cake fresh from the UK,
thank you Vicki) He loved the boat and said he would like to sail with us
when we go to Soufrierre which is only a short distance to some hot
sulphur baths and a crater that you can walk to. Although we won't be
coming back from there we have told him that we will put him on a bus back
to Gros Islet. He is so excited about coming on a boat trip and being
Captain Gill for the day it's wonderful to see. We spent the day with him
and walked up to the top of both peaks on Pidgeon Island. They used to be
the lookout stations when England was at war with France for the Island
and are both interesting and high, affording panoramic views accross the
water to Martinique and all around St Lucia. Being with a local is so
good as Gill seems to know everyone and everything about the Island and
tells all his family and friends that we meet that he is coming sailing
with us. He won't go down below but likes the idea of being on the boat
not in it. People here are so friendly and genuine it a real pleasure to
be with them and their smiles are big enough to engulf you. Gill
introduced us to his brother Ricky who,together with Summer, have a small
food and drink table set up right on the waterfront. They sell all manner
of drinks including a very potent spiced rum which is delicious. It's the
sort of place you would walk quickly past if you were here on holiday but
after Gill had introduced us we were treated like family. Summer who has a
lovely big Island smile does all the cooking and said we should come to
eat there the next day, she promised to get Plantain (A large green type
of banana that they use like a vegetable) and I was sold. We've been there
2 days running now and the food is amazing, real Creole cooking at it's
best and not something that you would get easily in a restaurant. She
cooks a lot of the dishes at home and then barbecues the chicken,meat or
fish on the beach under a big blue plastic tarp that is hung from the
trees. There are always interesting people passing through and it's great
to have really enlightening conversations with Rasta guys sporting their
huge dreads or massive hats with all their hair tucked up in side them.
Another boat that we were in Mindello with arrived yesterday, it is full
of an eclectic mix of characters and it was great to see them again but
they had a terrible crossing, losing most to the top part of their mast
just above the lower spreaders, about 500 miles out from Barbados. Out of
fuel and low on food and water they managed to get 40 ltrs of diesel from
a Russian ship and limped into port. They tidied the damage up and came
the rest of the way with a jury rigged main. It's such a shame and I feel
really sorry for them, it's going to take a lot to get it sorted and I
think they may get it shipped home as deck cargo, the end of a dream! We
still have the prop to sort out as I have no revs going ahead and no
drive(but plenty of revs) going astern. I really don't understand it and
will have to phone the manufacturers tomorrow to see if I can find out
what the problem is. In the meantime here are a few more photos so you can
see how lovely it is here.


Hasta Pronto



Lady C and her Creoled Crew.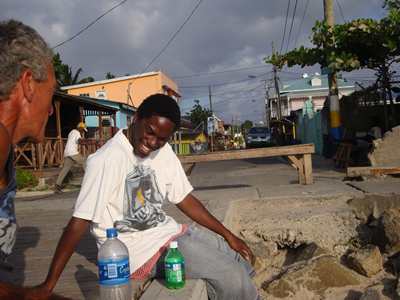 ---