27:49.30N 15:45.96WTime to go?

Lady Corinne
iain and gaynor macalister
Fri 11 Dec 2009 18:32
How do you leave such a lovely place where the sun shines for 360 days of the year? We're not too sure but we know that it is now time to get going again. Lady Corinne has had so much done to her since we arrived here just over 3 weeks ago and she is looking fabulous. She has a constant stream of admirers walking past and they all stop to ask where we're heading and wish us good luck. The coach house sides are all repaired and have been painted with the same ivory coloured paint as the topsides, to reflect as much of the blistering heat as possible, and they look great. I was very reluctant to cover the beautiful mahogany wood with paint but now that they're done we actually quite like it. Everything else has been done and on Wednesday Gaynor and I were waiting outside the local Hiperdino market when they opened to buy all the provisions for a month at sea. Three hours and some euros later we returned to the boat and 10 minutes later the delivery arrived in 12 large crates. The next task was to wash absolutely everything in a mild bleach solution to stop too many cuckarachas hitching a lift to the Caribbean with us. A passing German couple who stopped to ask why I was doing this seemed quite happy with my explanation that it was something we did every two days to keep the food clean! That took all day to do and stow and we finally sat down in the cockpit to enjoy a well deserved cold can of Tropical beer as the sun went down. This morning saw us on the foredeck wrestling with the two spinnaker poles we have to control the twin foresail Twistle rig which is the new sail that we brought out with us. We made up a rope crucifix and attached the inboard ends of the poles to the east and west ends, north was hauled up the mast on the spinnaker halyard and south down to the stemhead. We ran the new sail out to the outer ends of the poles and got it all connected, much to the amusement of the many passers-by as today is market day and people come from all over the island. It probably looked as though we were still partying from the night before as we pranced around trying to understand and control all the different lines whilst appearing to do some thing which probably resembled a drunken samba dance. Anyway it was a great success and the rig looked awesome and very powerful, can't wait to get it set properly with the wind behind it and see how it works. Contrary to the text that I sent we are going to be slipping our lines at 12.00 Hrs tomorrow ((Saturday) and heading off. We can't wait to be back out at sea and are both looking forward to the crossing tremendously. I hope you can join us for all or some of it.
Hasta Manyana
Lady C and crew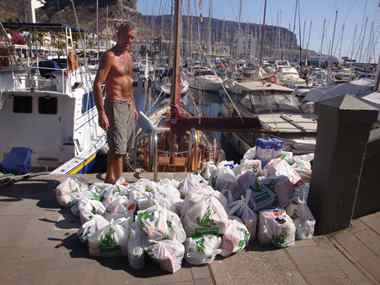 ---