52:05.780N 004:15.996E

Alloro
Colin & Belinda Laidlaw
Sat 21 Jun 2014 10:28
We left the anchorage in Breskens yesterday morning in the company of another ARC Baltic boat working their way to Kiel. We were aiming to get to Ijmuirden or even Den Helder if the tides were kind. We wish we had researched the outward passage a little more though before finding ourselves in a very narrow channel also used by commercial shipping. It was a little disconcerting to find ourselves being overtaken at very close quarters by some very large tankers! Then rounding the corner we encountered 2-3m standing waves mixed up with tanker wake – the sea was a mess and so was the crew! The promised (light) Northwesterlies didn't show so we were heading straight into the wind, again. Fighting our way through all this took a few hours and we could almost relax as the sun came out and the seas calmed slightly, until we reached Rotterdam.... Dodging the traffic was a cinch compared to more 3m waves. Alloro was brilliant, she just kept on going – it was the crew who were suffering.
With only four hours to go before we reached Ijmuirden the engine stalled. Although the diesel tank was still half full, Alloro had been heeled over for most of the journey and tossed and thrown about as well – she needed a top-up! Having emptied the two Jerry cans into the tank we determined to make slow progress towards Scheveningen – only 5 miles away, and arrived tired and dismal about 1800.
We have 60 odd Miles to get to Den Helder then a 200 Mile trek eastwards to Brunsbuttel and the entrance to the Kiel Canal. The weather looks as if it may improve next week so we should still get to Kiel by 1st July. But we are praying to the wind gods to be nice!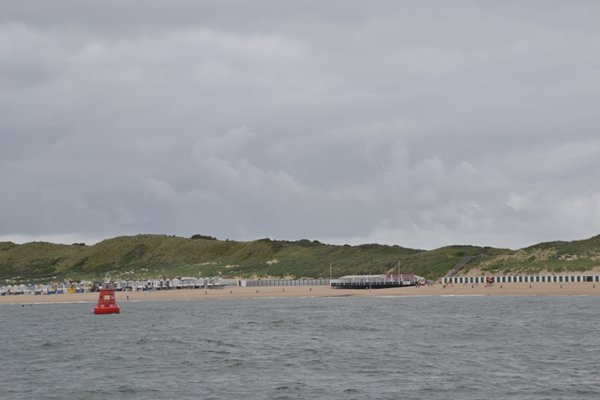 ---