Nazaré 39:35.1 N 09:04.3 W

Stargazer
Andy & Jo
Fri 23 Sep 2022 11:25
Nazaré, Portugal
We spent much longer in Póvoa de Varzim than we expected to – the reason was a storm resulting from the mid-Atlantic hurricane earlier. The west coast of Portugal is fairly straight and almost all of it faces the Atlantic ocean. It's said that harbours can be closed at any time, mainly as a result of huge swells that roll in over many hundreds of miles of ocean. This is what happened whilst we were in Póvoa. The staff moved everyone from the nice friendly 'visitors' marina' over to a newly built, but industrial looking, set of pontoons which were more sheltered. When the wind blew and we saw the breakers at the harbour entrance, we were very glad to have been told to move!
Before I describe our night sail to Nazaré, the mate, never one to be without ideas decided that the only course of action during our elongated stay was to visit Porto, not once, but twice. I'll hand over to her to describe our adventures there…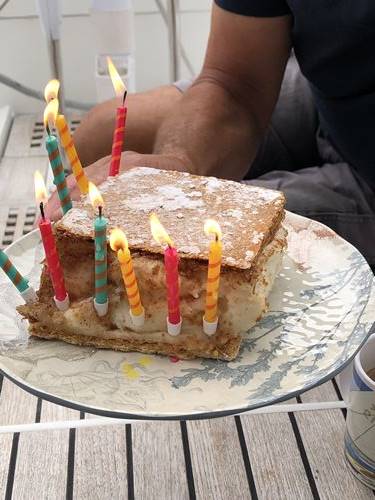 Happy Birthday Skip
Good weather in Porto J
Skip elected to spend his birthday in Porto so, after opening his card (singular as we didn't know where we would be to receive gifts! Birthday wishes, donations and photos of cards were received via electronic means so he didn't feel neglected) and enjoying his no expense spared €1.20 birthday cake which was a sort of half meringue half flaky pastry confection with a lot of sugar, we set off to the metro. Armed with our day rover tickets we hopped on the express train and enjoyed a 45 minute tour south to the city of Porto. As usual I had neglected to consider that Porto might just be a destination city and we were rather overwhelmed by the numbers of tourists (of all nationalities) swarming around – I've never nearly become tangled up in so many walking tours! We meandered through the old town down to the river to look across at the multitude of wine and port cellars on the south bank.
North bank of the Douro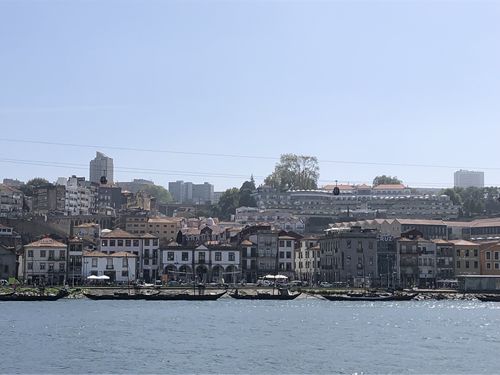 South bank of the Douro – Vila Nova de Gaia
I hadn't booked a cellar tour so instead we went to the Instituto dos Vinhos do Douro e Porto to learn about Douro wine and port before tasting a little port. When in Rome… We then spent late afternoon in the sun outside a lovely bar in the old town watching the world go by and enjoying a beer (or two). By the time we got back to Póvoa it was a bit late to go to find somewhere to eat out so we grabbed some 'easy to cook' stuff from the supermarket. I selected a pizza but Skip (who has been rather adventurous trying local meaty things on our travels) went for a Francesinha – this was neither easy cook nor gourmet, but I think he enjoyed it.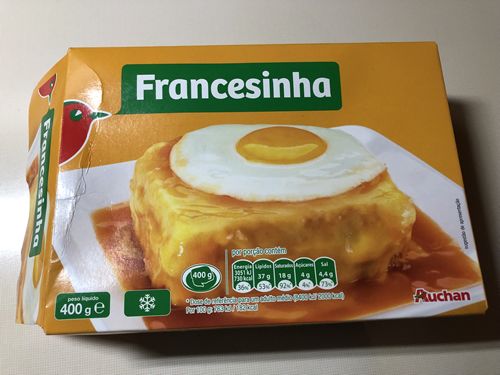 The promise…
The reality!
For our second visit to Porto I'd booked a tour of Sandeman's cellars. This was super exciting a) because we'd get to try three types of port, and b) because the tour would be carried out by the Sandeman's Don in black cape and hat. Expecting a tall, dark and handsome man to swish out to greet us, I have to admit to being a little disappointed when our guide was female! However, we did learn about port and enjoyed the taster session at the end. Being on a cruising budget I'd booked the cheapest taster tour and we had a good laugh with some young Brits and Germans at our tasting table. As we were finishing, the more expensive tour that finished with tasting the more upmarket reserve ports arrived in the tasting hall. We looked over somewhat enviously as the older and more affluent age group enjoyed their ports. As they seemingly couldn't finish all their glasses we did consider swooping in once they'd left, but decided one should maintain an element of decorum under such circumstances. As I was racing through my reading material I had also wanted to visit what sounded to be a magical bookshop called Livraria Lello whilst we were in the city. However, rumour has it that it was the inspiration for some of the Hogwarts scenery in the Harry Potter books so the queue to get in was massive. Ho hum, I will have to stick to the book swap in the marina for now.
Rabelos – the traditional way to transport port from the vineyards to the cellars
Lots of port!
Not quite so much port
No port!
Back to Skip with more on our passage south…
We left Póvoa at 1400 on Sunday 18th September for an overnight sail to Nazaré, some 112 NM distant. It was a lovely sunny afternoon, with little breeze so we motor-sailed until dusk, when we turned the engine off and slowly drifted our way south under full genoa. There would have been no benefit to hoisting the mainsail as it would have slatted around (even with a preventer on it) and it would also have blanketed what wind there was in the genoa. We could have poled out the genoa, but as the wind was forecast to move around by 90°, that would have been more problematic for the person on watch.
Our strategy was simple – by standing well out to sea and not using the engine we aimed to miss the most serious concentration of fishing nets (which are everywhere on this coast) and then, even if we were unlucky enough to snag one, not having the engine on should mean that a wrap around the prop was far less likely.
Around 0300 on the 19th September, we sighted The Plough constellation and a clear Polaris star directly off our backstay, giving a clear indication that we were heading due south (well 190°  magnetic, so near enough). The real beauty of this was that no modern instruments of any kind were necessary, we were using the same navigation aids that our ancestors of many centuries ago used – both a wonder and a privilege. The Plough, being so low in the sky, gave no doubt that we were no longer in UK latitudes, had it not been the first (and only in this case) night out then we might have even practiced our star sights – Polaris being the easy one, as its sextant angle is more or less one's latitude north – amazing!
Whilst the mate, between the hours of midnight and 0300, managed to keep the boat going at around 3 knots (not bad considering the little wind we had) when I was an hour into my watch, the wind died some more and despite our plan to sail through the darkness, regardless, I was forced to resort to some motor sailing. As we were now about 15 miles offshore, I considered the chances of hitting a fishing net to be slight and my major concern was now the ever present swell, pushing us to the east (i.e. inshore). So decision made, motor-sailing it was. The mate did sleep through the noise of the engine though, or at least as well as is possible for anyone to do so. The following day brought cloudy weather but some common dolphins and a small hitchhiker – a very friendly and chatty small, green bird that sat on the rim of my tea cup. It was rather camera shy and the mate's bird ID skills don't extend much beyond seabirds!
We sighted Nazaré at around midday and where tied up by 1400. Nazaré is one of Portugal's only all weather harbours and was pretty busy when we arrived. Initially lying alongside a long pontoon facing the main harbour, I wasn't best pleased when a fishing boat sped by causing potentially damaging wash. The harbour-master, who could previously not be hailed on either phone or radio (he was having his lunch) showed up and directed us to an inner berth – thankfully! Our berth was next to a charming German couple on a 1993 Swan 40 (they were having trouble with their heat exchanger and our spanner collection came in useful to help them out) and opposite a 1972 S&S Swan 44, with a friendly Finish skipper. Both of those yachts are quite iconic and I must confess a liking for them. Stargazer, whose pedigree is along parallel lines to the Swans, sat there between them, holding her head high and looking very proud. Nice one!
Before we sign off on this blog, a quick note about Nazaré: it is one of Portugal's all weather harbours because it has a deep canyon (more than three times the depth of the Grand Canyon) running directly into it, thus keeping breaking waves at bay. We were fascinated by this, as just to the north of the harbour, where the canyon ends and the sea bed shelves steeply, world surfing records are achieved - 26.2m being the largest wave ever surfed! There is some wind forecast for the weekend and the mate wants to walk out onto the headland to see what she can see – we won't take brollies!!
---