Marina Rubicón, Islas Canarias 2 8:51.41 N 013:48.9 W

Stargazer
Andy & Jo
Thu 3 Nov 2022 15:58
Marina Rubicón, Islas Canarias
In contrast to the last blog or two, this one is fairly short, but only because we haven't travelled very far. In fact, the grand total of about 12 NM since the last blog.
We love the Canary Islands. The climate (to me) is perfect. Lanzarote, where we are, was largely designed by the architect Manrique (or should I say the buildings were, the island itself was 'designed' by a volcano of course, ha ha) meaning there are no high rise buildings on the island and all the better it looks for it!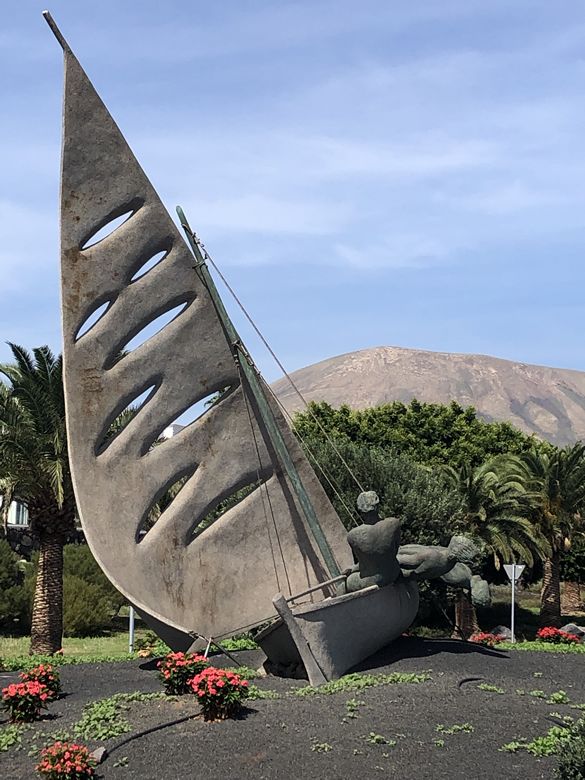 Yachting themed roundabout art
Puerto Calero was an exceptionally nice place to be. It is off the main tourist trail and quite a quiet place. You can imagine my surprise when we arrived and I visited the marina office to speak to the Spanish lady in charge – she looked at my passport and declared in perfect English, with hint of 'northerness' to it, that she used to live in my home town for many years. Not only that but the part of it where I was born. Needless to say we got chatting; she was very kind in offering all sorts of information and all she wanted in return was a decent cup of Yorkshire tea. No problem, we've still got 600 tea bags onboard. What a small world this is!
En route to the beach, Puerto Calero
Although it's mid to late October, it is actually, for sailors anyway, peak season in the Canary Islands. The main reason being the ARC which takes over the main marina in Gran Canaria, so all the other boats in there have to move out. This makes hunting decent marina space slightly more difficult, but we found that we could fill our time here in Puerto Calero to start with and then Rubicón until it's time for us to leave.
Before I hand over to the mate to describe some of our experiences in Puerto Calero and initial impressions of Rubicón, I'll just describe our passage here.
We left Puerto Calero on Wednesday 26th October. The weather was stunning, full sun, about 28°C but with little wind. Undeterred we got full sail up and did our best, sailing in about 6kts of apparent wind. Sadly the pace was a little slow (at 2.5kts SOG (3.5kts when the mate was at the helm!)) which meant the short passage could take up to 5 hours! So instead we opted for the motor and headed to the Papagayo anchorage on the south coast of Lanzarote. We found space to anchor and the mate immediately donned fins and snorkel (I haven't a clue how to do this by the way) and dived down to check the boat anodes and the anchor. Apparently all the anodes are fine (which must be due to the new galvanic isolator fitted before we left) and the anchor had dug in nicely. The latter was especially welcome news as the mate has to steer when we anchor as we have to drop the first two or three metres by hand and lift the same by hand when we weigh anchor. I mention the mate steering as sometimes the mate and engines aren't always the best of bed fellows, although thankfully matters seem to be improving in this regard.
After an hour or two it was time to weigh anchor and head the short distance to Rubicón. I had been to Rubicón nearly 13 years ago when I started RYA instructing and the place felt much the same as it had then. It's quite different to Puerto Calero, but I'll leave the mate to tell you all about that…
We have finally arrived somewhere with wall to wall sunshine – hoorah! I have actually got used to waking up and it being sunny again. What a contract to this time last year with endless storms in Falmouth! What with the glorious weather in Lanzarote and a lack of worries about orcas (sadly a French boat sank off the coast of northern Portugal earlier this week following an orca interaction. Thankfully all crew were rescued) we have finally started to relax. Restaurant and bar prices are also more suited to those on a cruising budget so we have enjoyed some really nice meals out. Highlights for me were a yummy curry and a plate of baked cheese (not the same meal!), and the fact that you can wander around at night without having to take a jumper. At Puerto Calero we discovered a rocky beach just outside the marina which we'd usually head to on a daily basis. Our nearest beach here is Playa Dorada, which is sandy but gets really busy. Luckily we have an on-site swimming pool which is usually pretty quiet and has also become a daily pilgrimage. Next week we have some very special guests visiting who are staying in a swish hotel with a multitude of pools – maybe they'll smuggle us in…
Skip and Mate after a relaxing afternoon swim J
As Puerto Calero to Rubicón was our shortest passage to date it might seem a little strange to break it up, but I was keen to stop at the anchorage on the way to Rubicón, not only to check the anodes and anchor but also to actually swim off my own boat! This was the first time we had been in warm enough water to consider it. It was lovely and clear but the wind kicked up whilst I was pottering around and the water got rather choppy. I hadn't been snorkelling in quite a while and felt pretty queasy when I got out. Underwater boat checks are best carried out in a calm anchorage!
Rubicón is much larger and busier than Puerto Calero but we are finding our feet. There are plenty of shops, bars and restaurants surrounding the marina catering to a variety of tastes – from bikinis on offer at €195 to take away whole roast chicken and chips for €9. On discovering this (the chicken, not the bikini) Skip was very excited and had set his heart on a take away chicken for the following evening. Imagine his dismay on arrival outside the restaurant to discover the rotisserie empty and a fellow Englishman brandishing his carrier bag and declaring "I got the last chicken"! Several days of chicken checks followed with Skip trying to ascertain the optimum time for his chicken purchase. I am very pleased to announce that last night Skip got his bird J (and had some for lunch today too!).
Skip realises he isn't the tallest anymore…
We'll be in Rubicón for another three weeks and although we would love to stay for a full twelve month season in the Canaries and yacht around them all, we'll have to move on. So in the next few weeks, as well as enjoying being here and enjoying welcoming the mate's parents, we'll be getting the boat ready for a long trip to Cape Verde which is some 850 NM distant – but more about that later… In the meantime I'm off to the rather good chandlery here (the first good one we've come across since leaving England). The young chap in there speaks perfect English, with a superb English sense of humour despite never having lived in the UK at all (his mother is from Swansea), so I'm gearing up my favourite bargaining quips for some discounts! Anyone heading this way, please be assured that the UK's chandleries are cheaper!! Yes, cheaper! So stock up before heading off.
Right, where's the mate gone – oh swimming (again)… must dash….
---