Log 16th May - "Arrival at Willemstad, Curacao Marine!"

s/v Safena's blog
Simon Ashley
Thu 16 May 2019 12:13
Pos: 12:06.55 N; 68:55.33 W
We slipped the lines at about 0800 and had a lovely downwind sail from Bonaire to Curacao, about 40 miles. Shortly after we had departed we saw another yacht on AIS about 6 miles ahead. It was La Boheme (Lagoon 400). I made a DSC call and they came back. Sure enough it was Simone and Peter who we had met in Lanazarote! What an amazing coincidence. They were also heading to Curacao Marine.
We both arrived at Willemstad and waited for the swing bridge to open before making our way up the channel to the marina. It was extremely choppy at the entrance to the channel. The town is very colourful and beautiful. The marina staff were waiting for us and after sorting La Boheme helped us onto a very short finger.
We were immediately struck by the friendliness of this little marina and the camaraderie between the cruisers most of whom were preparing for hurricane season like us or dealing with repairs.
It was good to be plugged in to electricity and water. It is noticeably hotter here than in the Eastern islands and therefore our A/C was a blessing especially at night.
We joined Simone and Peter for sundowners aboard La Boheme then we all went to the Wine Cellar for dinner. This was a superb French restaurant a short distance from the marina. It was great to catch up with them and we had a lovely evening together.
Simon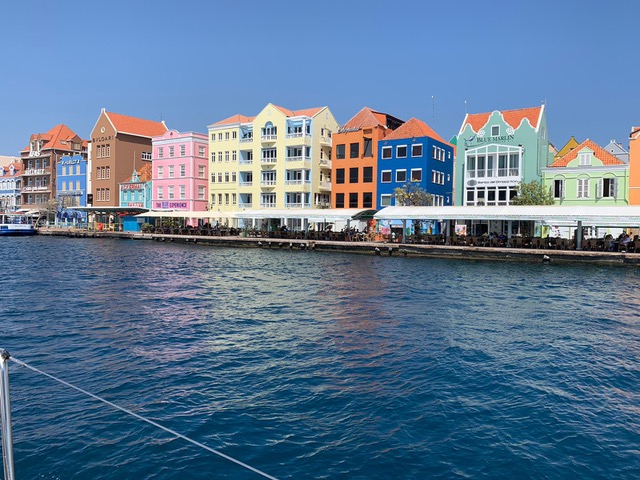 ---