Log 24th and 25th April - "Barbuda"

s/v Safena's blog
Simon Ashley
Thu 25 Apr 2019 13:12
Pos: 17, 33.7 N; 61, 47.1 W
Wednesday 24th April
We set off early at 0800. Initially, there was a problem with re-calibrating the autopilot after the recent software update. Fortunately, this was quickly resolved by Raymarine technical support who I managed to get on the phone!
It was a beautiful day and the winds were fairly light, 10-14 kts, perfect for Carl and Julia's first sailing experience. It was a steady fetch to Barbuda, enough wind to be reasonably healed over and fast but not too much to render the sea state anything more than slight.
Barbuda became visible about 6 miles off. We sounded our way into the anchorage north of Cocao Point, just south of the reef. We anchored in about 5m, close enough to swim ashore. OMG, what a paradise this place is! Miles of beautiful empty white sandy beach and crystal clear turquoise water. And when we arrived there were only three other yachts.
We relaxed, swam ashore, and walked along the beach. Barbuda is incredibly unspoilt. Since hurricane Irma most restaurants have been closed. We ate dinner on board. Nina made Thai Shrimp Curry! It was a very quiet night with light winds which was a blessing.
Thursday 25th April
Another gorgeous day in paradise! Today was beach BBQ lunch day. We inflated Sharknado, our small inflatable Zodiac dinghy, and attached the electric outboard. We used this to ferry stuff to the beach. We basically set up a small beach club on the beach with our chairs, umbrellas and Cobb BBQ. Having got everything ready we couldn't light the blasted Cobblestone! There was a moderate wind and our gas lighter was pathetic!
Carl went off to try and borrow a lighter from the small security hut a long way north up the beach. While we were trying to light the Cobb one of the umbrellas blew into the sea! Carl returned with a guy called Enoch who basically lives on the beach since the hurricane. We managed to retrieve the umbrella when Carl brought it to our attention! Enoch had a good lighter. We got the BBQ going. Enoch wanted some food and water in return. We arranged for him to collect this from us later in the day.
For lunch we cooked Haloumi with Chutney, Jones's parcels (potato, onion, peppers, butter). Also, shrimp, mushroom, pepper, and onion kebabs with Jerk seasoning plus coleslaw. It was an utterly incredible afternoon although we all got a bit too much sun exposure.
We made up a nice food parcel for Enoch which he duly collected later in the afternoon. We saw horses roaming on the beach.
C & J made dinner - sweet potato and red lentil curry, delicious.
We absolutely love Barbuda, it is a true paradise and I sincerely hope it does not get spoilt by developers.
Simon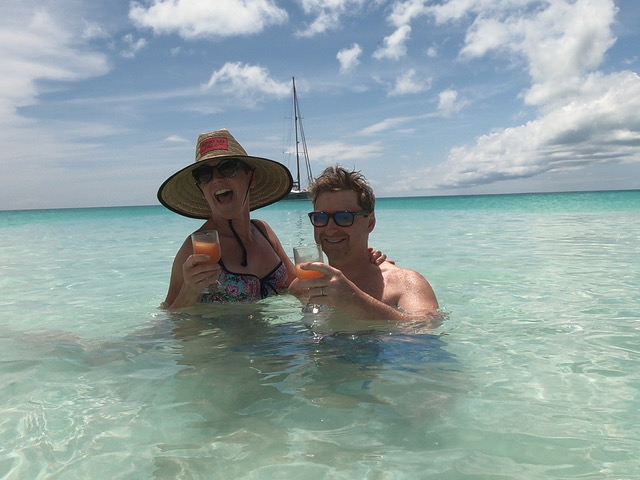 ---