Safena Log 18 - 21st November 2019 "Virgin Islands to St. Barts"

s/v Safena's blog
Simon Ashley
Thu 21 Nov 2019 16:00
We left the mooring at Water Island in the morning and refuelled at Crown Bay Marina. Diesel was $3.90 a gallon which is good by Caribbean standards.
We gently motored to St. John into a light E'ly wind. First stop was Cruz Bay to clear out. We picked up a mooring at Lind Point and took the RIB in. Cruz Bay is pretty. After clearing out at the Border Protection office we found a delightful bar on the beach called High Tide. We had chips and salsa and fantastic shrimp / Mahi Mahi tacos for lunch!
We then motored round to beautiful Trunk Bay and picked up a National Park mooring. We spent the afternoon swimming and walking along the lovely beaches there. Admittedly it was quite rolly there (as the Doyle guide said!) but as it was settled we stayed the night. Nina cooked up a shrimp arabiata pasta dish. We played Dobble (incredibly frustrating game especially after a few drinks!!!).
The following morning we moved to Francis Bay / Mahoe. Another beautiful bay and beaches. We swam.
After lunch we motored to the BVIs along the Francis Drake Channel. This was a very special moment. After chartering yachts here for years we were finally here in our very own Safena !!! It was absolutely wonderful to be back here after so many years.
We made our way to Manchioneel Bay on Cooper Island and picked up a mooring. We snorkelled at Cistern Point. That evening we had a superb meal at the Cooper Island Beach Club - Wahoo fish - delicious! Safena looked gorgeous in the bay with all her lights on!
In the morning we made our way over to The Baths on Virgin Gorda. This is one of our favourite spots. Unfortunately;y due to a Tropical Storm in the west Atlantic the wind was NW'ly which made it very rolly. I stayed on board but Nina and Ben managed to get some snorkelling amongst the incredible granite boulders.
In the afternoon we left for St. Barts. We had a very gentle downwind sail under genoa only until after sunset. We had a nice chicken pasta meal in the cockpit after dark. Then the wind dropped and we had to motor overnight. We arrived at Gustavia just after sunrise. By this stage the wind was SW'ly and had increased. Consequently, it was really quite lumpy outside the harbour. We looked at anchoring to the north at Anse Du Columbier but it was too rough in there. I called the harbour but it was full. Eventually we found a nice spot to anchor just NE of Gros Islets outside there harbour. Now to explore St. Barts!
Simon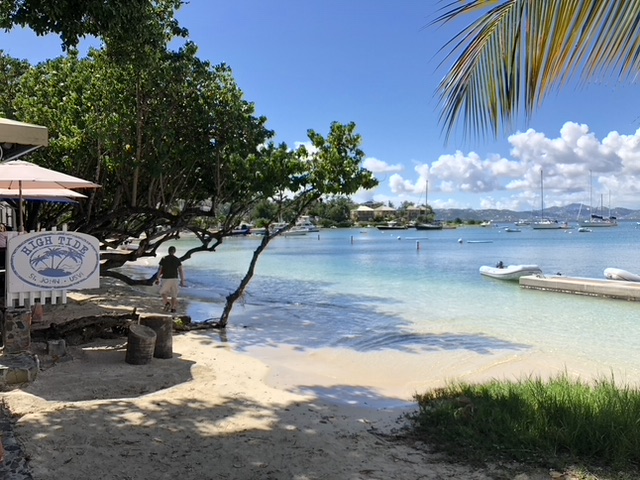 ---