Log Day 5/6 - Destination St Lucia

s/v Safena's blog
Simon Ashley
Fri 30 Nov 2018 20:27
Well…. Last night was certainly one to focus the attention!
Before sunset we spotted a large black RIB travelling astern and to Port of us. The suspicious looking craft was travelling about twice our speed and passed us approximately a mile to our port side. We radioed the yachts ahead to pass on the need to be vigilant. A long way offshore for such a craft to be travelling!
Winds up to 25 knots and seas of 3-4 metres were fairly consistent during the night. We were on a broad reach for the night and maintained Genoa and full Mainsail for the duration. Safena coped fantastically well and the morning brought diminishing wind and seas, an opportunity for us all to catch breath.
Rig Check - Rig Check - Rig Check
This has saved us on several occasions now. This morning we found the Genoa Furler torsions straps about to fall off due to the bolts working loose, halyard blocks at the foot of the mast were in a similar state of near detachment. Thanks Jerry.
We changed the sail set up this morning and poled out the Genoa to accompany the Mainsail and the Staysail. The yacht feels very stable in this configuration and we now head on our bearing toward St Lucia, downwind with the trade winds behind us. As the weather warms we are falling into a rhythm and really enjoying the journey.
Dolphins joined us this afternoon and stayed with us for 15 minutes playing on the bow wave and giving us great photo opportunities!
Simon and myself were both delighted that it was Nina's day to cook and we were not to be disappointed. California Breakfast Burritos were enjoyed at Brunch as we celebrated "less than 2000 miles to go", freshly baked banana loaf with our cup of tea this afternoon and spicy Turkey and Courgette burgers followed our sundowner rituals.
Morale in the camp remains high and we look forward to our journey ahead.
Andy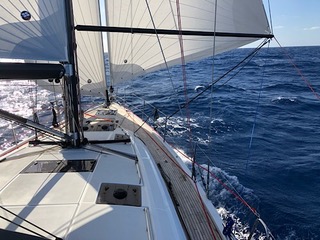 ---