Honduras Bay Island of Roatan, 2 to 16 April 2019

Ladyrebel
Wed 29 May 2019 15:12
ROATAN, Honduras, 2 – 16 April 2019
16023.20'N, 086022.49'W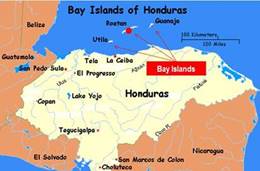 Roatan is situated just 33 miles from Guanaja, 5.5 hours by Lady Rebel! Before departing we called in at the fuel dock for diesel, water and petrol for the dinghy. Our first stop on the island was Jonesville, on the NE coast, where we were warmly welcomed by the Marina Bar, Tricos, a bar we would frequent and enjoy good food, many 'happy hours' and 'jam' sessions by our very own rally musicians, plus lots of dancing.
<![if !vml]>
<![endif]> Drone photo by Gemeaux

<![if !vml]>
<![endif]>
<![if !vml]>
<![endif]>
The anchorage

As a rally group we enjoyed a dinghy trip through many bights and mangroves to Turtle Grass for Pizza. Lunch took several hours to prepare as the 'restaurant' only had one small oven! To fill time we introduced ourselves to some locals who were flying what looked like an Isle of Man flag, with their yacht parked outside their house! They had settled in Roatan having sailed around the World and over several years built an extraordinary abode which they were very proud to show us.
<![if !vml]>
<![endif]>

<![if !vml]>
<![endif]>

Cuts in the mangroves to bights. Turtle Grass Restaurant in the distance
<![if !vml]>
<![endif]>
Previous cruisers settled in Roatan
<![if !vml]>
<![endif]>
Humming Bird
<![if !vml]>
<![endif]>
Hole In The Wall Bar
Suzie Too Rally boats left their mark at Hole In The Wall
They say things come in 3's. We woke up one morning to find the gas control panel wasn't working. Panic, panic, no morning cuppa; a priority job for sure! Secondly, the engine alternator wasn't charging the batteries and thirdly the generator water outlet had become detached pouring water inside the boat – clearly not a good situation. Fortunately, but not easily (nothing is ever easily rectifiable on a boat!), all issues were eventually resolved.
The morning shopping bus, laid on especially for the rally, also gave us the opportunity to see some of Roatan's countryside, towns and villages.
At a visit to the local brewery we sampled a flight of 4 beers (Ken had mine!), enjoyed a tour of the facility, rounded off by a pig roast.
<![if !vml]>
<![endif]>
<![if !vml]>
<![endif]>
On our return to Lady Rebel we called in to wish Steve on La Mischief our best wishes as he was flying out to Dallas to have surgery on his broken ankle. He slipped whilst hiking to a waterfall a few days previously.
Our final fun day in Jonesville we enjoyed breakfast ashore, a hike into the untamed jungle and a dinghy ride with Mel and Jane (Deep Blue) through the mangrove tunnel of love, stopping off for a refreshing dip. The evening was occupied with a game of Mexican Trains with Marcus and Margie (Island Kea II).
<![if !vml]>
<![endif]>

Jungle hike View of the anchorage
<![if !vml]>
<![endif]>
Mangrove tunnel of love Swim stop
Seven miles further down the East coast of Roatan is the gorgeous French Harbour and Fantasy Island anchorage.
<![if !vml]>
<![endif]>
Looking at the images above it's hard to believe we experienced torrential rain, heavy thunder and incredible lightening. Lightening is a massive concern amongst yachties as a strike can wipe out all navigation equipment, electronics, infact all electrical systems. As a safety precaution our electronic gadgets, laptops, phones, iPads, the VHF, hand held GPS etc. get put in the microwave and cooker for hopeful protection.
A back up weather check should our devices fail due to a lightening strike!
Not only does Lady Rebel suffer breakdowns, but all other yachts do too, without exception! Ken, plus others, assisted Super Tramp in an attempt to fix their windlass (the winch required to lift the extremely heavy anchor), which culminated in removing a shattered gearbox and ordering a very expensive new one. We soon discovered how all the rally members are willing to assist with breakdowns, computer issues, navigation, medication, infact anything and everything. Nothing is too much trouble for anyone and hugely appreciated!
The highlight of French Harbour was our visit to the Sloth and Monkey Sanctuary. Although the monkeys and parrots are caged they are let free to roam for a few hours each day. They are so well cared for they never go far! The Sloths are not caged; they hang out in trees surrounding the sanctuary. We had to be still, pretend to be a tree and not stroke them! The cutest animals we have had the pleasure to hold. These are species that poop once a week; fortunately it wasn't poop day!
<![if !vml]>
<![endif]>
<![if !vml]>
<![endif]>
<![if !vml]>
<![endif]>
Chatty parrots that had amusingly nailed our British accent
<![if !vml]>
<![endif]>

Macauls; the National bird of Roatan. Fortunately it wasn't their poop time either!
<![if !vml]>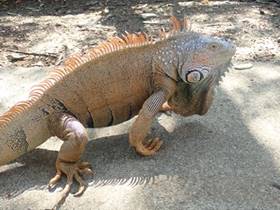 <![endif]>

The Iguanas are also free to roam, but due to regular feeding and a good scratch, they are more than happy to stick around.
<![if !vml]>
<![endif]>
The tigers however are not free to roam. Five were caged. They all looked well and happy, but we felt it was an unnecessary attraction.
Ashore for a beverage, or two with Island Kea. Marcus and Margie recognised a couple they'd met whilst sailing in Brazil and Grenada. This cruising World is certainly a small one!
A large number of rally boats were anchored in West End at the bottom of the Island so we raised anchor and sailed the 16 miles down, with just our mainsail up. It took us three attempts to anchor as the sandy patches, that usually make good holding, were deceptive with rock underneath. We eventually managed to persuade the anchor to chisel its way into an area of the sea grass giving us a good holding. Margie (Island Kea), already in the water with mask and snorkel checking their anchor had dug in adequately, swam over to check ours. It was fairly well dug in, but she suggested we reversed back further witnessing it dig in deeper rather than pull right out, which was reassuring as over the course of the week we had a few squalls and strong gusts!
We didn't get to explore the West End to its full potential, or dive (the diving here is reputably phenomenal) due to my contracting the stomach bug making its way throughout the fleet. Donning a wet suit would not have been a great idea!! We had already made plans to return to this area in November for a greater length of time, so it wasn't the 'end of the World', just disappointing. Ken was happy to listen to the rugby and we did jobs on and off with the occasional walk ashore. Towards the end of our stay we snorkelled the reef that enclosed the anchorage. The rock formation, corals, abundance of fish and sea life is amazing however, due to some high winds, the visibility not great; another reason to return!
<![if !vml]>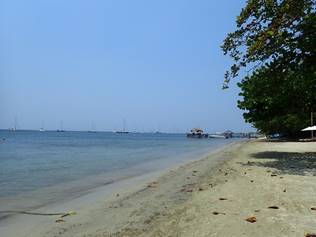 <![endif]>
Boats at anchor in the background
<![if !vml]>
<![endif]>
I certainly do!
Every other shop is a dive centre, interspersed with bars and restaurants.
<![if !vml]>
<![endif]>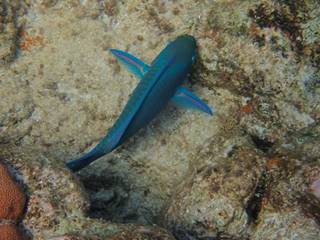 Amazing rock formation
<![if !vml]>
<![endif]>
Whilst Ken was ashore for 'Suzie Sunday' beer and bob and I was onboard still recuperating, I heard a commotion on the VHF radio. An emergency call requesting medical assistance was broadcast by one of our rally boats. They had witnessed two people in a dinghy hit a mooring line under the water at speed, stopping the boat dead, catapulting them literally somersaulting into the water. The dinghy freed itself and continued in circles mowing the two passengers down. One had severe cuts and bruising to the head, eyebrow and side of the face and the other cuts to the upper legs, from the propeller. A nurse on the rally and several others went to their aid, patching them up and ferrying them to the hospital. Fortunately, although extremely badly wounded, no lasting damage was done and they would eventually heel. It transpires the couple's catamaran had been robbed a few days previously and whilst returning to their boat this day, they had seen suspicious activity and given chase. It also transpires the driver was not wearing their 'kill cord' so when they were flung from the boat the outboard motor continued to run at high revs., mowing them down. They are lucky to be alive. It was certainly a lesson for those who do not wear their kill cord. We wear ours religiously since the accident back in the UK where a family's small motor boat tipped, flinging them overboard, the propeller still spinning, causing fatalities and limb amputations.
On that sobering thought, our next stop BELIZE 😊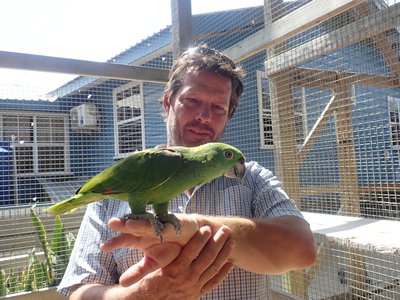 ---