Belize 17 April to 16 May, Part 1

Ladyrebel
Fri 11 Oct 2019 14:08
BELIZE:  17 April to 16 May 2019 (Part 1)
  Flag of Belize
Belize, on the eastern coast of Central America, has Caribbean Sea shorelines to the east and dense jungle to the west. Offshore, the massive Belize Barrier Reef, dotted with hundreds of low-lying islands (cayes), hosts rich marine life. Belize's jungle areas are home to Mayan ruins renowned for their towering pyramids.  It has the lowest population density in Central America.  Belize has a very diverse society that is composed of many cultures, including Maya.  English is the official language, while Belizean Creole is the most widely spoken, being the native language of over a third of the population. Over half the population is multilingual, with Spanish being the second most common spoken language.
<![if !vml]>
<![endif]>
Belize's Barrier Reef, second largest to Australia's Great Barrier Reef, shown with off-lying reefs and cayes.
Monday 15 April 2019
Change of plan:  Checking out of Roatan evolved into an all-day excursion involving several taxi rides to various offices and a long wait for completion of paper work, so departure was postponed until the following day. By the time we returned to the boat the sun was sinking giving insufficient light to navigate the narrow gap through the surrounding reefs.
Roatan to Belize, 109 miles, 19 hours, 8.9 engine hours, 5.74 knots average speed
Total Miles since Falmouth 2016: 13549
Position: 160 30.48'N, 0880 21.79'W
Prior to departing we did a dinghy tour of the anchorage saying our goodbyes to those rally participants, for various reasons, not continuing on to Belize for the rally finale.  It was an emotional departure as we had been sailing together as a large group (60 boats split into 2 groups) for the previous 5–6 months. Our paths will hopefully cross again in the future.
At 1600 hrs, we, along with 12 remaining rally boats waved goodbye to Roatan, (5 had headed out a few days previously).  The overnight passage was good, a dead run with just a reefed mainsail.  We were anchored in Placencia Village and ready to go ashore to check-in, by mid-morning.
<![if !vml]>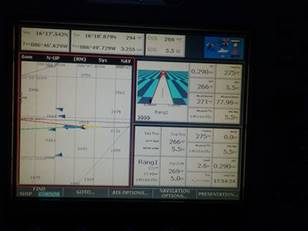 <![endif]>    
Our chart plotter showing other rally boats positions via AIS (Automatic Identification System).  The yellow and blue arrows are the wind and tide directions at Lady Rebel.      
Checking-in was a mini adventure in itself.  We caught the very fast Hokey Pokey water taxi to Independence Town.  A land taxi took us first to the Health Office (to confirm we weren't carrying any contagious killer diseases!), next Customs and Immigration and also to the phone shop for a local sim card.  It was once again, a long process, without a lunch stop, so we were ready to meet the other rally boats for sundowners at Yoli's bar where the dinghy dock is also situated.
<![if !vml]>
<![endif]>
Placencia Village Anchorage                                     Hokey Pokey Water Taxi
<![if !vml]>
<![endif]>

Hokey Pokey WaterTaxi Ride
<![if !vml]>
<![endif]>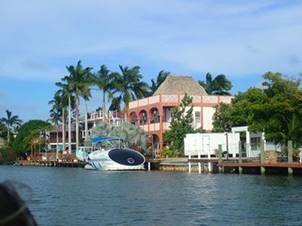 <![if !vml]>
<![endif]>
                                                                                                                Customs and Port Office
We had a day to investigate Placencia Village before heading off to Placencia Marina.  The people were amazingly friendly, the village having a safe, welcoming, chilled out feel by day and wonderfully vibrant atmosphere by night.  We felt quite at home!
But first things first, time for a much needed shave and haircut for Captain Ken (courtesy of myself - getting Ken to a barber's shop is nigh-on impossible!!) 
<![if !vml]>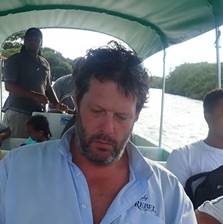 <![endif]>       
Before …………….                                         After!
<![if !vml]>
<![endif]>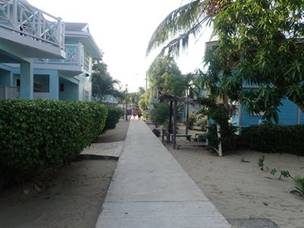 Placencia's second main street - a mile long pathway lined with bars, restaurants, clothes and gift shops, running parallel to the only road!
<![if !vml]>
<![endif]>
<![if !vml]>
<![endif]>

Only 5264 miles from London!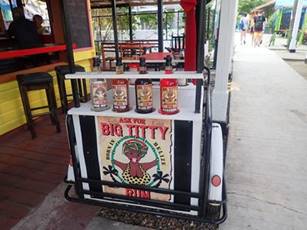 Aphrodite Bar; Ken had to sample the rum here, obviously! 
Placencia Marina, our final rally stop was 8 miles North; a pleasant motor along the coast.
<![if !vml]>
<![endif]>
<![if !vml]>
<![endif]>

<![if !vml]>
<![endif]>
Marina Pool and Bar
Marina Beach                                                 Hand-made welcome banner for the OCC Suzie Too Rally
The Marina was out on a limb however a free daily shuttle bus took us back to Placencia Village for food shopping, bars and restaurants, ice-cream to die for and Easter weekend partying – where we were highly entertained by couples and youngsters 'twirking' seductively to the wonderfully rhymical beat of Latin American music.  The village was heaving at night, Easter being its busiest time; bbq's, street foods readily available and the dance floors spilling out onto the beach.  What the Brits would class as hightly suggestive dance moves and inappropriate dress wear, leaving very little to the imagination, was part of the norm. here and totally acceptable for these fun loving, partying youngsters.  We did however notice a particulary strong smell of weed (not the sea type!), again, the norm!
<![if !vml]>
<![endif]>

One of our many dock parties with our 'rally family'!      Charlie (Steve!) and his Angels!!
Inbetween partying, dock bbq's, beach yoga, morning strolls and Suzie Sunday relaxationat at the marina pool, there was still lots of work to be done.  Ken, with the help of a couple of fellow ralliers, was finally able to install the new genoa furling system (ably assisted by myself as chief tool fetcher).  An umbrella was strategically positioned under the bow to catch any straying parts!  Unfortuatley one prime, very expensive piece escaped, bouncing from the umbrella into the water below!  Lucas, the youngster of the rally, kindly dove for us, successfully retrieving the part from the very muddy bottom.  A HUGE relief, smiles all around!
<![if !vml]>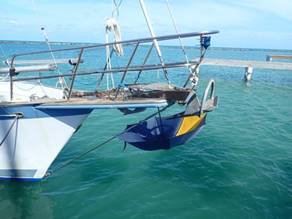 <![endif]>
We were determined not to let the boat jobs take over our time in Belize so hired a car for three days, with two other couples, and set off exploring.
<![if !vml]>
<![endif]>

<![if !vml]>
<![endif]>
St Herman's Cave                                                      Barquedier Waterfall
<![if !vml]>
<![endif]>
A refreshing dip in the (inland) Blue Hole!
<![if !vml]>
<![endif]>

A local took us across Monkey River in his panga to Monkey Village, in the Toledo District of Southern Belize, then further upstream for a jungle walk.
<![if !vml]>
<![endif]>


<![if !vml]>
<![endif]>
Towering bamboo                                                       Deeper into the dense jungle
<![if !vml]>
<![endif]>
Bats nest                                                                    
<![if !vml]>
<![endif]>

Our guide showed us a tarantula spider in the tree roots and the various plant species still used by the local Maya people for medicinal purposes
<![if !vml]>
<![endif]>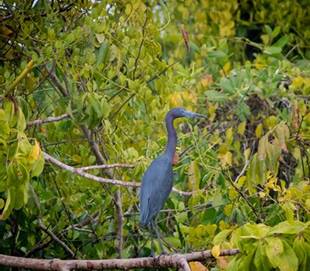 Howler Monkeys, sleep 70% of the day and the river banks are home to many bird species including Blue Heron and White Ibis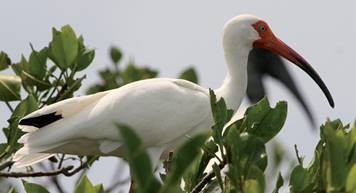 <![if !vml]>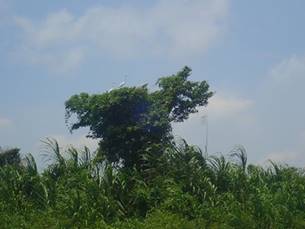 <![endif]>
White Ibis nesting in the tree tops

<![if !vml]>
<![endif]>
Harvesting oranges
At Nim Li Punit, ruins of an ancient Mayan settlement discovered in 1976, we saw 26 stelae stone monuments that were carved to commemorate and record important political events.  They provide a written record of history in the Maya area dating back to A.D. 734
<![if !vml]>
<![endif]>
Stelae carved with news and events              Ruins of a step pyramid; the highest being 12m

Ball Court.  The game, a ritual associated with the creation of the universe, is played on a rectangular space between two parallel structures, with a hard rubber ball; the movements of which represent the cycles of the sun, moon and other celestial bodies.
<![if !vml]>
<![endif]>
Four of the stelae are positioned to show (by lining up with the sun) the longest and shortest days plus the two equinox, when the sun crosses the equator and day and night are of equal length.
Two of the many open tombs.
Time for some fun, rest and relaxation at Cockscomb Basin Wildlife Sanctuary - an amazing 2 hours of gentle river tubing through the jungle!
<![if !vml]>
<![endif]>
Tree planted by Prince Philip in 1988 when he was President of the World Wildlife Fund
<![if !vml]>
<![endif]>
Carrying our tubes upstream                                      Marcus, Margie (s/y Island Kea) and Ken
<![if !vml]>
<![endif]>
<![if !vml]>
<![endif]>
                                                                                    Margie and Marcus enjoying the float
<![if !vml]>
<![endif]>
                                                                                    Large boulders to negotiate
Unfortunately we missed the hike up to the waterfall as returned to a puncture!
The Belize Tourist Board kindly hosted an 'end of rally party' for the remaining 18 boats, at the Marina.  It was a truly wonderful evening although very emotional with speeches from our rally organisers, Suzanne and David, s/y Suzie Too, and various others giving words of appreciation and thanks.  Shiera, s/y Gemeaux, our very own rally photographer, had put together a fantastic presentation of photographs submitted by the rally participants summarising our rally adventures; an incredible journey in so many ways. 
<![if !vml]>
<![endif]>
Rally Organisers, David and Suzanne                       Ken saying a few words
<![if !vml]>
<![endif]>
The OCC Suzie Too Rally had officially come to an end! ☹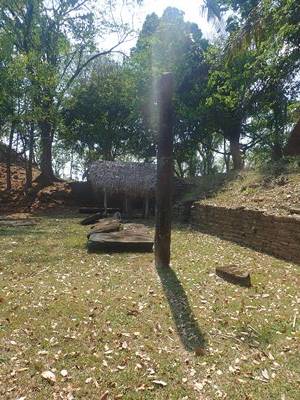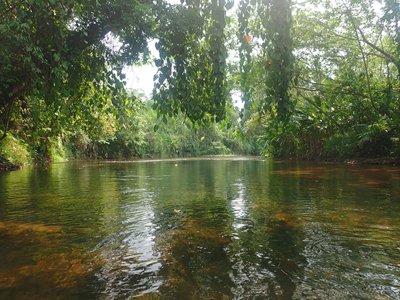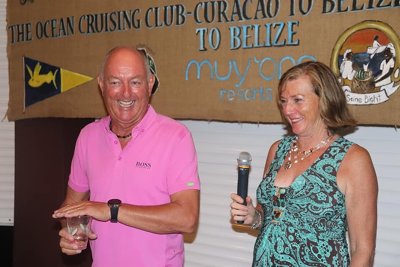 ---