Guatemala, Part 1 of 3, May to August 2019

Ladyrebel
Thu 14 Nov 2019 07:41
RIO DULCE, GUATEMALA, CENTRAL AMERICA:  20 May to 14 August 2019
Lady Rebel's home for the hurricane season.
Part 1 of 3
<![if !vml]>
<![endif]>
<![if !vml]>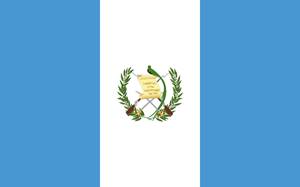 <![endif]>Marina is at Fronteras in the Rio Dulce

Guatemala; an amazing country.  Here are some facts:
Largest country in Central America

National bird is the Quetzal. The currency is named after the bird.

Guatemala means land of many trees

Inhabited for 20,000 years, ruled by various Mayan kingdoms prior to the Spanish conquistadors. More than 5,000 archaeological sites show evidence of these pre Columbian settlements.

22 languages are spoken in Guatemala, Spanish being the official one and most useful throughout the country.  21 indigenous Mayan communities each boast their own language; many are still widely used today.

Civil war raged in Guatemala from 1960 to 1996. It is estimated that 200,000 people were killed during the 36-year conflict, making it the longest in Latin American history.

The volcano-ringed Lake Atitlan at 340 metres deep, is the deepest lake in Central America.

With more than 30 volcanoes in the country, Guatemala is known for its spectacular landscapes. Three of these volcanoes are active, including Fuego. 

The tallest volcano in Central America is Tajumulco, North Guatemala, near the Mexican border, reaching 4,203 metres above sea level.

Coffee is the biggest industry in Guatemala and can be found around the world, famous for its great taste!
Monday 20 May 2019
Tres Puntas (Honduras) to Fronteras, Rio Dulce, Guatemala, via Livingstone and Texan Bay.
An early start was necessary in order to cross the sand bar at the entrance to the Rio Dulce at the specifically timed high, once per fortnight, spring tide giving absolute maximum depth.  Many boats with greater drafts have to be tipped over by a motor boat with a line connected to the top of the mast and pulled across the bar.  We, at 1.65m draft were able to cross without assistance although our depth sounder indicated we were very close to the soft muddy bottom for approx. 100 meters.
<![if !vml]>
<![endif]>
Island Kea being tipped.  One boat pulling her over, the other pulling her forwards.
<![if !vml]>
<![endif]>

The busy anchorage at Livingstone, just inside the sand bar, for boats to check in ashore with Customs and Immigration.  Livingstone is too 'dangerous' to stay overnight – not only the poor holding with the ripping tide but boat burglers are rife!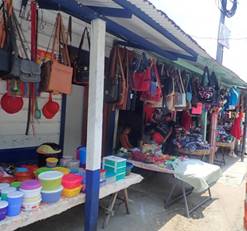 <![if !vml]>
<![endif]>
   Street markets at Livingstone
<![if !vml]>
<![endif]>
                                                                                    Communal laundry area
Having safely checked into Guatemala we motored 20 miles along the stunning river gorge for an overnight stop at Texan Bay and then on to RAM Marina, Fronteras, where Lady Rebel was to be lifted for the hurricane season. 
<![if !vml]>
<![endif]>

<![if !vml]>
<![endif]>

<![if !vml]>
<![endif]>
                                                                                    Fishermen hard at work, hauling nets
<![if !vml]>
<![endif]>

Ocean Cruising Club, Royal Cornwall Yacht Club, Irwin flag and Red Ensign worn out after a busy sailing season.
<![if !vml]>
<![endif]>

We anchored in Shell Bay to await being lifted at RAM Marina, seen in the background.
<![if !vml]>
<![endif]>
                                                                                    Servicing the fridge/freezer pump
Lots of jobs to be done to prepare Lady Rebel for her 6 months stay in Guatemala – a new full length cover for weather protection, removal and overhaul of sails, cleaning out the engine bay, bilges and holding tank, engine and generator service, service winches, check window seals, clean from top to bottom, wipe all surfaces with vinegar to stop mould, spread boric acid powder to stop unwanted critters, spicing of lines, lots of cooking and eating to empty the fridge and freezer 😊, pickle the water maker, remover wind generator and so the list goes on ………pretty exhausting in 96°F (35.5°C)!! 
<![if !vml]>
<![endif]>

<![if !vml]>
<![endif]>
New protective cover
Once out of the water we commissioned the Marina to grit blast Lady Rebel's bottom to remove all existing paint down to the fibre glass and apply a new epoxy layer, before re-antifouling her.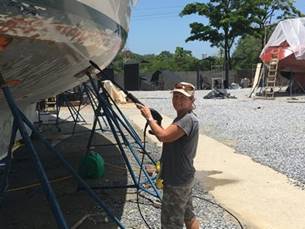 <![if !vml]>
<![endif]>

Lady Rebel with a bare bottom!                                 Pressure washing away sand residue post grit blasting.
Guatemala is cheaper than many places to have boat work done so we had the cushions re-upholstered and, amongst other bits and pieces are having some stainless steel guard rails made to install more solar panels.
It wasn't all work and no play; we did have some great nights out with friends also leaving their boats in
Rio Dulce for the hurricane season and also some spectacular lightning storms!  We were parked next to a very tall radio mast so hopefully any strikes would find that first.  Many boats in this area unfortunately suffer the unavoidable and very expensive effects of lightening strikes.  We kept our fingers crossed.
Friday 7 June 2019
Time for some exploring!
After a couple of weeks of hard graft we were ready for some inland back packing.  The overnight bus took us to Guatemala City, that other than the markets, model map and a few buildings we weren't that impressed with.
<![if !vml]>
<![endif]>
Parque Central
<![if !vml]>
<![endif]>

Mercado Central
<![if !vml]>
<![endif]>

                                                                                                Mapa en Relieve
9-30 June: Our next destination was San Pedro on Lake Atitlan where we had booked into Spanish school for a week and were staying, full board, with a non English speaking host family!  Lessons were in a beautiful outdoor setting, one to one, from 8am to 12pm for 5 mornings. 
<![if !vml]>
<![endif]>
My class room                                                                        Ken and Lorenzo in his class room
<![if !vml]>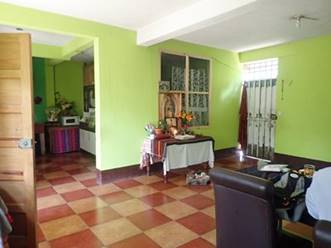 <![endif]>
Our host Wendy's house.                                                       Ken doing his homework!
<![if !vml]>
<![endif]>

We had an activity every night including weaving and chocolate making demonstrated by local Mayans, a cooking class and a talk on the Mayan calendar and medicines, plus a trip to Chichicastenango Market – the largest market in Central America selling textiles, fruit, vegetables, chickens, leather, souvenirs amongst other items.  Ken had the soul of his deck shoes completely re stitched for Q25 (£2.50)!
<![if !vml]>
<![endif]>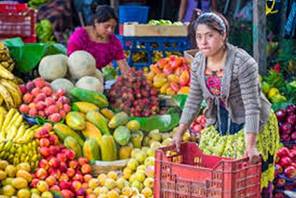 <![if !vml]>
<![endif]>
                                                         Locals arriving by Tuk Tuk                             Material for cushion cover to match our new hammock!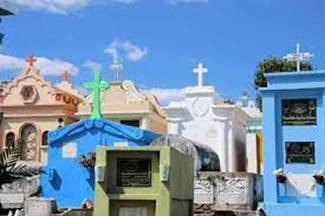 <![if !vml]>
<![endif]>
Wonderfully colourful cemetery at Chichicastenango
I really struggled with brain overload from Spanish school and sat in bewildered silence at meal times.  Ken absorbed and retained far more Spanish than I did and managed to converse with Wendy, our host and her two boys, in fact he went on to do a second week's lessons! 
We were invited to Wendy's eldest sons, large family, Birthday party and watched the traditional cake face plant!
<![if !vml]>
<![endif]>

We moved to a wonderful hotel, overlooking the lake at the extravagant cost of $80 per week (total)!! 
I continued to practice my Spanish and enjoyed yoga and walking whilst Ken was at school.
<![if !vml]>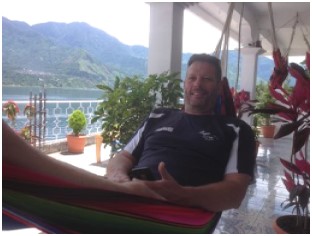 <![endif]>

Chilling out on the hotel balcony overlooking Lake Atitlan
    <![if !vml]>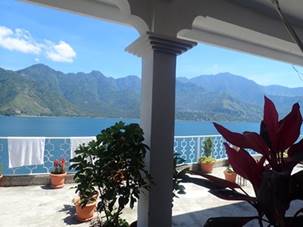 <![endif]>
Stunning views from our hotel room
<![if !vml]>
<![endif]>

    Hand made, dug-out fishing boat                                      
We absolutely loved San Pedro hence stayed for 3 weeks!
<![if !vml]>
<![endif]>

<![if !vml]>
<![endif]>
    Street parade
<![if !vml]>
<![endif]>

San Pedro from the water
San Pedro from the neighbouring village of San Juan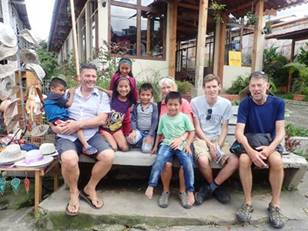 <![if !vml]>
<![endif]>
Traditional, time intensive, weaving                           Mixing with the locals, with friends from s/y Tintamarre
<![if !vml]>
<![endif]>

Traditional Mayen dress                                             Local Shop!
There are several villages around Lake Atitlan so we took a 'Lancha' (small ferry boat) to Santa Cruz to meet friends from s/y Tintamarre and s/y Venture Lady and enjoyed a walk to the neighbouring village of Jaibalito.
<![if !vml]>
<![endif]>
<![if !vml]>
<![endif]>

<![if !vml]>
<![endif]>
                                                                                                Our hotel, Del La Lago, from the lake
A 'must do' at Lake Atitlan is to climb 'Indian Nose', at 2863 metres, and watch the sunrise, which meant a 0315 start, a
40 minute Camioneta (chicken bus) ride to Santa Clara and a 40 minute steep up-hill hike!
<![if !vml]>
<![endif]>

Indian Nose from the hotel
Camioneta (Chicken Bus)
<![if !vml]>
<![endif]>
                                                View from the top of Indian Nose
<![if !vml]>
<![endif]>
<![if !vml]>
<![endif]>

El Artesano Wine and Cheese restaurant at San Juan was an extravagance, but as we'd been eating meals averaging £4 per head, we felt it justified; worth every penny!
<![if !vml]>
<![endif]>

Lancha (launch) at San Juan                                                 El Artesano Wine and Cheese Restaurant
<![if !vml]>
<![endif]>
                                                                                                Carnival Day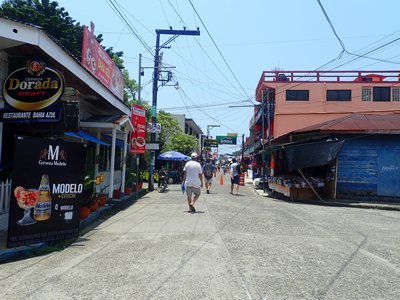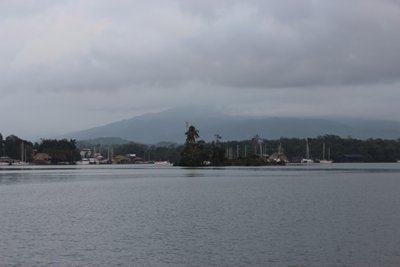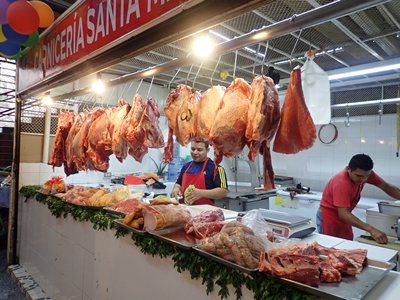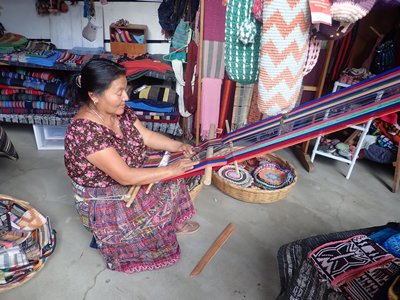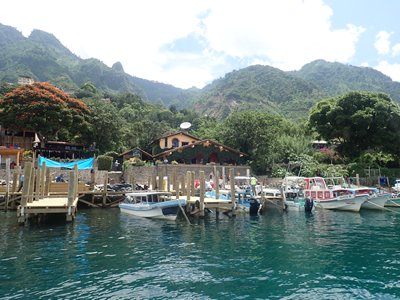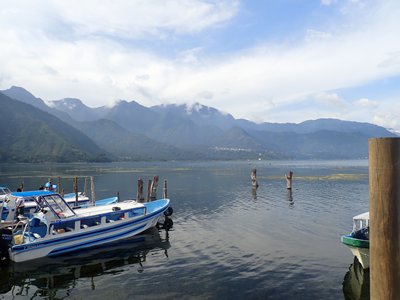 ---