San Andres and Providencia Islands, Columbia, 27 February to 23 March 2019

Ladyrebel
Wed 1 May 2019 20:33
SAN ANDRES AND PROVIDENCIA ISLANDS, COLUMBIA
27 February to 23 March 2019
<![if !vml]>
<![endif]>National Flag of Columbia
A little bit of history ………..
The first inhabitants of the islands were Dutch colonists, toward the end of the 16th century. In 1631 they were expelled by the English. They brought in black slaves from Jamaica and began to cultivate tobacco and cotton. The Spanish, irate at the English success on the islands, unsuccessfully invaded the archipelago in 1635.
Because of their strategic location, the islands provided convenient shelter for pirates waiting to attack Spanish galleons bound for home laden with gold and riches. In 1670 legendary pirate Henry Morgan established his base on Providencia and from here he raided both Panama and Santa Marta. Legend has it that his treasures are still hidden on the island.
Shortly after independence, Colombia laid claim to the islands.
Geographic isolation kept the unique English character virtually intact, though things started to change when a flight service connected the islands to the mainland in the 1950s. In 1954, a government plan to make the islands a duty-free zone brought with it tourism, commerce, and entrepreneurs. 
The tourist and commercial boom has caused San Andrés to lose much of its original character; it's now a blend of Latin American and English-Caribbean culture. Providencia has preserved much more of its colonial culture.
Spanish is the "official language", though Creole is the language that has the biggest cultural charge; symbolic and historical for the native islanders.  They also speak English and French.  English has a strong presence and importance in daily life. Nearly 80% of the Islanders speak it!
End of history …………..
SAN ANDRES
Wednesday 27 February 2019 – Shelter Bay Marina, Colon, Panama to San Andres Island, Columbia.
220 miles, 40 hrs, 5.5 knots average speed, 11.5 engine hrs. 
Total miles since leaving Falmouth in 2016: 12957
Position: 12038.589'N, 81041.504'W
I wound myself up about this passage, even dreamt we'd turned upside down and all the cupboards emptied of everything, tools, food, cushions, crockery etc. flying everywhere, including ourselves, paddling knee deep in water that was flooding in through the port holes!!  The weather forecast said 'big' seas and even in the marina it felt windy! We needed to crack on however, as delaying a few days would mean no wind at all!  After discussions with other boats we decided to set sail at 5pm with heavily reduced sails!  The first few hours were very bouncy and we needed assistance from the motor to push us through the waves.  As the trip continued the seas became less and as it turned out the two-night passage was not scary at all; quite enjoyable in fact – apart from the lack of sleep, which we are now used to with overnight sailing.
Our genoa (head-sail) furler fell apart towards the end of the crossing – salt corrosion, wear and tear.  We did manage to furl in the sail by hand thankfully but we would need to replace the furler before we could use that sail again.
Check-in with Customs and Immigration was quick and easy.  Suzanne and David, the rally organisers had arranged for the 'officials' to come to the Yacht Club, so there were no taxi's or buses involved; just a dinghy ride from the anchorage to the dinghy dock.  Perfect!
The island was more built up than I'd imagined and we soon discovered it was a Columbian holiday destination.  There were a few beautiful surrounding islands, one of which, Haine's Cay, was where we met for 'Suzie Sunday' – drinks, swimming, generally chillaxing!  It was a bit 'Benidorm' ish, but beautiful and fun all the same!
<![if !vml]>
<![endif]>
Approaching San Andres                                    Floating Bar being towed across the anchorage
<![if !vml]>
<![endif]>
Suzie Sunday
<![if !vml]>
<![endif]>

Walking across to the next island!
The wind was still fairly strong so the visibility poor when we went diving.  A little disappointing.
The local people were extremely welcoming and helpful.  The Yacht Club was ideal for morning yoga, a surprise birthday party for two rally members, socialising in general and even a TV for the final weekend of the Six Nations Rugby.
A lot of time on this island was occupied with things going wrong, needing to be fixed.  Our anchor also dragged due to the consistently high winds.  One night we had 37 knots but our anchor held us well second time around.
In between chores we hired a six-seater mule with two other boats and did a tour of the island.  It's small enough to be seen all in one day.
<![if !vml]>
<![endif]>

Day exploring in the 'Mule'                                                          First Baptist Church called Mirador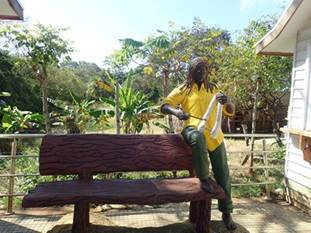 <![if !vml]>
<![endif]>
Sculptures depicting lifestyle – work tools and musical instruments
<![if !vml]>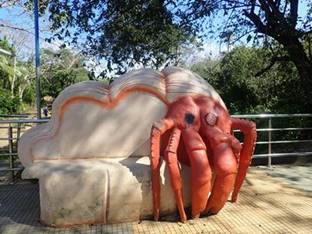 <![endif]>
Unusual but colourful bench                                                       Colourful buildings
<![if !vml]>
<![endif]>
Museum – pirate artifacts at Morgan's Cave                                        Six go exploring Laguna Big Pond!
<![if !vml]>
<![endif]>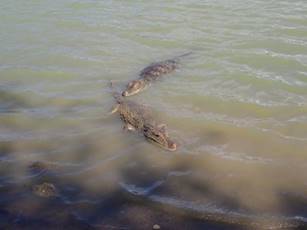 Caimans – small crocodiles!
<![if !vml]>
<![endif]>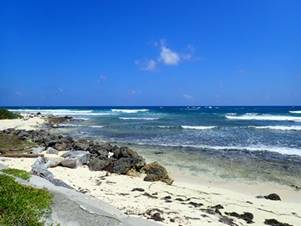 Lunch stop!
PROVIDENCIA
Providencia Island is 64 miles North East of San Andres, 135 miles East of the coast of Nicaragua and 500 miles from mainland Columbia.  We motorsailed at high revs. at an average speed of 6.4 knots, to arrive into the anchorage before dark.  With our large genoa out of action, using our small replacement headsail and the wind 'on the nose', sailing unassisted was impossible.  The seas were pretty choppy too, so it wasn't the most comfortable of rides.
<![if !vml]>
<![endif]>
Land Ahoy!                                                                                         Rally boats in the anchorage
The following morning Ken went ashore to check-in with Customs and Immigration, while I did various boat chores (it's always good to get those out of the way early on to leave time to explore) – cleaning up a diesel spillage, defrosting the freezer, washing down the guard rails and decks with fresh water (a lot of sea water had come up over the decks during the bouncy passage) etc.  Ken attempted to remove a stubborn bolt from the damaged furler in order to take it off, but without success, so a trip ashore to the hardware store was necessary to find a tool to do the job.  Still no joy.  Over the next few days he used a blow torch and impact driver on the offending bolt; still without successfully removing it.  Plan B – order a complete new (expensive) system, which a fellow cruiser offered to bring out from America for us.  Having parts delivered to this area is nigh-on impossible, so the offer was gratefully received.
<![if !vml]>
<![endif]>
Ashore                                                                                                 The dinghy dock
A bar situated alongside the anchorage was perfect for parties, of which there were a few Birthdays, rally meetings and yoga.
<![if !vml]>
<![endif]>

Party and meetings venue
Our first 'tourist' venture out on the island was to Manchaneel Bay on the South coast.  We hired a taxi (an open pick-up truck with bench seats in the back) with four other boats.  The beach was beautiful, great for walking and playing various games and the bar, typically colourful with great local food.
<![if !vml]>
<![endif]>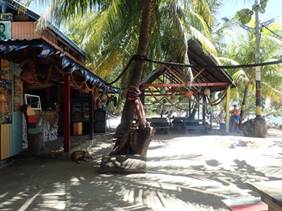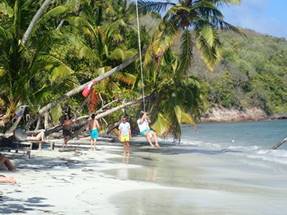 Playing on the swings!
<![if !vml]>
<![endif]>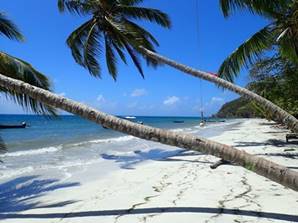 Choosing lunch!
<![if !vml]>
<![endif]>

Our second excursion was to go scuba diving with sharks – a first for Ken and myself!  The dive boat picked a few of us up from the anchorage and took us out to an area known to have Black Tip Reef Sharks.  We saw 3 reasonably sized sharks approx. 5-6 feet long.  It was a deep dive; I thought I'd be nervous and although the sharks were inquisitive and came close, I wasn't a bit scared; they were so amazing to watch and not remotely threatening.  Such a fantastic experience.  The second dive was a shallower wall dive with lots of colourful corals and fish. Unfortunately I didn't take our underwater camera, as thought I should concentrate on the diving, so no pictures sadly!
Our third exploration was to climb 'The Peak' – the islands highest hill at 365 metres!!  Beautiful views from the top.
<![if !vml]>
<![endif]>
A smaller 'hill' on route to The Peak                                                         Mermaid by a small well half way up?!
<![if !vml]>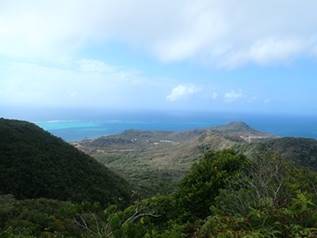 <![endif]>

<![if !vml]>
<![endif]>

View across the anchorage from the top of The Peak
<![if !vml]>
<![endif]>

Rally group photo!                                                                                           This amused us – the little things!!
The Port Officer, Mr Bush, hosted a rally party where we enjoyed a local dance display, some local live music, a DJ and lots of our own dancing!  An excellent fun night.
The priority for Saturday 16 March was to watch the last game of the Six Nations Rugby.  We flagged down a scooter taxi and eventually found a bar with a TV.  The result was not favourable for England!  Following the game we caught a 'mule' taxi (golf cart) to the beach to meet up with other ralliers to watch the horse racing.  This occurs every other Saturday and is just one race, two horses, running the length of the beach.  The locals arrived with the horses, placed very large bets and disappeared after the race was complete, as quickly as they had arrived!
<![if !vml]>
<![endif]>

So quick I missed them!!                                                               Cooling off
Our next scuba dive involved swimming hard against a strong current, entering a cave low down and proceeding upwards through a chimney like formation, called The Espiral.  The current was so strong we were all breathing very hard and fast, using lots of air even before we entered the cave.  Ken was not able to make the entry as had already used too much air, infact he had to breath from the dive guide's air supply until we ascended to the surface as his own tank was nearing empty.  A very safe procedure taught when learning to dive.
Our scuba tanks were refilled for the second, more relaxing, dive where we saw lots of fish, lobster and beautiful corals. 
Inbetween these mini adventures we were still doing boat chores (fixed the sink tap, toilet inlet, bla bla bla 😊) and socialising, of course, but more importantly monitoring the weather forecast.  We had been split into groups of 5 or 6 boats that sailed roughly at the same speed.  Our next leg was over 200 miles to Vivario Cays, along the dangerous Nicaragua coast – not dangerous as in rocks or treaturous coast line, or bad weather, but dangerous in terms of possible 'opportunists'/'pirates'.  This area is a known drug route and boats have been boarded in the assumption they may be carrying drugs, or simply to be robbed.  We had several meetings to disuss the weather and route, keeping us to well offshore, and the speed our group would sail at in order to stay within three miles apart.  This would also make it easier for the Columbian Armada to escort us, plus if a boat was approached we could notify the others by radio and home-in, showing our presence.
We were certainly making the most of exploring Providencia.  Our next entertainment was horse riding.  Six of us teamed up for a two hour ride taking us part way up The Peak, across scrub land, along the beach, into the sea, plus a beer stop at Rolandes Bar.  It was like something out of the Wild West riding our horses into the 'saloon'!!  An awesome day and only one person dragged off their horse by a low hanging branch!!
<![if !vml]>
<![endif]>

                                                                                                                Ken on Rambo
<![if !vml]>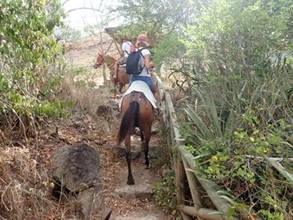 <![endif]>

Some challenging areas
<![if !vml]>
<![endif]>

Fantastic ride on the beach and in the sea.         Jane on Sugar Lady, Ken on Rambo
<![if !vml]>
<![endif]>
                                                                                                                Riding into the bar!
Our final day on the island was about preparing the boat for our next passage, entering the route into our navigation system, scraping the sea-weed from the waterline, checking the engine and gearbox oil, etc. etc.  That evening we attended the island's Ladies Day celebrations, food, drink and a music concert laid on in the square.  Some of our musician rally members had been invited to perform with one of the local bands; it was a real honour for them and they played and sang beautifully.
Next stop:  Vivario Cays, on route to Honduras Bay Islands.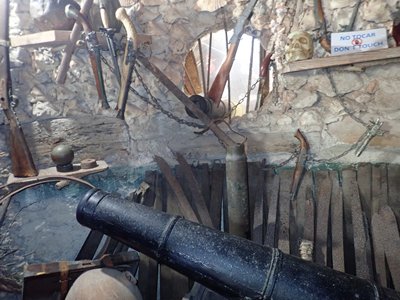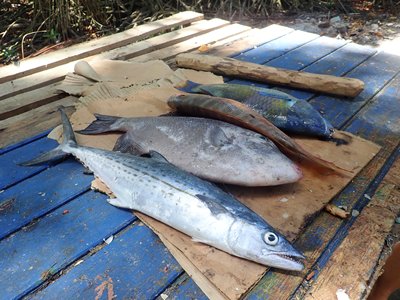 ---