Vivario Cays and Honduras Bay Island of Guanaja 24 March to 2 April 2019

Ladyrebel
Tue 28 May 2019 15:15
VIVARIO CAYS AND HONDURAS BAY ISLANDS OF GUANAJA
24 March to 2 April 2019
Vivario Cays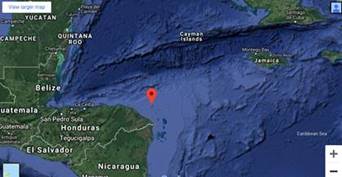 Position: 15050.25'N, 083018.27'W
Vivario Cays are located in the Islas De La Bahia Area of the Country of Honduras; tiny islands approximately 70 miles offshore of Honduras, just outside Nicaraguan waters.
Sunday 24 March
Providencia (Columbia) to Vivario Cays, (Honduras), 211 miles, 31.67 hours, 6.66 knots average speed,
25 engine hours.
Total miles since departing Falmouth in August 2016: 13233
Due to our lack of large headsail, unable to have fixed the furler, we mainly motor-sailed. There was insufficient wind for our smaller staysail to have any effect and we were too close to the wind to hoist our 'drifter' – spinnaker type sail ideal for light airs.
As a group of boats we had agreed to stay close together for this potentially dangerous (pirated) passage. Using minimal radio communication extra concentration and vigilance was necessary. We were also using our 'low' (deck) level navigation lights, as opposed to our mast head lights, in order to be less visible by potential 'opportunists'. Being a known drug running area there had been previous boardings by unsavoury characters. We wanted to be as invisible as possible!
The passage was, thankfully, uneventful aside from landing a decent sized, very tasty, Spanish Mackerel.
<![if !vml]>
<![endif]>

Vivario Cays appeared to be uninhabited (aside from maybe a handful of people), the only activity from fishermen or so we thought. We chose to anchor here overnight to break up our passage to Guanaja. The night passed without issue, however, footage from one of our fleet's drone showed numerous 'white' packages laid out on the beach, some in the sea being moved along by the current!! Clearly the fishermen weren't just handling fish!
Ken went over to one of the other boats hosting a rum tasting, but as we were sailing the next day I wasn't drinking so chilled out on board.
We suspected another 'shipment'/'white package run' was imminent when some of our fleet were advised by the local 'fishermen' the next morning to move on, due to bad weather coming in, so they said!!! We were planning on staying here a couple of nights, however, despite their suggestion we moved on, the weather was actually favourable for us to do so, so we set sail. We didn't particularly want to be around to witness the shipment so were pleased the sailing conditions were favourable to continue.
Tuesday 26 March
Vivario Cays to Guanaja, (Honduras Bay Island), 153 miles, 26.24 hours, 17.8 engine hours 5.83 knots average speed. Total miles: 13386
Position: 16026.489N, 85053.456W
The drifter (large light winds sail) flew beautifully all day and it was tempting to leave it up overnight, however, I was nervous of this incase the wind picked up. Fortunately Ken agreed we should drop it before dark which proved the correct decision as we had a couple of large squalls during the night that even had the auto-pilot struggling.
<![if !vml]>
<![endif]>

We motor-sailed on and off during the night in order to keep at the same, previously agreed, speed as the rest of the group. A couple of fishing boats came through the fleet, which was a little nerve racking until they had completely passed by without incident and the Armada's (we assumed) bright lights were occasionally, reassuringly, visible in the distance.
Guanaja Island is called 'the Venice of the Caribbean'. 6000 people live in Bonaca town, crammed onto a small off-lying island, of just 100 acres. Most of the houses are on stilts and waterways run throughout the town. The people left the main island to build the smaller island, due to the infestation of mosquitos and subsequent disease.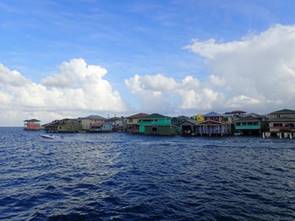 <![if !vml]>
<![endif]>
Approaching Guanaja Bonaca Town; island on stilts
We arrived in daylight into the temporary anchorage where the Port Officer could clearly see us. Skippers alone were required to check in ashore with Customs and Immigration, complete with photograph of the boat in situ., so whilst Ken did the honours, I enjoyed a hot shower – one of the benefits of having the engine running on passage is that we can not only make water, we can heat it too! Bliss!! Paperwork complete, we moved to Josh Cay anchorage off Graham's Island.
Having suggested to the rally book club 'The Light Between Oceans'; a thoroughly enjoyable book by
M.L. Stedman, I thought I'd best spend some time reading to re-familiarise myself with the characters. Believe it or not I actually feel guilty reading a novel as there is always research and passage planning to be done on future destinations, boat maintenance and blog writing, monitoring weather patterns etc. etc.
Purchasing a few food items and a local sim card was a priority so I went ashore in the water taxi with a few of the other rally ladies. The afternoon was spent enjoying some local snorkelling in beautifully clear water.
<![if !vml]>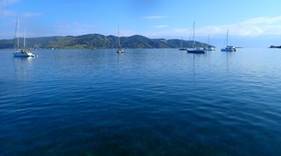 <![endif]>
Josh Cay Anchorage Shopping by water taxi
Venice like waterways running through the town
<![if !vml]>
<![endif]>

Crystal clear water for snorkelling Pelican looking for supper
<![if !vml]>
<![endif]>
<![if !vml]>
<![endif]>An abundance of fish and stunning fan corals

Graham's Place became a regular meet for drinks, beach games, morning yoga and noodling.
<![if !vml]>
<![endif]>

Graham's Place next to the anchorage
<![if !vml]>
<![endif]>

A dinghy ride through the canal lead to the stunning North side of the island. Swimming was amazing rounded off by a meal at Mi Casa and dancing on the bar and tables (encouraged by the restaurant owners!!).
<![if !vml]>
<![endif]>

<![if !vml]>
<![endif]>

Group dinghy trip through the canal to the North side
<![if !vml]>
<![endif]>

<![if !vml]>
<![endif]>

A cooling swim stop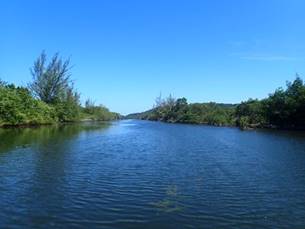 <![if !vml]>
<![endif]>

Stunning scenery through the canal
<![if !vml]>
<![endif]>

The climb up to the hill side restaurant Mi Casa and views from the balcony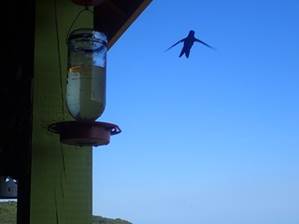 <![if !vml]>
<![endif]>

Looking across El Bight anchorage Humming bird
<![if !vml]>
<![endif]>
Bar Top Dancing
We managed to locate and fix a water leak from one of the cabin's sinks just in time to join the others on a waterfall and snorkel trip.
<![if !vml]>
<![endif]>

<![if !vml]>
<![endif]>
<![if !vml]>
<![endif]>
<![if !vml]>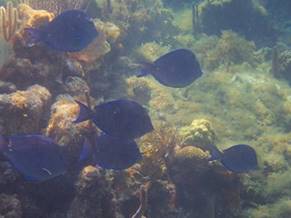 <![endif]>
<![if !vml]>
<![endif]>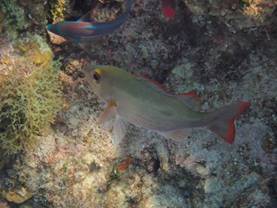 Guanaja is a wonderful island with beautiful scenery, welcoming people, fantastic snorkelling and a very friendly, safe atmosphere. We loved it and will look forward to revisiting in the future with more time to check out further anchorages, walks, waterfalls, bars and restaurants!
Next stop: Honduras Bay Island of Roatan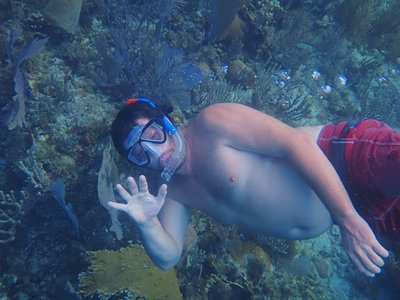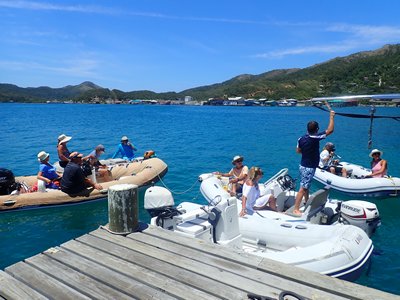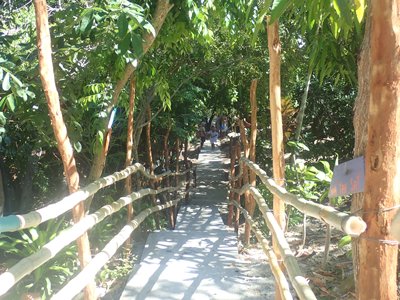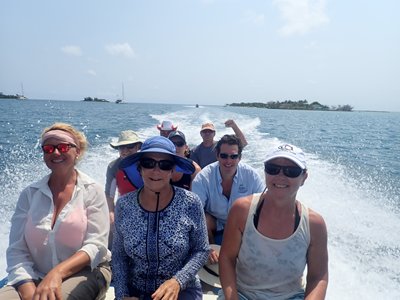 ---