San Blas Islands Part One. 7 - 16 January 2019

Ladyrebel
Sun 21 Apr 2019 15:53
7 January 2019 – 6 February 2019
<![if !vml]>
<![endif]>The national flag of Panama was adopted on
25 March 1925 after Panamanian separation from Colombia.
The stars and quarters are said to stand for the rival political parties, and the white is said to stand for the peace in which they operate. Blue was the colour of the Conservatives and red was the colour of the Liberals.
 
<![if !vml]>
<![endif]>The Kuna people occupy the San Blas Islands (formally the Kuna Yala Region).                                                            
The first settlements were built around the year 1800.       The Kuna had plenty of food and trade roots with different families, pirates and explorers, which benefited the growing of the community.
The Mola, or Molas, is a hand-made textile that forms part of the traditional women's clothing of the Kuna people.  The women spend hours intricately sewing the Molas and make a living selling them.
Sunday 6 January 2019
San Bernardo, Tintipan (Columbia) to Isla Pinos, Panama, 131 miles, 21.67 hrs, 2.3 engine hrs, 6.04 knots average speed
Total Miles: 12532 nm
08o59.82'N, 077o45.49'W
We calculated departure time to be early afternoon so I spent a large part of the morning scraping the thick layer of barnacles from Lady Rebel's bottom, using a 'pony' (very small) dive tank, finishing off with mask and snorkel when the air ran out, whilst Ken fixed the leaking fuel filter for the dinghy outboard motor.
The overnight sail to Isla Pinos was almost perfect, with a relatively flat sea state, great wind strength and angle that enabled us to fly all three sails and power along quickly and comfortably.  About two hours into my shift on the second day the fishing line bent over double!  Not wanting to wake Ken I set about landing the catch.  It soon became very clear that this wasn't going to happen.  I couldn't even turn the drum a millimetre, never mind reeling the whole thing in; it was far too heavy.  It took Ken almost an hour to patiently wind in the line and as the fish neared the boat we understood why!  It was huge!  So huge it broke the rod!  How we managed to get it aboard I will never know – brute force, adrenalin and the use of a gaff.  I was frantically squirting cheap vodka into its gills to put it out of its misery as quickly and painlessly as possible, however it was still flapping around on the aft deck half a bottle later.  I so desperately wanted it to be dead and not suffering I hit it on the head with a winch handle; cruel to be kind as they say; quickly and thankfully all went quiet.
<![if !vml]>
<![endif]>

<![if !vml]>
<![endif]>

Ken set about gutting the fish during the remainder of the passage.  It had a very long pointed 'nose', was identified as a 'sail fish', measured 2 metres from end to end and weighed 25-30 kilos!  Far too much for the two of us, Ken came up with the fabulous idea of donating the fish to the local restaurant to prepare and cook for us, along with the other 7 rally boats in the anchorage, which they were absolutely delighted to do.  Cooked in their traditional way along with rice and vegetables, twenty people enjoyed a wonderful meal and evening in general.
<![if !vml]>
<![endif]>
                                                                                                                       The Kuna people are even shorter than I am!

<![if !vml]>
<![endif]>
      The community run restaurant                                                            Isla Pinos from the anchorage
<![if !vml]>
<![endif]>
     The anchorage from Isla Pinos
<![if !vml]>
<![endif]>
                                                                                                                                The walk to the local village
<![if !vml]>
<![endif]>
               Thatched houses in the village                                                   The toilet over the water!
<![if !vml]>
<![endif]>
The Kunas build their own canoes from tree trunks                           A local Kuna preparing a coconut for me
<![if !vml]>
<![endif]>
             Lady Rebel at anchor                                                                                        Approaching the village
<![if !vml]>
<![endif]>
               A house in the making                                                                   Mainland Panama from high up on the island
After spending three days thoroughly enjoying Isla Pinos - walking, swimming, paddle-boarding, noodling, beaching, we motor-sailed on to the next island, Mamitupu, just 19 miles away where we enjoyed an island tour for $5!
<![if !vml]>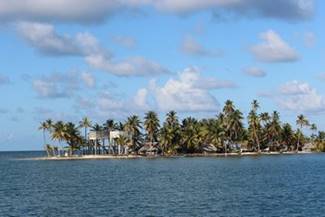 <![endif]>

Mamitupu Island infront and Panama mainland behind us, in the anchorage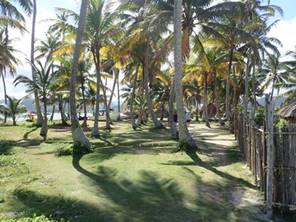 <![if !vml]>
<![endif]>
                Locals selling coconuts                                                                 Ashore on the island
<![if !vml]>
<![endif]>
                               
 Thatched houses often with toilets on stilts above the water!    Kuna very proud of his new coconut press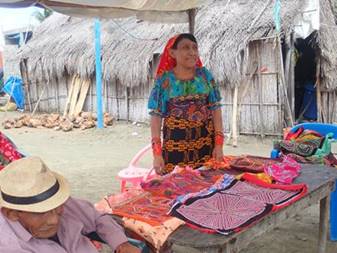 <![if !vml]>
<![endif]>
Kuna women earn a living making and selling 'Molas' – layers of material take hours to beautifully embroider.
Each evening 'Congresso' is held – a meeting with the Chief of the island and inhabitants.  We were able to meet the Chief, however not attend Congresso or take photographs.  Infact most of the Kunas do not like their photograph taken unless we purchased a Mola or coconut or gave them $1!
The 13 mile passage from Mamitupu to Mono Island was tricky, weaving between reefs and shallow areas and a few boats touched the bottom.  Fortunately for us they radioed back to warn us of the danger spots.  It was essential for us to look out for reefs ahead which were easily spotted if the sun was shining overhead, but if cloudy or the sun low, they were impossible to see.  Navionics charts are not at all accurate in this area so we were using the Eric Bauhaus charts and pilot book which was far more accurate but still one or two areas not charted correctly.
<![if !vml]>
<![endif]>
           A reef breaking the surface                                                             Passing various islands on route
<![if !vml]>
<![endif]>

Mono Island uninhabited                                                                             Just three rally boats in the anchorage
<![if !vml]>
<![endif]>
A sprouting coconut                                                                                        Beautiful unspoiled beach
The 10 miles to Snug Harbour was equally as tricky and nerve racking.  Fortunately I was on the bow spotting and we were able to alter course in time to narrowly miss a reef.  There were a few uncharted reefs on this trip that we had to 'swerve' to avoid!  One boat got stuck on a reef and called for assistance, however managed to reverse off eventually with no serious damage done. 
Being a Sunday (now 13 January) it was time for 'Suzie Sunday' – a tradition for the rally participants to get together and chill out, party, bbq, play cricket, boules, have fun.  The beach at Snug Harbour was ideal.
<![if !vml]>
<![endif]>
<![if !vml]>
<![endif]>
                 Ken BBQing Lunch                                                                                         Lobster prep.
<![if !vml]>
<![endif]>
Joined by some Kuna locals in their dugout canoe, who were excellent at cricket and post cricket pose!
The next beautiful island on our journey, a wonderful 24 mile sail with 18 knots plus of wind, was Green Island.  Once we'd recovered from the concern of not being able to furl the genoa due to a locking turn, which we eventually freed (phew) and after 4 attempts to anchor (due to very soft mud in deep water and strong winds) we were able to relax and enjoy the view.  Although it was still blowy with no land protection, the reef infront of us blocked the high seas.
<![if !vml]>
<![endif]>
        A daily visit from a Kuna veg boat – no supermarkets on these islands!
The following day there was no escaping boat chores – mostly general maintenance, cleaning out filters etc. but a thoroughly good evening was had by all the rally boats in the anchorage aboard La Mischief for Dee's Birthday!  
One of the boats found a largeish snake hiding under their solar panels, a dangerous one apparently. They managed to coax it off the roof and it swam to the island.  Crocodiles were also an issue here, not that we saw any; nevertheless we didn't swim here!! 
A stroll around the island highlighted its beauty, white sand, palm trees …. you get the picture 😉
<![if !vml]>
<![endif]>

<![if !vml]>
<![endif]>
A Kuna house and garden hammock!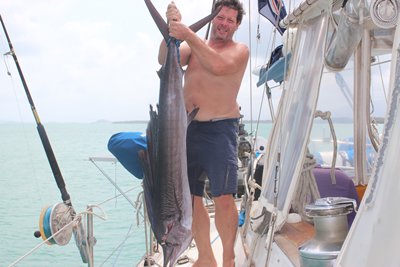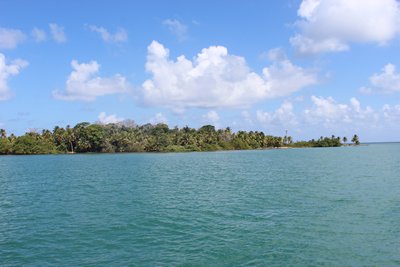 ---