Trinidad, 7 August to 3 September 2018

Ladyrebel
Mon 24 Sep 2018 14:26
Trinidad
7 August to 3 September 2018
Crew:  Ken Robertson, Jenny Thomas
Monday 6 August, Tobago to Trinidad – Port Chaguaramus, 65 miles, 10 hrs 10 minutes, 6.4 knots average speed, 4.6 engine hours.
Total Miles since Falmouth, August 2016: 11317
<![if !vml]>
<![endif]>The National flag of Trinidad and Tobago was adopted upon independence from the United Kingdom on 31 August 1962. Designed by Carlisle Chang, the flag was chosen by the independence committee. Red, black and white symbolise fire, earth and water.

The overnight passage from Tobago was very pleasant; a good sail until the wind dropped towards nearing our destination.  We spotted a sailing boat on AIS called Happy Hour, travelling in the same direction, so we called them up for a natter on the VHF radio, as you do in the middle of the night!  A Dutch couple Rob and Hilde.  It's always good to be in communication with other vessels in the locality, just in case, heaven forbid, something happens that requires assistance.  Piracy has been reported in this area, especially approaching Venezuela, although we had set our course to keep us minimum 65 miles off the Venezuelan coast. 
<![if !vml]>
<![endif]>
   Arriving early morning
Happy Hour anchored next to us and we met in person at Customs and Immigration and several times afterwards at various social events.  We lunched with Jeff and Sandra, catamaran Nawii, whom we'd met back in Grenada, Carriacou and Tobago.  It's always good to meet up with friends, old and new!
<![if !vml]>
<![endif]>
The anchorage looking across to the many boat yards
Trinidad is very industrial with its gas and oil production and a great place for boat work.  Anything and everything can be achieved between the several large boat yards.
<![if !vml]>
<![endif]>
Industrial area for large shipping                                                               Peake's Boat Yard
During our stay we had some dive tank holders made, our dinghy patched up and new seat covers made, our fridge and freezer repaired with the installation of a new controller plus refrigerant top up (drying the moisture from the compressors didn't work – the initial diagnosis!).  We also had the opportunity to attend to some other outstanding boat chores ourselves; Ken primarily installing isolation switches in the electrical systems and me, servicing one of our toilets.  I always get the best jobs!  Frustratingly this took me two days as every time I put it back together it sprang a leak.  Finally it was leak free, yay …………. then I realised I'd omitted to install a vital part so had to take it all apart again, grrrrrr – not easy bent double in such a small space, even for someone as vertically challenged as myself.  Painting the generator mounts underneath the floorboards in the engine bay to stop them going rusty was equally challenging, but quite rewarding once finished.  I was however in no hurry to paint the engine mounts!!
<![if !vml]>
<![endif]>

The dinghy on the fork lift                                           Painting the generator mounts in the engine bay
The water surrounding Trinidad is brown so making water and swimming is not an option.  Luckily showers are available at the boat yards.  Barnacle growth is very fast; within days we could see them enveloping our anchor chain.  Frequently we had to clean out our inlet filters as the barnacles were constantly blocking them stopping the water flow.  Fortunately our antifoul on the bottom of the boat was relatively new keeping barnacle growth at bay, however a green sea weed beard grew around the water line.  We would have to wait until the clear waters of Bonaire to find out how successful the antifouling was on the propeller and shaft.  We've not found one that works on these parts yet.
Kim and Simon's yacht Aura was out on the hard and had been sold subject to survey.  They had asked us to put their personal belongings into storage as they were back in Australia.  This was an easy task compared to having someone do the same on Lady Rebel.  We really must dispose of the stuff we unnecessarily cart around with us!  Various charities will take a lot of it I'm sure.
One fine morning we were awakened by lots of screaming and shouting directly beside Lady Rebel.  Popping our heads above decks we were surprised to see an unmanned dinghy going around in circles at fairly high speed, surrounded by lots of locals in their dinghies.  It appeared the owner of the runaway dinghy was travelling too fast, had hit a wave and been thrown overboard.  Not wearing his kill-cord, then engine didn't stop; luckily it was in a turning position.  The owner had been picked up by a local and was now trying to jump back into his dinghy.  After several attempts he succeeded and through sheer embarrassment sped off at great speed into the distance with not even a thank you!  This could so easily have ended in tears – had he missed the dinghy and ended up back in the water, he most probably would have been injured by the propeller.  We cannot fathom why people don't wear a kill-cord?!
Socially Trinidad was fantastic.  We were warned to be particularly vigilant due to the high crime rate, but, apart from one incident which I will mention later, the locals couldn't have been more friendly, helpful and welcoming and they certainly know how to party! 😊
One of the staff members from Budget Marine, the local chandlery/boat shop, took us to Macquerie Beach to see the wild monkeys (for which he insisted on paying the entry fee), Bamboo Cathedral Nature Walk, Pier 1 (where the power-boats were assembling for the great race), the Yacht Club and the Sailing Association, all in the space of his lunch hour.  Amazing!
<![if !vml]>
<![endif]>
Bamboo Cathedral Trail
<![if !vml]>
<![endif]>
Our first social activity was the cricket.  The CPL 20/20 (Caribbean Premier League) first game of the season.  Trinibago v St Lucia, being played at The Queen's Park Oval, Port of Spain - Trinidad's capital. The local's go wild for it being as popular as football is in the UK.  We decided to make a day of it so caught the bus into Port of Spain, with Jeff and Sandra, catamaran Nawii.  A 'walking tour phone app.' guided us around the city taking in the most interesting sights/buildings. 
<![if !vml]>
<![endif]>
<![if !vml]>
<![endif]>
The Magnificent Seven – A road with seven impressive 'mansions'
Then onto Queen's Park Savannah, Port of Spain's largest open space occupying 260 acres of level land, the distance around the perimeter being 2.2 miles. It is the largest roundabout in the World and centre stage of Trinidad's spectacular Carnival, Steel pan, Sports and many other forms of entertainment. 
A very pleasant walk through the Botanical Gardens lead us to a beer stop at the Zoo's café (we didn't fancy the Zoo), then onto The Oval where we met up with other cruisers. 
<![if !vml]>
<![endif]>
Botanical Gardens                                           The shopkeeper advised we drank our beer in hidden in plastic bags!
Trinibago won the cricket so the atmosphere was amazing with celebrating dancing girls, cheer-leaders, pans, bands, singers and fireworks. 
<![if !vml]>
<![endif]>

The Oval                                                                                      Ken celebrating with a dedicated Trinibago supporter!
Thursday night is pot-luck BBQ night where attendees take a dish to share and meat to cook on the BBQ.  A great way to meet fellow cruisers and locals, to share stories and find out lots of handy information!  During one of these BBQ's, the Captain from Activ, a 138 foot schooner (that we'd seen in Tobago) invited us to a film night where they would show footage of a boat going around Cape Horn projected onto one of their many sails.  It was a great night, popcorn included, a tour of the boat and a climb up the rigging!
<![if !vml]>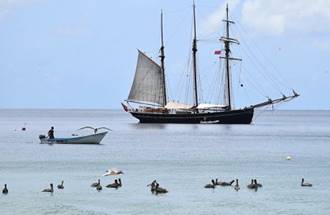 <![endif]>

Activ in Tobago                                                                                 Activ in Chaguaramus Anchorage, Trinidad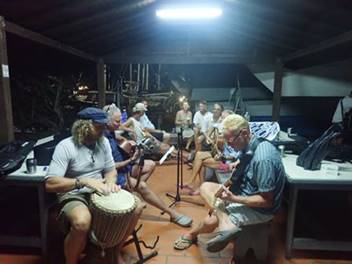 <![if !vml]>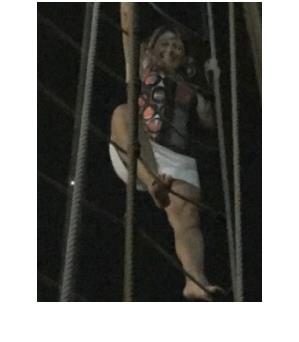 <![endif]>
               Such elegance, climbing the rigging!                                         Jamin'
Friday night is Jam night where cruisers and locals take their instruments and singing voices and make music.  Neither Ken or I play and instrument and I certainly don't sing but there is always a bongo drum, triangle or something floating around to make a noise with!
Saturday morning is the 0600hrs bus to Port of Spain's massive market, with vendors selling fruit, veg, meat, fish plus much more.  An experience in itself, plus you can get amazing 'doubles' for breakfast – a local dish consisting of a sweetish wrap type bread filled with chick peas in a delicious curry sauce.  Extremely messy to eat but very much worth the effort 😊.
<![if !vml]>
<![endif]>

Huge Saturday morning market, with huge produce!

Every other Saturday afternoon is for Hashing – 'drinkers with a running problem'.  We had hashed in Grenada, very popular amongst cruisers, but not so popular in Trinidad.  We can only assume because the distances to travel to the start of the Hashes are far greater; sometimes a two hour bus ride.  We figured this could only be a bonus as we would see some of the remoter parts of the island.  Ken contacted the Hash House Harriers, based in Port of Spain and reserved us a place on the bus, with Ian, a fellow cruiser from sailing Yacht Mr X.  Hashing is basically following a trail marked by flour or shredded paper, the catch being if you come to a circle it will have several routes leading from it.  If you choose a route and come to an 'X' it's the incorrect one so you return to the circle and try a different one.  If you see 'On-On' written on the ground or hear people shouting this, you know you are heading in the right direction.
The first Hash was on the North of the island, Avocat village, Blancisseuse, in the middle of the bush.  We estimated 200 people, some runners, some walkers.  The trail took us along (sometimes waist-deep in) the river to beautiful Avocat Waterfall.  Following the Hash 'Ceremony' where virgin hashers have to drink beer from their shoes, was an enormous party, food, bar, DJ and lots of dancing, which continued on the bus on the return trip to Port of Spain!
<![if !vml]>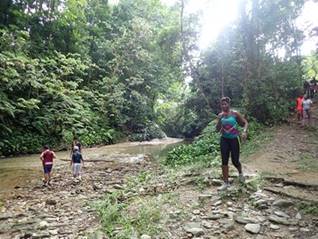 <![endif]>
<![if !vml]>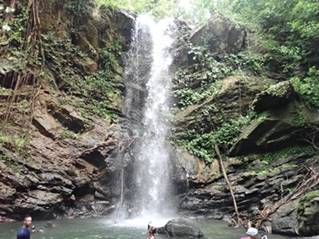 <![endif]>

Avocat Waterfall                                                                               Ian and Ken

It was following our first Hash that we had the incident with a local.  The Hash bus dropped us in Port of Spain, so we needed to get a taxi the 45 minutes back to Chaguaramus.  It was customary (as in Tobago) to flag a car down (often from a bus stop), negotiate a price and off you go.  There were the three of us, plus a young girl returning from her 18th Birthday celebrations waiting at the bus stop on a busy, highly lit-up main road, for a car to stop.  It didn't take long.  We negotiated a price (8TT – which was more than the bus fare) that the driver accepted so we got in and off we went.  Half way into our journey the driver started getting angry, shouting and swearing at us saying 'you white people ripping off the locals, not paying enough for the taxi ride' etc. etc..  The 18 year old girl in the front seat discreetly told us not to retaliate, so we sat quietly, shocked at his sudden behaviour.  We would happily have discussed paying more had he asked but he didn't give us chance before he stopped the car (in a very dodgy area) and kicked us out!  Fortunately a car going the other way had witnessed this, turned around and offered us a lift to our destination.  So mad driver no.1 didn't receive a penny and nice driver no.2 got all the money for half the distance!  We were relieved to be back on the boat safe and sound!
During the Hash I got chatting to a local, Colin, who amazingly it transpired, played rugby in the UK and was a big fan of Leicester Tigers having been involved with their academy!  He now plays in Trinidad for Royalians so we made arrangements to watch him next play. 
Coincidentally, a distant relative of Ken's (Trinidadian Tarik Cheeks), through Amy (Ken's nephew's wife) also plays rugby in Trinidad, but for team Harvard.  We watched three games, two on one Saturday at the Hasely Crawford Stadium also involving teams Northern and Caribs, and one on another Saturday at The Queen's Park Savannah – Harvard v Royalians.  On both occasions we were given a lift after the games to the respective rugby clubs to share beers with the players and supporters and on both occasions we were given lifts back to Chaguaramus, once by Colin and once by another player.  We couldn't get over just how friendly, kind and welcoming everyone was.  We also couldn't get over seeing parrots flying over the rugby pitches!!
<![if !vml]>
<![endif]>
Tarik with the ball, team Harvard                                                              Colin playing for Royalians, Dark Blue
Saturday 18 August was 'The Great Race' involving 40 power boats divided into 7 groups racing the 90 miles from Trinidad to Tobago.  The race was extra special this year on 2 counts; firstly it was its 50th anniversary and secondly this historic event has been sanctioned as a speed record event.  The record breaker will therefore be entered in The Guinness Book Of Records so the participants would be going all out to be as fast as possible.  We collected Ian, Jeff and Sandra at 0630hrs in our dinghy (both their boats were on the hard) and went over to Gasper Grande Island for the best view, with our cameras, fruit juice, coffee and biscuits (bit early for beers!).  The record was broken in the 130mph class, the course completed in 55 minutes.  The previous year was 1 hour and 4 minutes.  It was amazing to watch and hear and would have been rude not to conclude the event with an egg, bacon and pancake breakfast aboard Lady Rebel.  Still too early for beers!
<![if !vml]>
<![endif]>
Following a walk one Sunday morning from the boat yard at Chaguaramus up to the radio masts then onto the TTSA (Trinidad and Tobago Sailing Association) we called by a boat anchored near us flying a British Red Ensign and invited them for sundowners.  David and Jackie, boat Jackster; a very interesting couple whom have just completed a 10 year circumnavigation so had lots of wonderful tales to tell.  They arrived at 5.30pm and left at 11.30pm and we still had lots more to talk about 😊
<![if !vml]>
<![endif]>
Sunday morning walk                                                                                     TTSA
Tuesday 21 August at precisely 1731 hrs the boat started shaking and there was a loud rumbling noise.  Up on deck we noticed the masts on the boats out of the water all shaking and several car alarms sounding.  This very weird sensation lasted for a good 2 minutes that felt a lot longer.  I envisaged the Ocean floor opening up and swallowing us whole!  65km from us, just off the North coast of Venezuela was an earthquake, magnitude 7.3 on the Richter scale, 154.3 km (96 miles deep), with 24 aftershocks.  We only felt a couple of aftershocks the following day.  A tsunami warning was issued but luckily soon cleared.  5 people died and 122 were sadly injured in Venezuela; fortunately in Trinidad no-one was hurt but there was considerable building damage.  That was a first for us and hopefully a last.
The second Hash we did with La Mischief and Mr X was at Felicity, a 1.5 hr walk near the Caroni Swamp.  We were knee deep in swamp water and were pleased we'd taken a spare change of clothes!   Following was a disco, street food, a 3 piece drum band and dance off competition amongst the locals which was amazing to watch.  We thoroughly enjoyed the day, which wasn't yet over. 
<![if !vml]>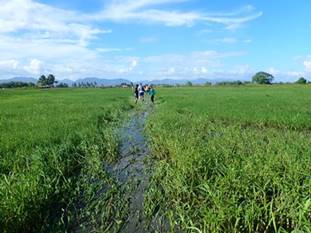 <![endif]>
At Port of Spain, on the way back, we went to 'Pan On The Avenue' where 30 different pan bands parade the streets on enormous trucks whilst playing their fantastic music.  Each band had minimum 30 players.
The "Steel Drum", or "Pan", is a unique instrument invented relatively recently in 1947 on the island of Trinidad! It is a skilfully hammered 55-gallon oil barrel which has been carefully tuned by hand to produce perfect musical tones.  Adults and children were producing popular music tracks and jigging along as they played.  It was an amazing experience.
<![if !vml]>
<![endif]>

Pan band on an enormous truck                                                Street party
<![if !vml]>
<![endif]>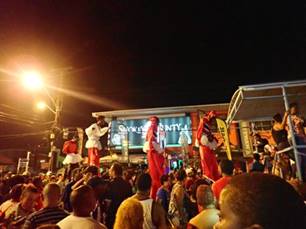 Our next experience was 'Taste of Trini' tour with local Jesse James.  Jesse drove 8 of us around the island stopping frequently at food vendors, purchasing local dishes for us to sample.  Here is what we sampled; I may have missed and miss spelled a few:
coconut bake, pumpkin, stewed beef chow mein, deep fried bake, sword fish and smoked herring, doubles, potato pie, beef pie, roti, sada, dahl poree, paratha, carallie, bodi (green beans), spinach, cow heel soup, macaroni pie, cheese pie, accra, saltfish, coconut roll, saheena, kalaloa, kitchorie, stew pork, peas, dasheen, pig tails, cassava, sweet potato, chiquita bananas, silk figs (also bananas), goat curry, chicken curry, duck, fried ocra, corn on the cob, tambrin (tamarind and sugar), sweet mango, plums, bread pudding, chocolate, coconut turnover, fruit slice, coconut finger, sorel juice chicken cutters, punchin rum, kurma, tullum (coconut and molasses), bread fruit, coco bean, beef, ribs, fish, plantain, green fig salad, lentils and various breads. 
On May 30th 1845, the Fath Al Razak docked in the Port of Spain harbour in Trinidad with 225 adult passengers on board. The passengers were immigrants from India who had come to the British colony to work in the sugarcane plantations after the abolition of African slavery, hence a great number of the above dishes having an Indian influence.
10 hours of constant eating; by 7pm we were done and rolled into the dinghy that nearly sank under the additional weight!
<![if !vml]>
<![endif]>
Cow Heel Soup Shop!
<![if !vml]>
<![endif]>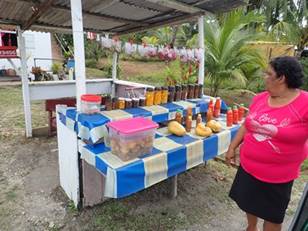 Street Vendors
We decided to extend our stay in Trinidad to incorporate Independence Day celebrations on Friday 31 August.  A bus took us, along with several other cruisers, to Starlift Pan Orchestra, near Port of Spain.  There was a junior and senior pan band, singers, speakers, disco, a bar and food that consisted of starters: souse (pigs foot soup, doubles or pie (beef, potato or cheese and spinach),  brunch 1 – herring, salt fish, tomato salsa, paratha, donut and bread, brunch 2 – macaroni pie, jeera pork, chicken, beef and a dessert of banana bread, fruit bread and a chocolate cup cake.  Tea, coffee and fruit juice were included with chocolate covered oat crunch!  A fine, very large spread!  Not only do Trinidadians know how to party, they also know how to eat! Once again we rolled into our dinghy that had only just recovered from the shock of us nearly sinking it before from overeating!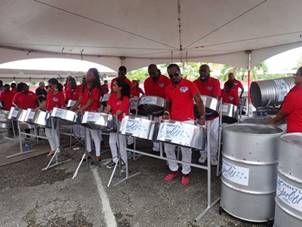 <![if !vml]>
<![endif]>

Sunday 2 September was spent preparing Lady Rebel for departure the following day to the ABC Islands.  We put up the twin headsails and poles as the wind would be blowing from behind us for most of the 460 miles.  We did engine checks and stowed everything that moves.  A final meal was enjoyed with Nawii and Mr X as we don't know when we will see them again. 
Next stop Bonaire – the 'B' of the ABC's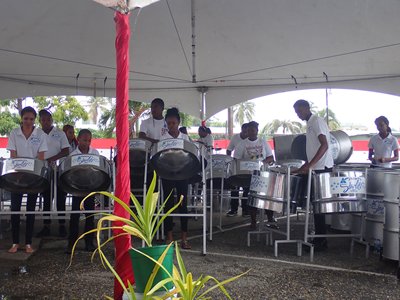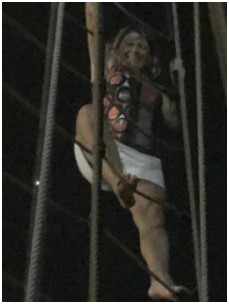 ---