Belize, Part II

Ladyrebel
Fri 11 Oct 2019 14:12
Belize: Part II
Friday 26 April, Placencia Marina:
A very quiet start to the day without the morning rally net, on the VHF radio! I made the decision to go alcohol free for one month and properly 'dry out'! I couldn't persuade Ken to join me on this one!
A day of jobs and passage planning with our friends Marcus and Margie from s/y Island Kea as they too were staying in Belize to cruise the out lying islands/cays. Some rally boats were heading North to the East coast of America for the hurricane season. Others, along with ourselves, would make their way South to Guatemala.
<![if !vml]>
<![endif]>

Final goodbyes as we leave the marina heading back down to Placencia Village anchorage. Even writing this blog several months on is bringing tears to my eyes!
Yoga on the beach – we would carry on rally traditions wherever possible!
Our 30 day visa was due to expire on 17 May, so we had 3 weeks to explore the many cays and Belize's Great Barrier Reef – the second largest in the World to Australia's.
<![if !vml]>
<![endif]>
Accompanied by dolphins
<![if !vml]>
<![endif]>
Approaching Pelican Cay Island Kea anchored at Pelican Cay
<![if !vml]>
<![endif]>
Hideaway Restaurant, amongst the mangroves Lovely corals to be seen snorkelling
<![if !vml]>
<![endif]>

Many colourful fish and unusual jelly fish
Next stop South Water Cay
The island was hosting a group of ladies on a yoga retreat which Margie and I stumbled upon one afternoon and managed to wangle ourselves an invite to join in on a couple of occasions – for free!! We loved it.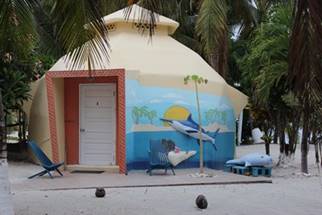 <![if !vml]>
<![endif]>

<![if !vml]>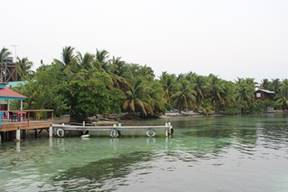 <![endif]>
Mangroves flourish in these islands
<![if !vml]>
<![endif]>
Health and Safety at its best!
<![if !vml]>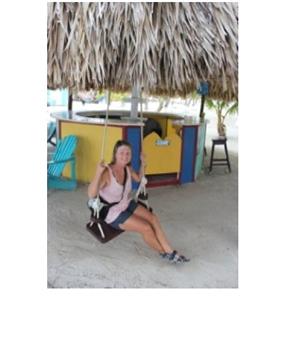 <![endif]>
Alternative bar stool!
Super snorkelling in crystal clear waters on the Great Barrier Reef, with an abundance of colourful fish, rays and corals! We likened it to swimming in an aquarium!
<![if !vml]>
<![endif]>

Trunk fish Eagle Ray
<![if !vml]>
<![endif]>

Angel Fish French Grunt
Margie had chosen Sapodilla Lagoon Marina Resort to celebrate her Birthday.
<![if !vml]>
<![endif]>
Marina approach
<![if !vml]>
<![endif]>


<![if !vml]>
<![endif]>
A pleasant dinghy ride through the mangroves to the neighbouring beach resort, associated with the marina,
with some impressive properties.
The beach resort was officially closed on referendum day to enable the staff to vote on whether the battle for ownership between Guatemala and Belize should be taken to the International Court of Justice, so we had the whole place to ourselves. Returning for a special Birthday meal the following day, the restaurant was unfortunately serving a very limited menu due to the Chef being off. On further enquiry, we discovered from the waiter that the chef had been shot. Not what we were expecting to hear!! He was in the resort vehicle and had been mistaken for someone else! Fortunately he survived. The waiter, also in the vehicle, escaped unhurt but was clearly, not surprisingly, still in shock.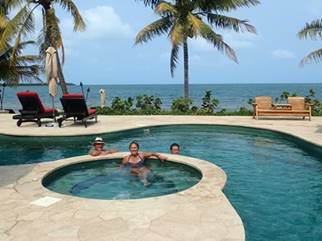 <![if !vml]>
<![endif]>

We also discovered the marina facilities were limited, wifi and fuel pumps down, not due to a lightening strike as we were first lead to believe, but because they, along with the beach resort, were sadly in receivership, confidently awaiting new investors.
We anchored off Wippari Cay for one night, followed by a lunch stop and wonderful snorkel at Moho Cay.
<![if !vml]>
<![endif]>

<![if !vml]>
<![endif]>
Lady Rebel and Island Kea peacefully at anchor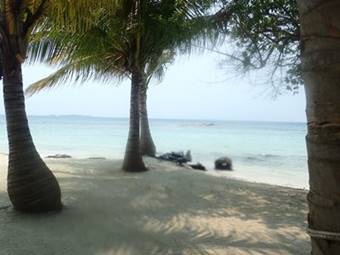 <![if !vml]>
<![endif]>

<![if !vml]>
<![endif]>

Barracuda! Beautiful Fan Coral
I had chosen Hatchet Cay for my Birthday meal, so we motored the short distance (insufficient wind to sail) and picked up a free mooring buoy. Many of the islands provide mooring buoys to discourage boats from anchoring and destroying the coral. We snorkelled on the buoy to check the concrete block on the bottom, holding it in place, was large enough to secure Lady Rebel's 28 tons!
<![if !vml]>
<![endif]>
A gorgeous 'up market' resort Fabulous Birthday meal
<![if !vml]>
<![endif]>
Beautiful Sunset

<![if !vml]>
<![endif]>

Fishing boat delivering the fresh catch
<![if !vml]>
<![endif]>

Ranguana Cay was another great little island for snorkelling and beach petanque (boules) with a lovely bar and bbq.
<![if !vml]>
<![endif]>
<![if !vml]>
<![endif]>

<![if !vml]>
<![endif]>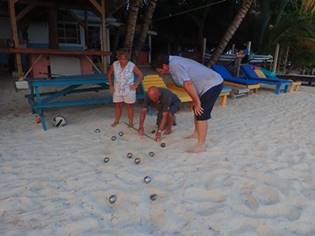 Petanque becoming very competitive with Marcus and Margie, s/y Island Kea
<![if !vml]>
<![endif]>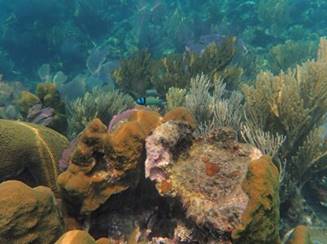 <![if !vml]>
<![endif]>

<![if !vml]>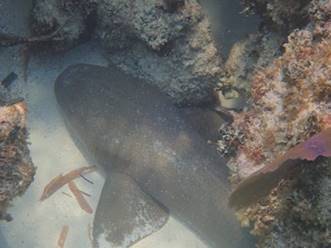 <![endif]>
We swam right over a resting Nurse Shark!
<![if !vml]>
<![endif]>

Lady Rebel and Island Kea, the only two boats anchored here. Beach Bar & Restaurant
<![if !vml]>
<![endif]>
Pelican getting ready to dive for fish Many pelicans roosting in the trees
We thoroughly enjoyed our island hopping; short distances between each, bumping into friends, meeting new cruisers; wonderful snorkelling and picturesque cays. The biggest challenge being the navigation, weaving between many underlying reefs and shallow patches. Often it was necessary for one of us to stand on the bow on lookout for these dangers, more easily spotted with the sun high and behind us, polaroid sunglasses being an essential accessary!
After returning to Placencia village to check out of Belize with Customs, the Port Office and Immigration (who charged us an extra $45 to come to the boat, even though we went to them??!!) we headed for Guatemala, with overnight stops at New Haven and Tres Puntas.
<![if !vml]>
<![endif]>
Perfect sail to New Haven with Island Kea
<![if !vml]>
<![endif]>
Very well sheltered bay of New Haven
Total miles since leaving Falmouth in August 2019: 13711
Next stop Livingstone, Guatemala.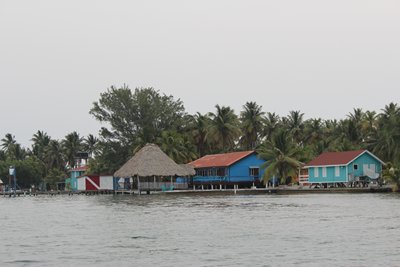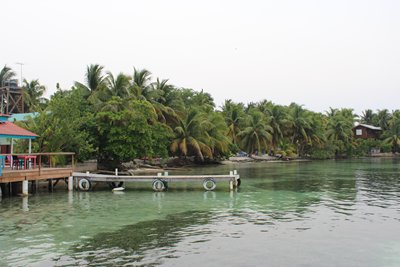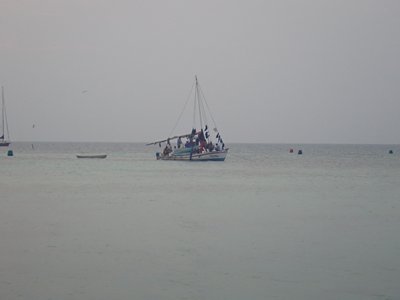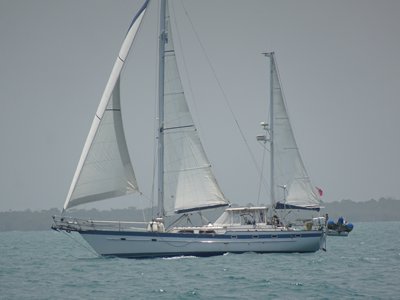 ---