Lanzarote 28:57.41N, 13:32.29 W

Ladyrebel
Fri 2 Sep 2016 10:17
Lisbon, 22 – 24 August 2016
The first couple of days in Lisbon were spent doing boat chores; the most important being to set up our twin headsails ready for the long downwind passage to Lanzarote in a few days' time. Peter from Storm Breaker assisted as they have the same rig which was most helpful! I cooked a simple lunch as a 'thank you' although it was bordering on being too hot to eat a great deal; sucking on ice cubes may have been a better option except we didn't have any (that's another one of the many jobs still on the list, to get the icemaker up and running).
I had a quick trip up the mast to change the bulb in the steaming light (going up the mast is never a quick trip for us, by the time the climbing devices and safety lines have been set up). Whilst up there, desperately trying not to drop the screwdriver on Ken's head from a great height, he had the bright idea of trying the deck light which is up the same mast. Lo and behold that didn't work either, the conclusion being it was a loose connection at the bottom of the mast, nothing to do with the bulb! So a wasted trip up the mast but an easy fix at the bottom thankfully!
We did the all-important engine checks – engine oil, gearbox oil, coolant, amongst other routine checks, visited the local supermarket to provision for our next journey and once all good to go we explored Lisbon by bus and metro. A town full of monuments, castles and stunning buildings. It was of course a necessity to sample the famous custard tarts!
<![if !vml]>
<![endif]>
For our final evening in Lisbon, the marina laid on a BBQ for Barbados 50 rally participants and various other yachties, which rounded off our stay nicely.
Thursday 25 August – Lisbon to Lanzarote, 587.6 miles, 103.5 hours, 16.6 engine hours, 5.68 knots average speed
Total miles: 1398.7
0900 hrs, Maisie departed through the lock gates first, followed by Storm Breaker then Maryna II. We hung back for White Ibis as they had a steering issue, which fortunately was soon sorted. The others had waited for us outside the lock, so we headed the 15 miles in convoy back down the river Tejo into open waters.
<![if !vml]>
<![endif]>
Initially the wind was in the wrong direction for us to use our new twin headsail rig so we sailed with just the mainsail. It was quite breezy, 23 knots of wind and a rolling sea but our speed over the ground was a good 6.9 knots so we were more than happy.
By 1700 hrs the wind had swung around behind us, to a dead run and we were able to drop the mainsail and hoist our new twin headsails! After lots of tweaking and rope pulling we set the sails as best we could for maximum performance. We soon discovered we will need to add a couple more winches and a few more cleats to handle the additional lines. More jobs for that ever increasing list. Since the image below was taken we added barber-haulers (lines that keep the poles down – yet more lines!). The wind and rolling sea steadily increased to a lot more than forecast which although made better by the headsail set up, was still difficult to deal with when trying to cook dinner or get some rest. On more than one occasion Ken heard choice words coming from the galley as I tried to stop dinner leaving the cooker with one hand and hold on for dear life with the other.
The noise the boat makes as she rolls around generally creaking and stuff in the cupboards constantly sliding and banging around (even though packed with cushions, blankets and bubble wrap) makes it nigh-on impossible to sleep, so we were getting more and more tired as the hours went by.
On one occasion during one of my night watches, I had to disturb Ken as there was a cargo ship on near collision course with us and becoming dangerously close. Our instruments said it would come within 250 feet – yikes! That is far too close for comfort especially in rolling seas and an unlit sky, cloud blacking out the light from the moon and stars. Normally we would move out of the way of a cargo vessel, even though we have right of way being under sail, as it's easier for us to alter our course than these enormous ships. With our new headsail rig and current lack of handling gear (soon to be amended!) changing course is possible but difficult so we held our course and stood on. Eventually and with great relief, we saw evidence that the cargo ship was altering course to avoid us. Ken had a similar one on one of his night shifts too. They are probably appreciative having something to do during their watch! All that ocean to float on and sod's law, we choose the same bit of water. It's a bit like when you are riding your bicycle and a fly goes in your eye or worse mouth. All that sky to fly around in and they choose the same bit of air as you!
On the whole, there was very little shipping, fishing vessels, lobster pots or wildlife about. I did see a solitary shark. Storm Breaker saw a whale with calf; I have definite whale envy, that would have been amazing. The lack of stuff going on meant, in between plotting our position on the chart, I was able to read, catch up on The Archers Omnibus, listen to various audiobooks when too dark to read and keep up with my 20 minutes' exercise regime!
The four days and nights at sea seemed to go on forever especially with the high winds, big seas and lack of sleep. We looked forward to VHF radio communication every couple of hours with the other rally boats and our SSB (satellite) radio communication at 1800hrs and midnight. Once again we were never very far away from Storm Breaker.
Sunday 28 August was not a good day for Ken. The wind suddenly changed direction forcing the sails to back and one of the poles to get jammed inside a shroud. In trying to free this Ken sustained rope burns across his hands. Luckily not too bad. Whilst getting him an ice pack I noticed the fridge and freezer weren't working. We put the generator on to charge the batteries in the hope this was the fridge/freezer issue, and it overheated and conked out. Then to cap it all he broke a tooth on a peanut!
At 1700 hrs we spotted land in the hazy sunshine. Beautiful Lanzarote, how pleased we were to see you. We were greeted by lots of windsurfers having a great time in the strong winds and hot weather doing their wave jumping and somersaults! We followed Storm Breaker in (quite remarkable to be so close after such a long distance) and shared a cold beer with them once safely moored up in Lanzarote Marina.
<![if !vml]>
<![endif]>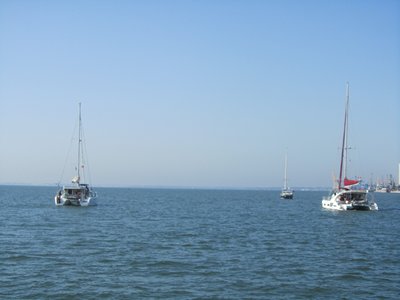 ---