And we are off!

Fortuitous
Craig and Leanne Street
Mon 22 Nov 2021 11:15
It's hard to put into words the atmosphere and range of emotions we felt yesterday as we set off on the ARC. As the sun rose, the pontoons were full but quiet as we contemplated the day ahead, by mid-morning there was a real buzz of anticipation, about 150 boats ready to set sail across the Atlantic. It was quite emotional as we watched the multihulls and racing boats leave the harbour first, then it was our turn. We bid farewell to friends, each wishing each other safe crossing and fair winds and slipped our lines. The entrance to the harbour was lined with well-wishers and other boats blasting their horns, there was even a rendition of 'Flower of Scotland' from one of our fellow sail boats. Craig was on the helm and as he steered us out of the harbour, what a sight to see the mass of sails and the start line marked by the navy boat, we certainly had to have our wits about us as boats manoeuvred several times to take the best line. We were all beating into wind (the opposite of the downwind sailing we were promised!) and we had to put in several tacks but it was a fantastic to sail across the start line at 13:17 on the start of adventure. As the harbour disappeared out of view and we started to head south west, we were reminded that this was the last time we would see land before reaching St Lucia.
An incredible day and one we'll probably only experience once in our lifetimes but will remember always.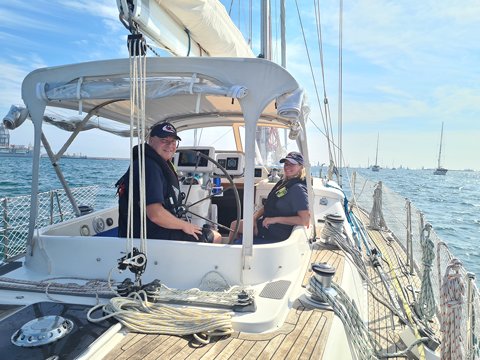 ---