World ARC Day 8 -16th Jan - The Santa Marta Express

Nina
Steve and Lynda Cooke
Sun 17 Jan 2016 00:05
11:46N 73:13W

World ARC Day 8 -16th Jan - The Santa Marta Express

The run down the coast to Santa Marta was exhilarating, if not downright scary!
The coastline does not give any respite for sailors, nor much shelter with the trade winds pushing down the coast. We were warned to expect it to be "challenging", but actually it was a fantastic sail if not a final baptism for Chris and Lesley. Lesley had been feeling quite sea sick, but finally got her sea legs in time for this part of the trip. Just as well. The front cabin had become like a huge tumble dryer, with the waves and swell making Nina dance and sway across the ocean.
The wind built all night. We had stayed into the coast, with a rhumb line straight from the Guajira peninsula, where it joins with Venezuela, to the headland of the Tayrona National Park. The wind slowly built during the night. We had planned to hit the headland at sunrise, to allow a safe transit around the cape and into the bay of Santa Marta.
At 19.00 hours the true wind had backed to North East, and had climbed to over 20 knots. Time to put away the poled out head sail and the gib. We put a big reef in the mainsail, and carried on into the night watches.
Nina was flying into the night again, with the sea building behind, and the wind gradually increasing with each gust. By 03.00 it had reached 25 knots gusting 30. Time or more reefing, and we continued on with growing seas and gusts.
The smell of desert and scrub and hot vegetation from the coastline was impressive after some four days at sea, but there is also large gas deposits along the coastline, creating the huge gas oil platforms, and also the chart does not have proper depths marked, saying "Warnig, depths have not been properly charted. Unsafe for navigation. mmmmnnnnnn, OK, we'd better keep a little further out than usual!
Dawn saw us nearing our destination. The wind came completely from behind, so Skipper rolled the foresail away, and we found ourselves with 3+ meter swells, and a chop which would have rivalled any blustery channel day. We rounded the last headland to find 42 knots of wind, and a tricky entrance to the bay to negotiate. Great fun, Nina bowled along at 8 knots. We were very glad we had completed it during the daylight!
We crossed the line at 08.32, to be greeted by a coastguard boat and a little red rib, which guided us into our berth in the Marina.
832 miles, 4 1/2 days and our first leg of the World ARC.
Time to explore a little part of Colombia.
Welcome to Santa Marta.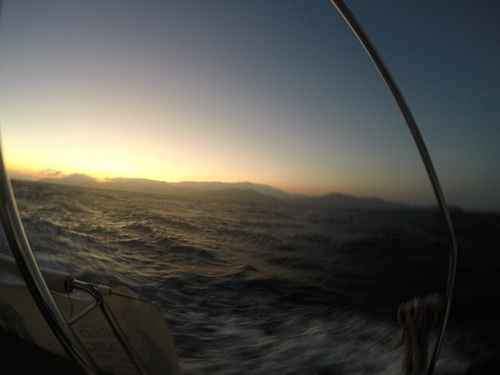 ---