ARC 2015 - Day 22 – Dec 12

Nina
Steve and Lynda Cooke
Sat 12 Dec 2015 22:19
14:12.46N 60:36.31W
Day 22 – Dec 12
The things we will miss
CHRIS
As our voyage comes towards its end, with a mixture of achievement, reluctance and anticipation, we have been discussing what we will miss most about our sailing marathon across the Atlantic (we really sailed across the Atlantic? Wow!). And also those things that we won't miss, or are looking forward to when we finally set foot on dry land again. (Tonight!) Here's a selection of the more printable choices:
What we will miss
The Man and his boat: Steve and Nina who have carried us through all of this
The night sky scattered with stars like diamond dust
Dolphins playing round the boat
The camaraderie of a crew who were pretty much strangers three weeks ago
The deep blue sea dappled with pure white horses
The huge skies
Other people's taste in music
What we will not miss/what we look forward to
Hot showers
Air conditioning
Being able to have a shower without the shower cubicle trying to hit you in the head
Cooking which does not have to take into account the ingredients trying to leap on to the floor
Freshly ground coffee
Family
Other people's taste in music
No doubt the next blog will be all about St Lucia parties, so while we're still at sea here are some musings on the past three weeks:
STEVE
US!
To be a little bit cocky and blasé about it, I had a pretty good idea that Nina would be OK.
When I first started to plan the trip, it was a huge worry to think who would be mad enough to come on a 3,000 mile trek across an Ocean, in a large plastic washing machine, getting thrown around, up and down, side to side. Cold and wet at the start, 40 knot winds, with all the sea that comes with that….
Many people have told me that "it's a thing only to be endured once in a life", "it's boring", "it's tedious", "there has been nothing to do"
Not true. This trip has been great fun. It has been fantastic.
Because of you.
You guys all volunteered.
I knew you'd all get on, because you are all kind guys with big hearts.
You have!
Thanks guys, its been an absolute privilege and a pleasure.
FRANK
Are we six souls bringing a boat called Nina to the Caribbean? Or is Nina bringing us there? Ask any sailor, there's no doubt that it's the latter. It's one of the reasons boats are female: we've already formed a bond with our Nordship.
It's a huge privilege to be here for the first leg of Steve and Lyn's big adventure around the world. In no particular order, here are the top 5 Thing's I'll Miss:
:: The Banter
Helmsman: "Wave!". (All in cockpit crouch to minimise the splash. While waving at each other).
Chris: "What's our windspeed Frank?"
Frank: "12 knots"
Chris: "Is that True?"
Frank: "Would I lie to you?"

:: The Crew
Peter – with his great problem-solving ability and lovely melodic snoring (hit me back for that one Pete)
Mark – half man, half hammock, with his constant good humour and 4am wake up calls
Chris – for his quiet demeanour and great sailing advice. (Where do skinny guys put all that food?)
Mike – great company and ability as always. As solid a 'sail-with-anywhere' guy as you'll meet. And not old at all :)
Steve – see below (!)
:: Nina
Hope La Chacharoona will forgive me for having a brief affair with this lovely boat. Steve chose her well - rock-solid rig, comfort and all-round sense of security in a blow are the stand-outs. Oh that lovely Raymarine nav gear. Self-tacking jib. Impeccable autohelm. Watermaker. Big stern cabin. Mmmm.
:: Night sailing
Getting up at 4am, having crawled into your bunk at midnight, has its rewards. Stepping around the cockpit into the helm area, the comforting Raymarine glow of instruments, winches loaded with Genoa furler and sheets. Watching the wheel tweak with the autohelm's unseen hand, keeping an eye on the wind and the set of the sails, balancing on the waves…
We filmed more mental movies every night than we have room for in our brains. The sunrises. The sunsets. (One morning I just had to get the guitar out to play Here Comes The Sun). The stars overhead, watching our own masthead lights dance under them; the stereo playing everything from James Taylor to Steely Dan, Jimmy Buffet to Bach; lots of coffee and chocolate Hob Nobs. The occasional chats on VHF with other ARC boats. All this, at least for the last ten days, in shorts and a fleece. Sometimes fighting sleep, but mostly just... Magic.
:: Steve's Skippericity
What a privilege to sail with our own Cap'n Cooke. From the first safety briefing to the daily navigation reviews and voyage updates, that's real skippericity. Looking out for his crew's welfare, tending the boat, dealing with gear fixes, cooking pasta, fishing and joking in the cockpit… if you want an example of supreme skippering, there it is. Knowing what prep for a trip like this takes, it was hugely frustrating for him to have boat system issues after all that meticulous planning: but he kept smiling through. Go Steve!
PETER
Two years ago I had no idea that I would be thinking about sailing across the Atlantic let alone actually doing it. A late night conversation in a bar in Majorca in summer 2014 put the idea in my head when Steve said he was going to do the ARC and that he would be putting a crew together. By the end of that holiday I went back to work to negotiate a leave of absence to give me the time – my Board colleagues readily agreed (some thought I was mad but most thought it was a great personal challenge). At that time I still had no idea what I was letting myself in for. With benefit of three thousand miles of deep water sailing time (you'll have to get used to those opening statements for a while) I can now say with confidence it's been a great experience.
First and foremost it has been Nina. She has inspired confidence right from the start and throughout this journey. This has been a shakedown in some respects because few yachts are tested for 21 days continuously 24*7. We have experienced a few problems but the carefully planned strength in depth has meant we had work-arounds to deploy when necessary.
Secondly it has to be the crew who started as strangers and have dealt with the trials and daily tribulations with good humour and have remained 'nice guys'. Difficult to define that term but to me it means people who respect others, who take an interest in other people and their stories. People who remain calm in difficult circumstances and who exhibit almost inhuman patience when rolling all over the boat doing mundane tasks like simply washing.
Thirdly, I would like to use the term fellowship. I came across this idea when I was thinking about joining The Round Table. At the time I had no idea what it meant but I came to realise that its the meeting of a group of people with the idea of having a good time but at the same time doing something useful. For Round Table it was raising money for charities for this trip our cause was the Atlantic crossing. So we have stayed up nights and stared at the weather, the sea, the stars and conversed for hours and hours just enjoying each other's company. We have understood and tolerated each other's foibles (we all have them) and taken them for what they are – evidence of character.
I believe that each of us is a different person. More characterful (not just salt'n'pepper beards) and hopefully more interesting people to those we share our lives with. You'll have to put up with a few 'when I was crossing the Atlantic' moments but they will soon die down. We have condensed a decade's worth of normal chitchat with friends into three weeks in the process of getting to know each other. Understanding other people is a great way to understand yourself so I also know we have come to know ourselves in subtle ways which can't be a bad thing.
Finally I have to say thanks to Steve for offering me this opportunity which I hadn't sought, convincing me to take it up and for helping me to work my way through it. You are a rare man Steve Cooke.
MIKE
It's been a memorable trip and, as stated above, we will all have mixed emotions as it draws to a close. On the one hand it will be great to get more than 4 hours sleep at a time and not get woken up by the cheerful (and slightly sadistic?) encouragement to get on watch at 4.00 am in the morning by the off-watch team keen to get their heads down. On the other, we have enjoyed great conversations and listened to an eclectic range of music under night skies packed with stars and newly named constellations.
Having done a similar trip some 35 years ago (when I was even younger) I can honestly say that this one was so much more satisfying on every level. Despite being six guys, we did have a lady with us who looked after us from start to finish – well built, broad of beam and in her prime – who was the real star of our little adventure.
As the last person to join the crew, I am very grateful for Steve's invitation – particularly as we had never met. Given a sound boat, the biggest risk to a safe and enjoyable passage, even on short offshore trips, is often crew chemistry - let alone a 21-day trip with a bunch of people who'd never met each other before. While we had a diverse range of skills (engineering, cooking and even some sailing), we all wanted to contribute towards our common goal. With the rough weather in the first few days and with water lapping around our feet every time we went to the heads, it was humour and common sense that helped us get issues fixed. What a great bunch of people and what a privilege to sail with you all.
And finally to the skipper – throughout all the various issues, I never heard Steve raise his voice once. He was continually upbeat and cheerful (even when he'd just emerged from his bunk at 4.00 am) and was always checking that his crew was in good shape and enjoying themselves. With your wealth of experience you have kept us safe and, just as importantly, made this voyage fun! I wish you and Lyn a safe and memorable onward voyage to NZ and will be following your blogs – many thanks for inviting me to share this experience!
MARK
To everyone aboard, thanks for the experience. Great times, great bunch of guys. Lest we forget the coffee cups with the lids… can they now have a decent burial at sea?
Good luck Steve and Lyn, hope to catch up soon on all your travels.
CHRIS
Are we there yet?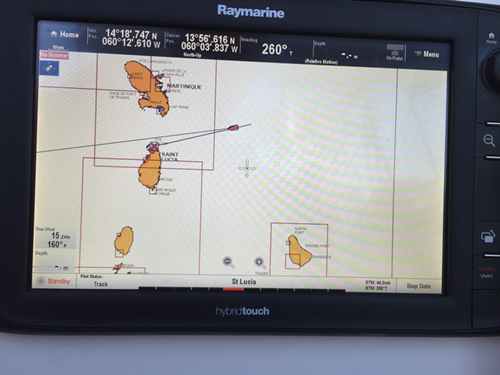 ---