Taveuni and the Rainbow Reef

Navara
Fri 31 Aug 2018 03:15
Taveuni and the Rainbow Reef
Still in the northern waters of Fiji, we made our way across to the "garden island" of Taveuni. Known for its national parks, waterfalls and birdlife, it's main attraction still has to be the legendary Rainbow Reef. The reef system lies between the large island of Vanua Levu and Taveuni in an area known as Somosomo Straight. Known as the "soft coral capital of the world", the aggressive current running between the islands brings a constant source of nutrients feeding soft corals of more different colours than you could imagine. We treated ourselves to a week hanging off the Paradise Dive Resort on the southern end of Taveuni – a laid back and super "cruiser friendly" spot to beJ
Catching the dive boat out to the reef each day made it sssoooooo easy.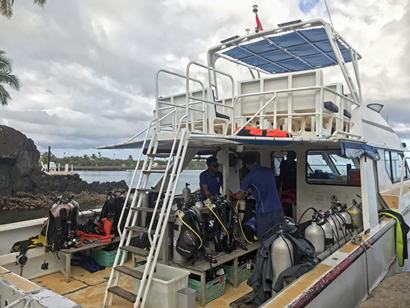 The Rainbow Reef has enough different dive sites you could stay here a month and not see them all.
Underwater it's a riot of colour with so many tiny tropical fish you feel like you're swimming in a large tropical fish tank.
Anemones, Clown Fish and the tiny orange Anthias have always been favourites.
There are very large schools of fish everywhere including many varieties of Bannerfish.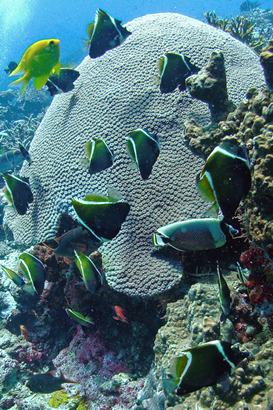 The soft corals come in many bright liquorice allsorts kind of colours, but also more elegant ones like this Prince of Wales feather.
After a hard morning out in the straight, its still nice to cool off in that crystal clear water under the boat.
We often get so hot that it's a full time job trying to find ways to shade out the cockpit with our sun covers, sarongs or whatever we many find!
Best idea is to find your favourite spot in the pool and hang there for the afternoon – this spot even had a view!
Paradise really knows how to entertain you right to the end of the day- for some reason it has some of the most spectacular sunsets that we've seen anywhere.
Well, that's it from us. We are back in Savusavu getting the last load of vegetables (and ice-cream now there's room in the freezer) to take us down through the islands back to Suva. We should be back in the big smoke within the next 2-3 weeks when it will be time to start getting the boat and ourselves ready for the passage back to NZ in early October. Time to start checking out the "Situations Vacant" J
Ta ta
---