The magic island of Ambrym

Navara
Sat 6 Aug 2016 04:13
The magic island of Ambrym
Having decided not to go any further north up the island chain, we set sail for the central island of Ambrym. This island has a lot to offer – 2 active volcano's glowing the evening sky, the weird and wonderful Rom dance, master wood carver's and black magic – quite a combo for kiwi's on tourJ
Ambrym owes its name to Captain Cook who anchored off the island in 1774. He received the warmest welcome possible which in these parts is being gifted a large yam – the staple and most revered vegetable of Vanuatu! When handing over the yam, the locals said "hamb rim" which translated means "here is a yam" – Cook recorded that as "Ambrym" and went on drawing charts of the area and the rest is history…..
The small inland village of Fanla is famous for celebrating the Rom dance in mid July and reportedly host a 2 day festival each year. Upon arrival a few days before it was due to start we heard that there was a "rumour" that the festival was cancelled this year. No-one however could say for sure and we knew other yachts who wanted to attend, so we decided to hike up into the hills to Fanla and find out what was going on.
Upon receiving directions of where to go (only took a wrong turn once which unfortunately meant climbing the steepest hill twice) – we were advised to wait at the first clearing in the village and ask someone to take us to the High Chief Bong. We smiled to ourselves and remembered in Pentecost arriving in Homo Bay and being taken to meet Chief Willie (this is all true) – what will the next Chief be called we wonder? Anywhoo – Chief Bong turned out to be a delightful elderly man – very powerful sorcerer they say – spoke no English – and took quite a shine to Carl.
Chief Bong had reconsidered and decided they would do a one day event – in three days time. As we have mentioned before – pigs – and their tusks particularly are extremely valuable in Vanuatu – a sign of great wealth and status – and we had never seen as many tusks on one man as Chief Bong had on the day.
On the day we had 9 boats in the anchorage and an excited bunch of cruisers keen to see what Fanla and Rom dancing was all about. The festivities took place in the "nassouri" a clearing behind the village where only the guests (us) and men of the village were allowed to be. The whole village turned out to watch, but women and children lined the "fence-line" and watched from the side-lines. There are drums throughout all of Vanuatu, but only on Ambrym are these slit drums - known as "Tam Tams" so large, ornately carved and uniquely playing in a vertical position. All other drums lie horizontally. Tam Tams are only played for the Rom dance and you can see them in the background below – it's the very large coloured vertical "slit drum".
They put together quite a programme for the day –starting with the village elders performing a "welcome dance".
A Vanuatu specialty is sand drawing – done without lifting your finger from the ground with the design accompanied by a story.
A unique specialty of Ambrym is the making, carving and playing of bamboo flutes. Carved with intricate designs, the flutes are dried and coloured by hanging over the cooking fire for goodness knows how long – and hey presto – you have a flute to play.
Well actually - this guy could play although I can report they are very difficult to get even a whistle out of!
Finally we got to the Rom dance. The costume is revered in Ambrym. Traditionally they were made in secret and destroyed after the dance but I don't think that's the case these days. Legend has it that the first costume was made to frighten a woman who had threatened to leave her husband – it's considered to be quite a scary image.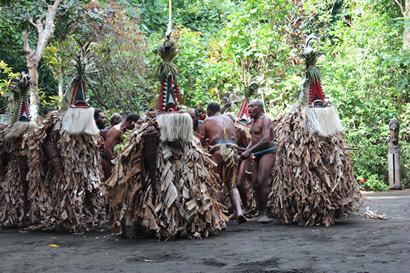 However it started it was an eerie spectacle with the deep throbbing of the Tam Tam, the rhythm of the long "rattles" shaking and the general rustling of all those dried banana leaves as the dancers weave in and out in various formations.
With a final round up – Chief Bong's brother herds everyone out of the nassouri and the dancing is done. Carl is now the proud owner of the carved walking stick in the photo below which he will be able to frighten small children with when he gets old. It's quite beautiful and we have a smell of Vanuatu wood-smoke when we open a certain cupboard J
At the conclusion, it is customary to present a visitor with a yam – just like Captain Cook all those years ago, and who should be selected for the honour but Carl. The thing weighed a ton so I'm glad he was the one who got to carry it down the hill.
So that's about it from us – and in case anyone is thinking of leaving their nearest and dearest – consider this ……..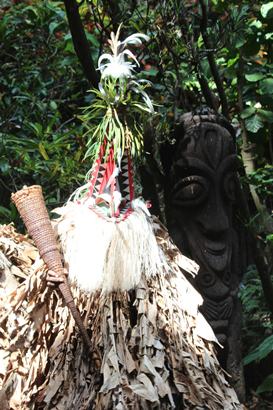 Feeling scared???
---