Kava, cocaine and coconuts - Part 2

Navara
Sun 29 Jul 2018 22:56
Kava, cocaine and coconuts……….
Part 2
We were fortunate enough to be here for the annual "dance off" between the 3 villages of Vulaga and their close neighbour Ognea. These are the ladies of Ognea who were by far the best.
Of course, with the whole village together (and lots of cruiser kava around) the big "village size" bowl came out for the occasion.
After we had been liberally partaking in the legal Fijian drug scene of kava drinking for a few weeks – things took a turn for the worse. Arriving in the village one day the headman asked if we could have a look at something that had been found on one of the vatu in the lagoon. Unwrapping many layers of plastic and rubber stuff there was the solid white vacuum brick of white powder. What did we think it was? Totally alarmed we said it looked like drugs (of the very serious kind) How much of it was there and where was it found? Double alarmed they said that there was at least 30 – 40 of them buried – one had made its way to the surface……
Fortunately the village headman has certain responsibilities when it comes to all sorts of things and he made a phone call straight away to the mainland for police and customs to sort it out. It took a week or 10 days before they could send a chopper from Suva as being ½ to Tonga – headwind SE 20-25k meant that it was just outside the range for them to fly. As soon as the wind was light the chopper arrived and landed right in the middle of the village. For people with no running water and who only got solar lights 3 years ago – this was a very big event. It was totally comical also as once landed and all the officials go to the headman's house to see what was found, the chopper was swamped with children being held up by their mothers to see inside the cockpit and generally have a good nosey. The young South African pilot was extremely good natured about it – posed for photos with people by the chopper and gratefully accepted help to pour in about 9 containers of fuel so that the chopper could get back to Suva. They only had about ¾hour on the ground to get back by dark.
Meanwhile, everyone from the village who wasn't in the chopper followed the officials to the headman's house where they either squeezed inside to hear what was going on, and those who couldn't fit in hung in through the windows and doors. Apparently the drug testing machine made it out of its box and not half way across the room before it started going off. Pure Cocaine – and lots of it.
Long story short, they found several more caches of the stuff around and about – last count we heard was about 65 x 1kg "bricks" – estimated street value in Australia of around $50million. Needless to say everyone was really keen to see it gone on the chopper as everyone (us included) was getting really nervous about someone coming back to collect this stuff. There have been several more cocaine busts around Fiji both before and after this one in other areas of the country. An Australian couple in a yacht sailing from Columbia are in custody but we don't know whether they are all connected or what. The general thinking is that it's coming from South America on boats – through Tonga (more has been found there) – through Fiji and on to NZ and Australia. It certainly makes you feel less comfortable in remote places as these aren't the kind of people anyone wants to tangle with. It's humorous as well though. One of the guys who found some of the first bricks unwrapped it all to see what it was – found the rubberised layer – thought EXCELLENT – and just took that bit and sewed it onto his dive fins to repair where it was torn. They have no idea ……. We recommended they stick to drinking kavaJ
As if things weren't getting busy enough – Chief Besi – 92 years old and a lovely lovely gentleman died. He had been in bed since we arrived so it wasn't a surprise to anyone, but there is a lot of ceremony involved when a man of such stature leaves his people. Fijians have a 10 day mourning period where lots of different things happen – far too much to describe here. They are buried pretty quickly obviously and they were very proud of his burial site which we were repeatedly asked to photograph.
His chair in church was wrapped in the smoked masi cloth of a chief and will stay wrapped like this until there is a new chief.
Tradition required some pretty full on feasting during this time and a long boat was dispatched to an island quite some distance away to bring back the amount of kava that would be required. It came back a day or 2 later with 50kg – not a misprint – that's $6,000 worth of kava and the binge drinking began. Everyone was looking pretty worse for wear after a few days, but they kept on drinking anyway!. One of the things that a village does during the 10 day mourning is all eat together every day. That's logistically quite a mission. I think it was about day 5 that an absolute huge feast happened with many pigs involved. The tradition is that all the families cook all the food together (underground ovens), then it is separated into baskets for the different families and redistributed.
Carl had been in the Kava "shed" with the men for most of this day and when the distribution time came we were surprised that a rather large basket was presented to him as "headman" of Vulaga's cruising "family". It was very touching really to be treated like this, but then the reality of what to do with all this food dawned on us. There were no other cruisers present. One of our Fijian friends had the bright idea of loading up the wheelbarrow that they use for fish and then we could walk the ½hour or so back to the beach where our dingy was. There was no way we could have carried it all.
A quick call out on the VHF radio saw Carl hacking up roast pork on the back of Navara and distributing little banana leaf "packets" of spinach (moulded into balls with coconut cream), grated cassava (moulded into balls with coconut cream), whole mullet (baked in coconut cream), and octopus (baked in coconut cream)…… I'm sure you're getting the picture. Most of the boats in the bay we were in came over and inside ½ an hour – it was all gone. A good days work.
Well - there's many more stories to tell – but with only just having the internet now for the first time in several months – and maybe not tomorrow as we move anchorages – the rest will have to wait.
Hope everyone is well – we are doing fine J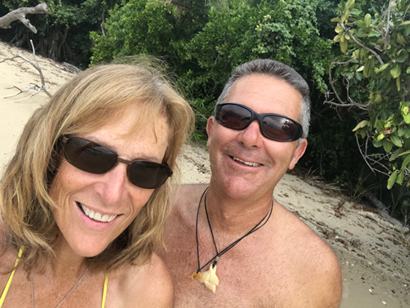 Navara clear.
---