Matuku (and back)

Navara
Sat 2 Jun 2018 03:44
Matuku (and back)
Well – we did indeed make it to Matuku – and it did indeed look very much like we expected Bora Bora to look like! Parking up in the crater of an old blown out volcano certainly made for some great views over the sundowners. Here's our first view shortly after sunrise as we approach the island.
Part of our strategy was to purchase Yagona (kava root) here that we need to cruise the Southern Lau Islands as Matuku carries a great reputation for growing this crop and many others in its rich volcanic soils. Matuku is renown for its generous rainfall which we were able to make completely disappear by merely putting up our water catcher! Its quite a special talent we have ……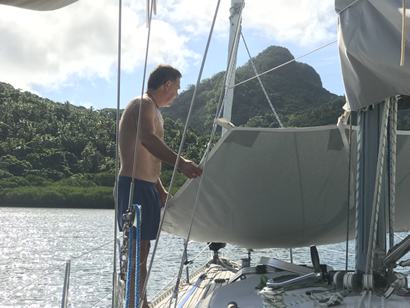 Kava has also dramatically increased in price as a result of cyclones etc so we figured we could go directly to the source and give the local people (rather than the Suva Indian merchants) the money. However, like all cruising plans – this strategy was about as rigid as salt water so when the supply boat had just taken the last shipment to Suva the day before – the kava cupboard was bare…….. The friendly locals however felt pretty stink about this situation and fresh veggies were delivered – complete with the Fiji style of fully recyclable, biodegradable "shopping bag".
This placed us in a bit of a dilemma however as we could not continue on our journey without kava and we were now halfway to the Southern Lau. The Lau itself is halfway between Fiji and Tonga in an area that was closed to all foreigners until about 6 years ago. It is considered the "last bastion" of indigenous Fijian culture with many political leaders and influential people from this island group. There are no resorts, no Indians, and no way to get there unless like us you are travelling by private yacht (sounds flash eh?) or god forbid – you get a "berth" (AKA piece of floor to sit on) on one of the supply boats that travel through this area every 6-8 weeks. Anchoring uninvited and unannounced in the lagoons of these beautiful islands is akin to pitching a tent on someone's front lawn (think of discovering some freedom campers in your garden one morning) – so the expected protocol upon arrival is to find the chief and offer kava as part of the age-old ritual of "sevu sevu". We sit around crossed legged on the mats – me sitting behind Carl as he explains who we are and where we come from and asks if we can stay. They're generally pretty keen on this idea as the cruising yachts are known to carry all sorts of goodies and we now have many contacts in different islands here from our previous 2 visits. Kava (and many other food crops) cannot be grown in the Southern Lau as they have very little soil and very little rainfall – so they are quite excited to see us – and the Kava of course! Fortunately the old tradition has evolved to the point where this mildly narcotic root is now pounded in a metal bucket – rather than chewed and then spat out by a virgin as was the case in the pre-christian days (phew).
So we were in the village of Lomati on Matuku for just over a week and of course that involved a Sunday – and that of course involve church.
It's a pretty basic affair with everyone in their best clothes and singing like you wouldn't believe. The harmony is beautiful and seems to come completely naturally – we've never met a Fijian who couldn't sing. The ladies were pretty keen to be photographed with us afterwards…..
So – long story short - we had little choice but to sail back overnight from Matuku to Kadavu (so we can do the reef pass in the daylight) where we know from previous experience grows excellent kava. A definite bonus was sailing on a full moon. We never knew till we did this how light it actually is during the night of a full moon. Its like a permanent twilight – but brighter – you can see absolutely everything which makes the nights alone on deck considerably more friendly.
The night sail started out clear but weather started closing in on us and here's a squall chasing us – right before we got drenched. This new fancy pants 4G radar does a really good job of showing us where the squalls are before they get us!
Well – mission is now completed – kava all weighed and wrapped.
Currently we are sitting out a blow on the island of Ono in Kadavu – waiting again for the weather – sound familiar?
Hope all is well with everyone and you're keeping warm.
Bye for now
Linda and Carl.
---