Minerva and home!

Navara
Fri 16 Nov 2018 19:02
MINERVA AND HOME!
After waiting patiently to try and get at least 8 days of acceptable weather to sail to NZ, the rain really started to set into Suva and we needed to get a move on. Solution – leave in terrible weather – bash through a big swell and 25k on the nose for 1 ½ days – sail another 1 ½ days through ever better weather – and there you will find Minerva Reefs. This was the kind of rain we left behind in Suva.
Once the rain cleared we were sailing on a full moon which is always an amazing experience at sea – you wouldn't believe how much light there actually is.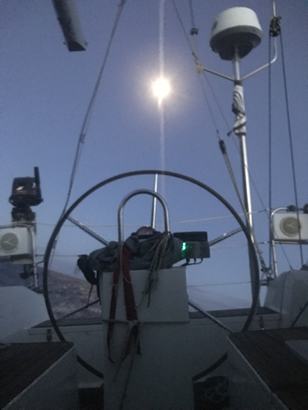 It was honestly the strangest thing – 3 days sail and hundreds of miles from any land, we see a cluster of yacht masts on the horizon – and no-one has any sails up. It's because they were anchored up in the natural wonder of Minerva Reef. There is a North and South Minerva – they are about 20 miles apart – and with North having the most protected anchorage, our plan was to anchor up for a few days for some weather to go through south of us and then continue on to NZ.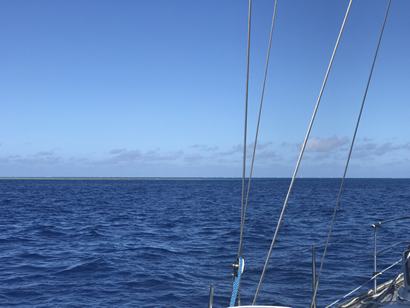 Once entering the pass – very wide and easy compared to many we have navigated in Fiji, we found ourselves in a perfect circle ring of coral. The reef is the crater of a long extinct volcano on the Pacific Rim of Fire. It's only about 15m deep with a sandy bottom – so no more ocean swell – flat and calm – quite bizarre when you are in the middle of the ocean! At low tide you can walk out onto the reef – calm on the inside and protecting us from the big wide ocean on the outer side.
The weather didn't quite pan out as expected (it rarely does) so we ended up staying a week which was no great hardship. We were stoked to be on our way however and set out for a calm sunny motor sail to NZ (mostly). Best thing – with 3 days already under our belts – only 700 odd miles to go to the Bay of Islands entrance.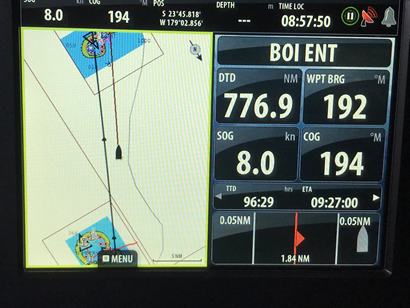 By this stage the full moon has long gone and with no moon at all – the intensity of the star show was pretty awesome. It's a great feeling to be looking at the southern cross at night guiding us south towards home.
We even got a little hitch hiker for part of the way – he came back a couple of times.
We mostly had calm and sunny weather which made watches very pleasant.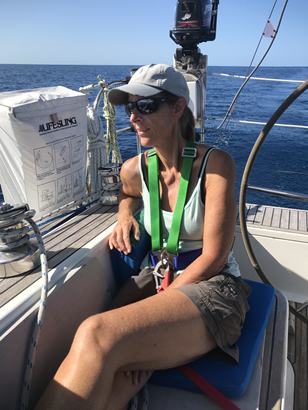 However, when you're sailing a passage you are invariably trying to beat some sort of weather at you destination and this trip was no different. Having such calm and even windless at times conditions slowed us down a bit so we didn't quite beat the front when arriving in NZ. Thankfully it came in at 4.00am on Carl's watch – gusting up to 30k - on the nose – 20 nm from Cape Brett! Here we are past the worst of the wind, reefed at first light with Cape Brett just visible in the background.
At least the skipper was pleased to see me awake and I could make him a good strong coffee.
And here we are – Kia Ora Aotearoa ……. Land ho!!
Well – that was last Saturday – 1 week ago. Since then we have sailed from Opua down to Tutukaka – spent a couple of nights there – sailed down to Marsden Cove in Whangarei where we (Carl) is anti-fouling and making Navara look very shiney and pretty. She is going to be advertised over the weekend so who knows what the future holds.
For us, after 6 ½ years living aboard Navara we are moving back into our house in Whangarei in the first week of December, I'm starting work next week and Carl is dusting off his CV. We will have a bathroom each and unlimited use of a washing machine – this is BIG news!.
We are really enjoying being home – NZ is such a wonderful place to live – and were are enjoying the cooler temperatures! We have marveled at the beautiful tastes of specialty cheeses, asparagus, broccoli, avocados, tomatoes, vogels toast and fresh full cream milk! We are spending a lot of money in the supermarketJ
Well – that's the last of the blog for a while – until our next adventure. We'd love visitors anytime – and we can actually offer a bed in Whangarei now – well …….. we WILL be able to once we buy some furniture – it mostly got sold 6 years ago.
Navara clear L
---