Rabi - Republic of reef and rainforest

Navara
Sun 19 Aug 2018 00:31
Rabi – Republic of reef and rainforest
After two months in the Lau group we were pretty keen to stock up in Savusavu. Vegetables and Harold's fave rum in abundance – we were off on our next adventure…….
With over 330 islands making up the Fiji group – we knew they are often very different – but we didn't know that the odd one isn't technically even Fijian! To the nor east of Fiji's second largest island Vanua Levu in the north, you will find the small island of Rabi. The people here are Micronesians originally from Banaba in Kiribati. Their homeland was totally ruined by phosphate mining during WWII and when the Japanese invaded and massacred most of the population. The island of Rabi was subsequently purchased from Fiji by the British government with the Banaban's own phosphate mining royalties. How's that – someone rapes your land – kills heaps of your countrymen – then buys you another place to live – far away – with your own money (and now you have none). In 2000 the remaining survivors were resettled here. Not surprisingly knowing the history (but very strange when compared to the Fijians all around them) – the Banaban's aren't particularly friendly – who can blame them? You'll get a wave – but that's about it – but like so many other islands in Fiji Rabi is quite stunning.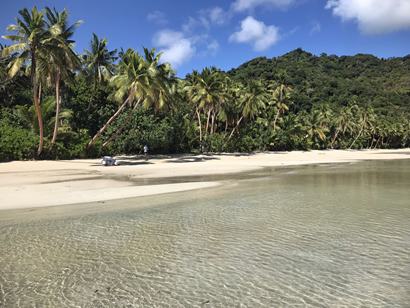 The local people come to this beach sometimes to base themselves for fishing on the Texas Reef – and you can see the style of their houses indicate that they aren't from Fiji. No-one home in this case.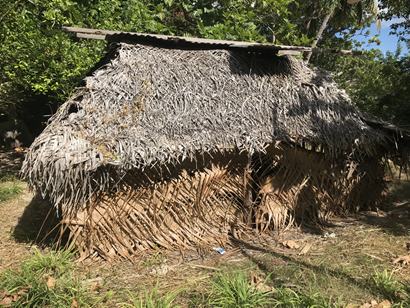 One thing all tropical islands have in common – is good ol' coconuts! There were plenty of low swingers here and they are perfect for cocktails – keep you hydrated you know!
Now we are further north in fertile land with a bit of regular rainfall, the fringe of palms gave way to the most beautiful virgin rainforest. This has never been milled – ancient and mysterious – we absolutely loved climbing around in here. No mozzies either which is a total bonus and unexpected around all this fresh water.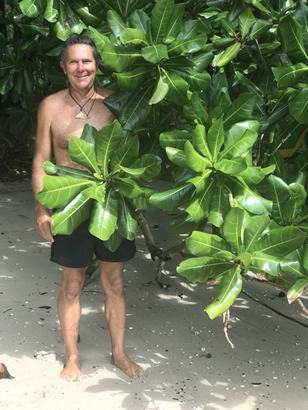 As if the rainforest wasn't enough to make us love this place – check out the reefs underwater. There are large areas of Fiji reef systems where the coral got totally nailed by Cyclone Winstone, but it appears that Rabi was left largely unscathed underwater. Still just hard corals here (the soft corals are coming next), but crystal clear water at 27c isn't too shabby.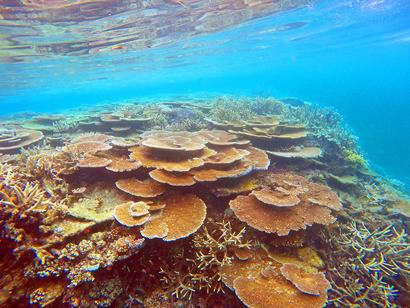 We haven't seen blue staghorn like this since the Great Barrier reef – and these little blue fish darting in and out of their house as we freak them out are mesmerising J
Now before we go – just in case it looks like we're having too good a time here (who us??) – remember the age-old definition of what cruising in a yacht actually is – in reality …..
"Cruising is fixing your boat in exotic locations"
And true it is L Touch wood we haven't had any major's so far this season (there's still time) but you really wouldn't want to go too far without someone on board who knows how to fix things – you wouldn't last long out in paradise J Current example – diesel leak at back of engine – not cool (and doesn't smell so good inside) – and once the source is tracked down the hose that is split is a different size to the other 5 different fuel line spare hoses you have on board. No shops at all for miles – what to do? I kept thinking of a scene in the movie Apollo 13 where Tom Hanks needed something fixed on his space station. Back on earth they put all the odd bits and pieces on hand in space on a table on earth and made everyone work out how they could make something from a whole of unrelated stuff to fix the problem.
So here's Navara's version …….
Fuel leak eventually solved by cutting a length off the inflator hose from your blood pressure monitor (how ironic is that!), plugging the end of it with the nozzle from an unopened tube of marine sealant, and tying it all together with a cable tie – VOILA!!
All good on Navara – signing off ……..
---