Kadavu - Kava, coral and parrots

Navara
Tue 7 Jul 2015 07:45
Kadavu
Kava – coral – parrots
19:02 846S 178:09 489E
It's like a breath of fresh air after Suva. About 50nm south of Suva is the island group of Kadavu. There is a main "big island" and a bunch of smaller ones at its northern end surrounded by the Great Astrolabe Reef. Kadavu is well renown for its kava (best in Fiji), its colourful and boisterous parrots (found nowhere else in Fiji) and its coral (hosting several of Fiji's best dive sites). We have been fortunate enough to hook up with our old friends John and Wendy off Midnight Sun who have interests mirroring our own and a really large inflatable with a really large (and fast) outboard – so life is good and the days pass in a blur.
When sailing the outer islands of Fiji, when we first arrive in a bay we need to go to the local village to introduce ourselves and ask for permission to stay and to explore the area – both above and below the water. We must obtain a permit before leaving Suva to present to the Chief that asks that we be provided with these rights and to be made welcome. Someone once explained to us that failure to do this would be like someone showing up at your house in NZ and pitching a tent on your front lawn without asking you first. No money changes hands - this is considered basic good manners. Traditional Fijians are incredibly polite and welcoming – it would be truly rude and disrespectful to not follow the protocol known as "Sevu Sevu". Basically it goes like this:
We dress appropriately both wearing dresses ( Sulu for Carl ) below the knee and shoulders covered, with no hat or sunglasses and row ashore with a bunch of Kava. Which funnily enough we purchased in Suva – Kadavu Kava that is - and are now bringing it back to where it came from!
Someone has always spied us by this stage and will be on the beach to welcome us. The usual introductions follow always including our names, where we are from, where we have been, how old we are (not considered a rude question) and how many children we have (they are always so sad for us).We have thought of inventing a couple of kids but the first names we thought of where Joseph and Mary and then we couldn't stop smiling. So its best to be honest and tell them "we like children – but we couldn't eat a whole one" – and watch the glint in the ex-cannibal's eyes……..
We then ask to see the Chief – usually end up in the village meeting house or the chiefs house sitting cross legged on the mats going through all the same questions again :-)
We ask permission – they give it – and then we can swim, dive, fish and come into the village whenever we wish – and we all live happily ever after.
Traditionally Kava would be drunk as part of this process, but so far this trip we have been invited back on different occasions to drink which we have accepted. A fine time is had by all.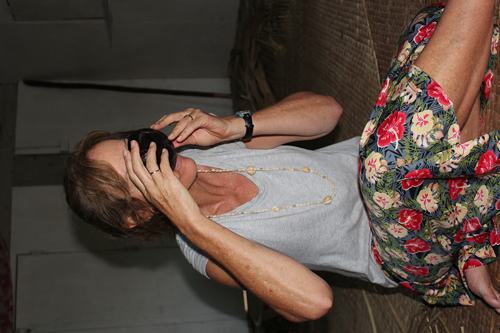 Kadavu grows Fiji's best Kava – the root is dried, tied in bunches for easy transport, and then pounded into a powder. See Carl doing the honours below.
The powder is then put inside a cloth, submerged in water in a kava bowl and squeezed and soaked and squeezed and soaked until the desired strength is achieved.
Mildly narcotic and smelling, tasting and looking much like muddy water, it tingles your lips and if you drink enough, makes sitting on the mats a lot more comfy. We're developing a taste for it – mainly for the company and the hours spent chatting and laughing that seems to accompany this event. The bowl below is the biggest we've ever seen – it's said to be over 100 years old, made from a single piece of vesi wood ( from Vulaga in the Lau ) and used for occasions when another village comes over and there must be lots and lots of people.
The above photos were taken in Mataselevu Village – located in the Bay in front of Naigoro Pass. Kids everywhere want to have their photo taken –just so they can look at themselves on the camera. We gotta get a printer!!
Naigoro Pass on the SE side is an entrance through the outer reef into the protected fringing lagoon that is well known as a good dive and snorkel site. Due to strong winds we haven't been able to get to the outer reef but the inner reef pass was gorgeous – mega clean water – beautiful patches of coral including fans – and good stocks and variety of fish.
One of the other great delights of Kadavu is its rugged terrain and wild rain forest type bush. Better still it is inhabited by the beautiful and sizable Kadavu parrot. Bright green, blue and with a big red head and chest and a very chatty personality we can see and hear them everywhere there are big trees ashore. Found only in Kadavu they have been prized for their feathers which traditionally were used as edging on woven mats. They say their red feathers where once so valuable they were used as trading currency. Fortunately they are now protected and seem to be flourishing.
So what's next?
Were in no hurry to leave Kadavu – we tend not to travel to a strict schedule so were hanging here for a while. As some cruisers say 'We have no plans and we are sticking to them !. We'd love to get up to the Northern Astrolabe Reef– pristine diving were told – so we'll keep you posted when we have good internet coverage as we presently have in Namalata Bay.
Hope you are all surviving winter OK
Soto Talei (see you later) from the good ship Navara.
Lots of Luv
Linda and Carl
---