Tanna - It's volcano time!

Navara
Sat 4 Jun 2016 03:43
Tanna Island – Mt Yasur
After a mellow easy day sail from Anietyum we entered Port Resolution in Tanna. This island was first discovered by Capt Cook in 1774 when he was investigating a red glow on the horizon! That was Mt Yasur. It seemed like we had slipped back in time as this was nothing like the island of Anietyum that had become so 'cruise ship' orientated. The bay was full of traditional wooden outrigger paddling canoes. We counted up to 18 on any one day. They moved as a fleet chasing the schools of mackerel in the bay. There was always a 'spotter' on the cliff top yelling and directing the fleet towards the fish. They were always out well before we had got up, retired for lunch and then back into it all afternoon. Later when we traded some fish hooks for fruit we learned that some of the mackerel caught were for dinner and the rest were for bait when they went out again at night to catch the Big Ones! It was great to see them not reliant on outboards or any white man canoes.
They teach the boys to fish when they're very young and if you're not the lucky one in the canoe with Dad, then you're on the rocks with a bow and arrow shooting fish like generations before you have done.



The village ashore was just beautiful – very tidy and even had flowering plants around most of the houses. No Tin roofs or bricks here. The houses were all on stilts (rains a lot in the summer here) with traditional thatched roofs and bamboo panelled walls – all a work of art. When we were shown inside one the entire house was constructed with natural materials with vines holding all the rafters together and palm fronds weaving a camp stretcher type bed raised off the floor. When the cyclones come they simply abandon their homes and head into the caves like they have since the beginning of time on this island. They resurface after the blow and start rebuilding with whatever natural materials are laying about - very resilient folk indeed.
The "Nakamal" is the central place that men drink Kava in the evenings - situated around open cleared areas with fire pits – but here they preferred to sit amongst the tree trunks / roots of the Banyan trees to do this. Men gather each evening to discuss the business of the day, settle disputes and plan for the village's future. Women are not allowed and will turn away from the Nakamal when walking past.
I'm not sure if we were lucky or unlucky to have not been invited to drink kava here as it is renowned to be the strongest in Vanuatu. One cup is good - Two cups and you are "leg less" – as you think you're fine – go to stand up – but your legs don't work and over you go!
Our main mission here was to climb to the rim of Mt Yasur, the most accessible ' live volcano ' in the world. Yasur was certainly alive the night we visited. Transport to the base of the Volcano was on the back of a very well used ute on a very well used goat track (you couldn't call it a road). Once at the base of Yasur we were welcomed by the local village people who in conjunction with the government / tourism board a very nice welcoming area.
The welcome involved a couple of local 'kustom ' dances – one literally as a welcome and the other as respect to the mountain which in times gone by was Tabu. They danced and stamped their feet in unison that we could feel through the ground. Just as they finished Yasur let out a mighty roar and all us white fellas smiled nervously – we couldn't see the volcano yet but it was clearly very close. Back into the ute's we made the final 15 minute ride up to within 300 – 400 meters of the rim. As we ascended the rainforest disappeared, the tree ferns had had their top's blown off and smoke / steam vents started to appear as we entered Mt Yasur's moonscape domain. Amazingly they had even dug a long drop up here just in case the 'punters 'needed a last minute nervous one.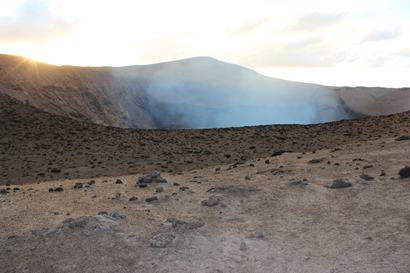 As we approached the lower crater rim Mt Yasur roared and tossed a few large bits of lava into the air just to remind us who was boss and not to get too close! The idea was to skirt around the rim to get "upwind" of the gases just as the sun set. Sounded like a very good idea to us.
No H&S here - No Guard rails - No PPE gear - just good ole common sense – well that's debatable actually but we all made it. Rex our guide said all was good tonight – Yasur was only at level 2 - and only one person had been vaporised up here that he could remember (or wanted to tell us). This was a Japanese man who had split from the group to get a closer view and a better photo! Rex assured us that he wouldn't have felt a thing. During our 'safety briefing'(which as basically to not split up and not move from the rim without Rex)- he advised us never to run if lava was thrown in our direction. Firstly you could slip and fall either way (down into the cauldron or over the other cliff towards the car park) - Secondly – he advised us to just stand still, look upwards and simply step aside if one looks like it will land on you! Never turn your back on an angry yasur he said - Easy eh!
Here's our little tour group – all from boats in the Port Resolution anchorage (Rex doubles as a photographer).
Crap where was that long drop when you needed it! Yasur must have sensed our fear and started to roar. We were looking straight into the boiling lava below - you could see it white hot and bubbling like an enormous Rotorua mud pool - surging and building up and then BOOM a sonic boom sucked you forwards in a split second and then blew your hair backwards a second later. That's when the lava blew way up into the sky like the best fireworks you have ever seen. Rex got to learn a couple of new words!
Suddenly I realised why they had placed those perfumed leis around our necks during the welcome ceremony -there were some very nervous people about! We were in awe of this raw display of Mother Nature's power.
As the sun set the display became mesmerising - like a campfire that you look into and can't look away – it was only then that we realised Rex our guide was no were to be seen and it was pitch black when you looked away from the crater. Maybe he had seen it all before or he to needed a nervous one? Linda called out and within a minute there he was jogging up the track towards us in the pitch black in his safety jandles like the sure footed ni-van he is. We were glad we had brought our headlamps with us for the traverse along the ridge and back down to the waiting transport as the locals might be able to see in the dark but we sure couldn't.
Later back on Navara with friends having a cold drink we could see Yasur's glow over the hill top from the anchorage – truly a once in a life time experience. We awoke the next morning to find Navara covered in fine black ash. It was time to leave Tanna and head northwards towards Villa (via Eromango) as there was some weather coming we needed to sit out.
---