Ria de Vigo

The adventures of Chili III
Peter & Belinda Vernon
Sun 28 Aug 2022 10:37
42:15.0N 08:51.0W
Marina Davila was friendly and useful for getting the laundry done (still has to be done...) but it's a long way out of Vigo in the middle of an industrial scale fishing port. The main reason to be there was that we had to check-in to Spain again, as we had been checked-out of the Azores and only Vigo and A Coruna are ports of entry. Although Peter had been in the Schengen area for more than 90 days and we had two immigration officers scrutinising our passports, they stamped us in without raising any questions. We hope it's as easy when we fly out...
As soon as we had done all our jobs and re-provisioned, we made our way to the lagoon of San Simon at the head of the Ria. We have been before and know it's a great place to chill out. We had hoped to have dinner at the little marina there but the the wind was a N5 and the pontoon untenable. Never mind - we anchored off the island in the middle of the lagoon which provided decent shelter. There was one other yacht there and a couple of small motor boats but as usual they all disappeared in the evening so we had the place to ourselves. Peter googled the island and discovered it has a fascinating but rather grim history having been used as a leopar colony and prison. It seems to be used as a youth centre today, but is not accessible to the public. Instead we went ashore to the small village of Cesantes, which is a big kite-surfing centre, for a walk along the beach and a lazy coffee which turned into lunch. We really were chilling out!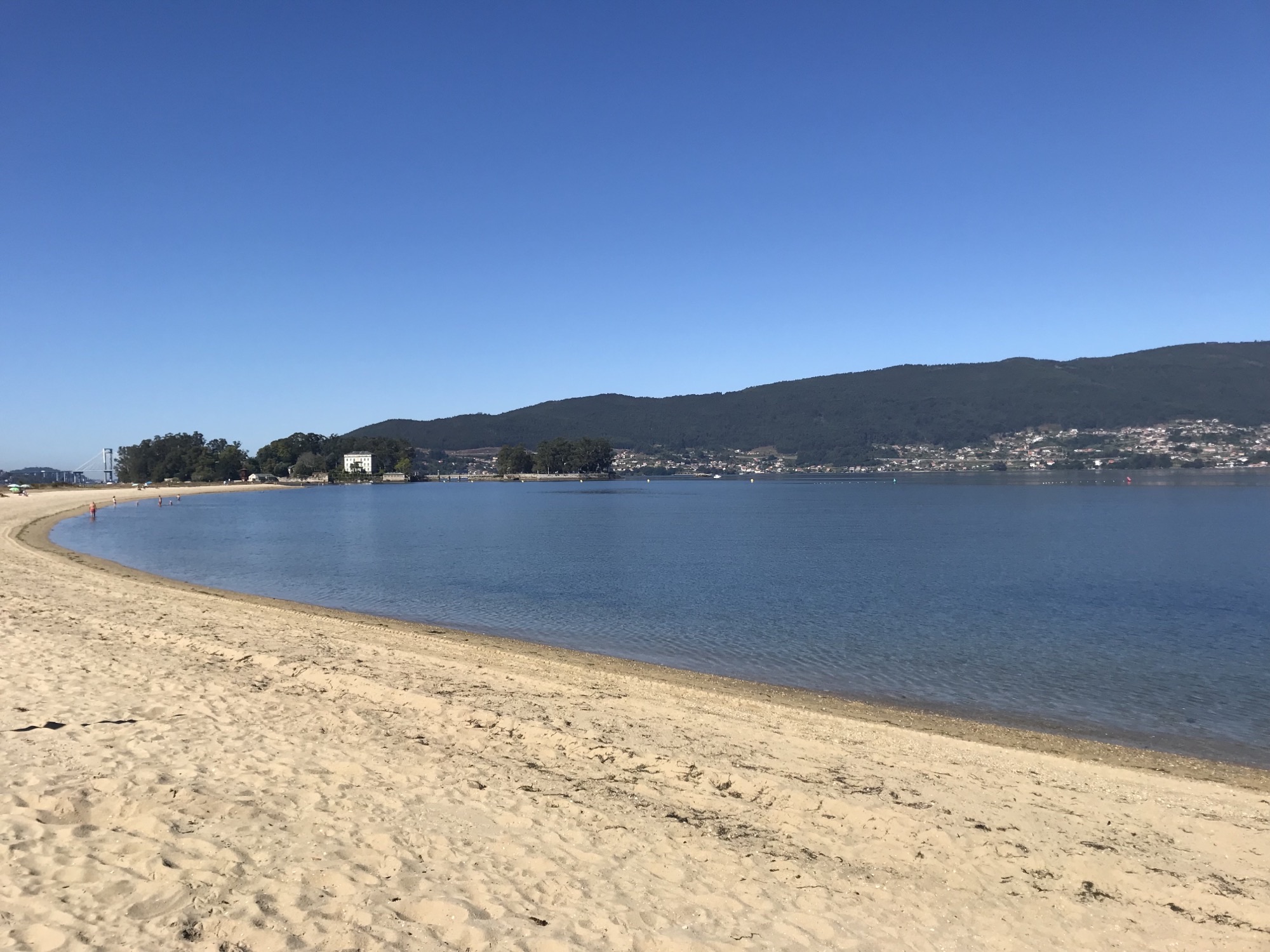 After a couple of days we sailed down to the entrance of the Ria to anchor off beach of Ensenada de Barra. It is stunning - some say the most beautiful beach on the Iberian peninsular. It is very long and backed by sand dunes and pine forests. It has been adopted by naturists and almost everyone on the beach is naked, which, perhaps surprisingly, in all our years of sailing is the only time we have come cross this. It is a very popular anchorage, but it is huge and there is plenty of room for everyone. As well as the beach, there is lovely walk to the headland and the (non-nudist) beach on the other side. We did this walk on the one day that was cloudy (see photo) but most of the time it was sunny, so a lot of Factor 50 was used.
The wind was due to pick up from the south which meant the anchorage would not be sheltered, so we had one night in the small but pleasant marina at Cangas, just up the Ria. Being on a marina is always a good opportunity to eat out, but being a Monday night, many restaurants are closed. However, we got lucky by being early (8.30pm) and got a table at a rather upmarket and very good restaurant 'Dos Chatos'. We had scallops to start, a sea bass for two, and pudding. It was DELICIOUS (and was less than Eu70 inc a bottle of wine). It happened to be the Cangas jazz festival and after dinner, we headed round the corner to the sloping square where seats had been set up to enjoy the show. It was free, well attended and really good. A great night out all round!
---