Fwd: The Balleares Islands of Menorca and Mallorca. Calas, swimming and friends aboard

The adventures of Chili III
Peter & Belinda Vernon
Wed 1 Jun 2022 17:46
39:56.5N 003:11.4E
We left Sardinia on 21st May sailing through the shallow (3.5m) Rado dei Fornelli (assisted by excellent transits on the shore) before heading for Menorca: superb 42 hour passage with smooth seas, full sails and perfect weather. We even had the table up in the cockpit for lunch – previously unheard of. We arrived in Fornells at 0700, a large natural harbour and excellent anchorage and enjoyed watching the water sports enthusiasts – wind surfers, dinghy racers, rowers and kayakers. We thought of the Dodge family who spent many summers here on sailing holidays. Fornells is a very pretty old town expanded to cope with tourism but very pleasant and beautifully kept. For us it's always good to chill for a bit after a couple of overnight passages to catch up on sleep and this was the perfect place to do so. Swimming in clear water of 23 degrees was a delight especially for B who so loves being in the sea – she must have been a dolphin in a former life.
We came to Menorca to welcome on board our great Blackheath friends Geoff and Lisa and Ian and Caroline for a few days cruising. Our golden rule is that no one who comes sailing with us should ever leave vowing never to go sailing again (so far so good). So with strong winds and big seas forecast B put together an ingenious plan combining weather forecasts and attractive sailing destinations that we hoped would work well for all. The starting point was to be Ciutadella, Menorca's second town on the west side of the Island where we arranged to meet everyone. Sailing round the north coast to get there was the most uncomfortable passage since leaving Scotland – large confused swell and a light wind on the quarter insufficient to hold the boat steady. At one point we rolled from one side to the other with both rails in the water. Glad to get that over with…
Arriving in Ciutadella by contrast was a joy – a narrow, tree-lined harbour, clear blue water, waterside cafes and a short walk up the hill to the very beautiful old town with its huge square and lovely yellow sandstone Cathedral. We have such great memories of being here in 1992 on Foreign Exchange and returning really gave us the sense of re-living our extended honeymoon 30 years on. The town's main square has a children's play area right in the centre. I just love the way Spanish towns often do this. It says a lot about the importance of families being together – children never seem to sleep here and love playing together while their parents and their friends enjoy tapas and relaxed chat. While there my Dad, Gerry turned 91 and it was so good to have a long chat with him and Gwyn my sister.
G&L arrived on the quayside on 26th May with admirably small backpacks and made themselves at home in one of our two aft cabins with I&C arriving the following morning. It was so good to see them. This was the first time we'd had 6 people of our generation on board and we did wonder if it would be a bit of a squash. But once acclimatised this really didn't seem to be a problem – not for us at any rate! The 27th May, our first day all together, was very windy with NE6 and big swells so following our golden rule we had a lovely walk along the Cami de Cavells - Menorca's coastal path with a picnic en-route and ending up at a very stylish bar at Punta d'Artrutx lighthouse. Dinner later at Aquarium Restauranton the quayside in Ciutadella was black rice seafood paella for 6 - fab.
At 0830 on 28th we set off to cruise the south coast of Menorca with the first stop for a swim and leisurely lunch at Cala Son Saura - one of many lovely Cala's we went on to visit. On down the coast heading east under sail to the tiny and very beautiful Cala Covas (which we just managed to squeeze into) with its extraordinary man made caves carved into to cliffs that enclose pools of shimmering turquoise water. Another welcome swim before heading round the headland to Cala en Porter – a deep inlet with a beach at the head, steep cliffs on both sides and small overlooking village. G&L made us all a delicious chicken casserole eaten as the sun set crowded around our little cockpit table – precious memories. At 0700 next morning I rowed G&L ashore to the beach to catch a taxi to the airport. It was so still as we sat and washed the sand off our feet with just the waves lapping on the beach and a cockerel crowing in the village.
By 1000 we were on our way to Alcudia, Mallorca, a cracking 50 mile sail and a first proper sea crossing for I&C. Our huge "Ukrainian" coloured Code S was put to good use until the wind got a bit much. Caroline impressed with her ability to keep watch, crochet and chat with the rest of us at the same time together with spot-on helming. And Ian with his enthusiasm to learn as much as possible and passion for being on the helm whenever possible. B&I had a day off! After a very stressful Alcudia marina mooring for B in a cross wind complicated by a Sunseeker "driver" who insisted on mooring next to us simultaneously we had a welcome beer on board and then out for dinner.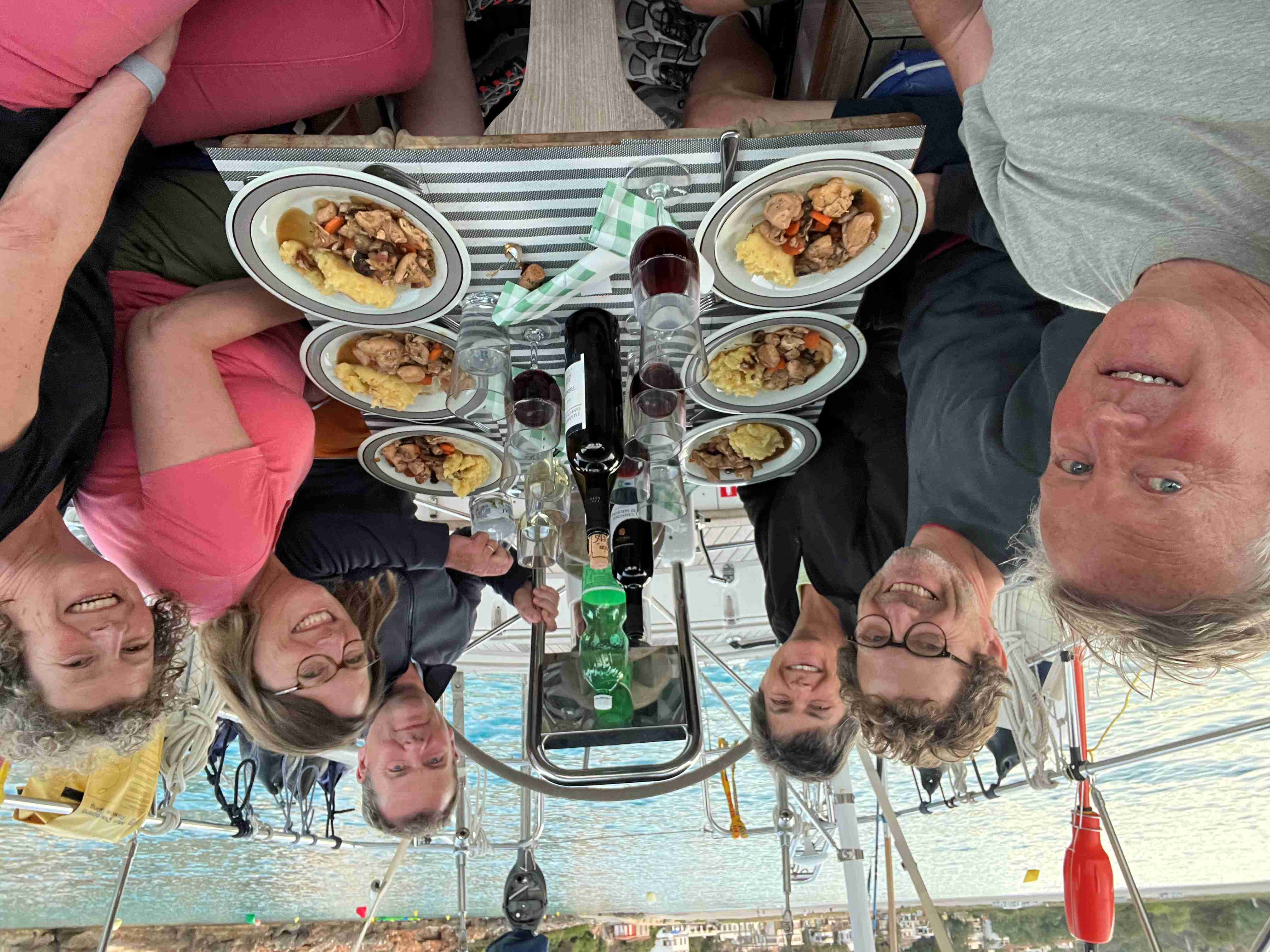 A good morning walking the walls of Alcudia was followed by a good sail around Cabo de Pinar to Bahia de Pollensa and the stunningly beautiful Cala Engrossaubus. Totally remote with only black goats for company and no other boats (but one late arrival) this was a very special place and could have been a scene from "The Beach" – just heavenly and wonderful swimming. We delivered I&C to the quayside at Pollensa having anchored off the next moring. It had been a very special time for us. It remains to be seen if they will come a second time or "never again" but I have a feeling we've kept a clean sheet.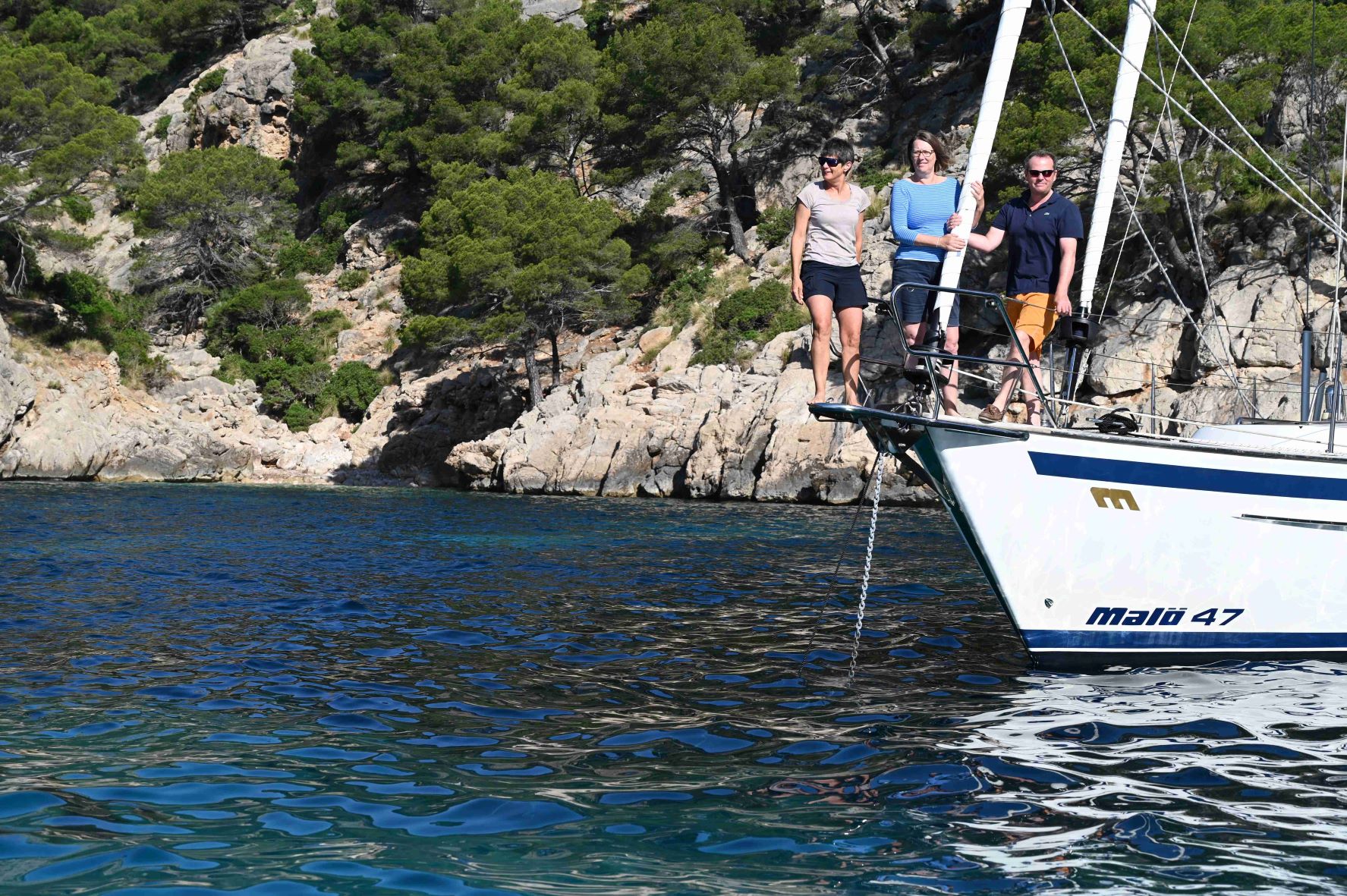 ---