Return to Niafu

Boundless 1
Richard Clennett
Mon 25 Jul 2011 18:54
18.39 S 173.58 W
What a wonderful week we have spent in the Vavu'a group with Barb and Andrew, it's hard to know where to begin! Lot's of crosswords, chinese checkers, laughs, and new adventures - all while trying to work our way through the duty free wines we bought in Papeete, as we are only able to take 4 litres of alcohol (total of any type) into Fiji!!
We climbed to the top of Mt Talau - a (very) small hill behind Niafu, which looks as though the top has been cut off! The legend tells of naughty Samoan spirits (tevolo) who thought the mountain was so high that when they looked south toward Tonga, Mt Talau stood in the way of their view - they decided to steal the top and add it to their own mountain, so they could see all the world without obstruction.
When the tevolo came at night (they can only venture out in the dark) and started cutting at the mountain top, the people of Vava'u heard them and crowed like roosters hoping to make them think it was morning and they would run away, however they kept cutting. The people of Vava'u then called on their own tevolo - Tafakula , who was famous for her cunning ways. She quickly went to the east of the island where the sun rises. She bent over, lifted her skirt and exposed her buttocks - the Samoan tevolo saw the bright light reflecting off her buttocks and thought the sun was rising - they instantly dropped the mountain top in the sea and it became an island, and Mt Talau has been flat ever since! Tafakula must have continued to be busy as there are several other flat top islands!
We all went to the Catholic church at 10am on sunday before we headed out of Niafu! The unaccompanied singing was beautiful, and it was fascinating to see all the different types of pandanus mats (skirts) - "ta'ovala" worn by men and women, and the "kiekie" -a waistband with woven strips of pandanus worn by some women and children. The church was overflowing, a big family event - needless to say, we didn't stay for the duration!
The first three days it was blowing and overcast with several heavy downpours. We still snorkeled, saw many whales and managed to do a bit of bush bashing ashore! Then the weather improved and we spent four lovely days at different islands, did lots more snorkeling, saw many fish, many more whales and calves and just enjoyed the natural undeveloped beauty of these lovely islands, many uninhabited. Barb and I visited a school on one island, Barb had some goodies for the children which were much appreciated. We travelled 72 miles in a week and visited 10 different islands, which gives an idea of the proximity of the group.
We had two beautiful dinners ashore - one at the Blue Lagoon - run by the eccentric German "Felite" who 's reputation for Vava'u's best food was spot on! The other was at Mounu Island (run by a Kiwi and his wife), also a lovely meal. Both resorts cater to only a very small number of guests in individual "fale's" - both very different but unique. Allen at Mounu (has been there for 19 years) claimed to be a good friend of the King of Tonga, so we gained an insight into the Royal family and politics in general here.
On our last night out we attended a traditional Tongan feast, which really was a feast and very good - and - everything left on the table at the end of the night was bio-degradable!
The highlight for us all I think, was snorkeling (with Filete's daughter Tapu) with a huge humpback whale and her calf. Richard was within 2-3 metres of them - Barb, Andrew and I did as we were told and swam at about 5 metres away with Tapu! Watching the calf playing around it's Mum underwater was really amazing, and actuallly being able to see Mum's eye - she knew we were there! We are waiting for Tapu to email the photos she took on the day. We jumped in and out of the water several times earlier in the day, once to see whales below us, although not very clearly - one just lying horizontally, the other tail up - just resting - I didn't realise they sometimes just rest like that when they dived down!
Now back at Niafu - Barb and Andrew left yesterday morning. We will spend the week doing some boat work and preparing for our entry to Fiji, while waiting for the trades to redevelop for the 450 mile passage. We are also waiting for news on wednesday of a new addition to the family for John, Ingrid and Lewis - a very exciting time.

S/Y Boundless 1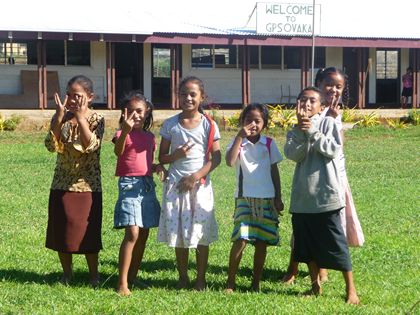 ---