Shelter Bay Marina, Colon

Boundless 1
Richard Clennett
Thu 24 Mar 2011 14:45
9.22.14 N 79.57.03 W
After a good beam reach in big seas, overcast and squally conditions, we anchored in Portobello. Poked our nose behind Isla Linton, but a forest of masts sheltering from the weather encouraged us to move on to Portobello, a much bigger, more protected bay.
We didn't realise until ashore that Potobello is a UNESCO World Heritage Site - hard to be convinced really! The town dates back to 1597 when it was founded as a trading port for Peruvian gold coming across the Camino de Cruces (Isthmus of Panama) on it's way to Spain. The system of forts built around the bay was huge, and we stood behind the cannons, still in place, of the Santiago de Gloria Fort and could well imagine it under seige by Sir Francis Drake! The huge Customs House has been restored several times over the years and through it in those heady days passed 1/3 of the world's gold!
The town also lays claim to the Black Christ of Potobello (so called because of the ebony coloured wood from which it was carved!), to which there is a huge annual pilgrimage. We have now seen the Black Madonna (Italy) and the Black Christ!
This is all supported by the dirtiest, tumble down town I think I have ever seen.
We tied up at Shelter Bay Marina after crossing the shipping lane through the breakwater into Colon and the Canal. We counted 60 ships inside and outside the breakwater! Cristobal Port Control were very helpful on the VHF, monitoring us and informing us when it was clear to make a run for it! The Marina has all the facilities one could wish for including, fortunately a great swimming pool. As it's miles from Colon (on the other side of the canal) it's not easy to get away. There is a twice daily shuttle bus which runs to a shopping centre and on into Colon, although it is not recommended to wander there! Securiy is ever present including pistol wheeling guards in the supermarket! We had hoped to transit the Canal on the 27th of March, but due, to quote our agent Erick "It all happen on the week of March 4 - 9th during Carnival holidays that Transit Advisors did not sign in to work causing the backlog of yachts waiting for transit". So - our date for transit is now April 2nd - very frustrating but nothing we can do about it.
Fortunately most of the boats in the marina are heading the same way as us, so there is a great camaraderie and swapping of info etc, not to mention the daily Happy Hour which often turns into a "session". We have met some fun people and caught up again with others we have met along the way.
Tuesday was spontaneously declared a national day of mourning for an ex Vice President who died of natural causes! The sign on the bar explained that there would be no alcohol sold as a result and appologies for the "incontinence!"
Barb and John arrived in Panama yesterday and we will make plans today to meet up in the next few days. Unfortunately I think we are stuck here in the marina as there is a remote possibility our date could be moved forward and it we are not here we are told, we miss out on that date and our April 2nd date! I have done an enormous provisioning run to the supermarket and have everyhing stowed, which I am getting better at. The duty free zone here has enabled us to also stock up on Gin and Rum (for trading in the pacific of course) at excellent prices!
The terrible photos of us are just to reassure you that we are very much alive and well..............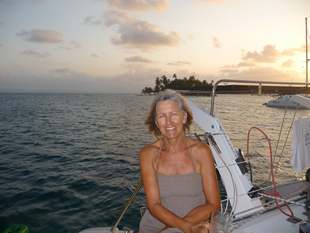 ---