Manihi, Tuomotos

Boundless 1
Richard Clennett
Tue 17 May 2011 20:04
14.27 S 146.02 W
Our island tour of Hiva Oa meant a long day of driving in a 4 wheel drive up and over the sharp ridges of the mountains, partly on dirt roads and with Marie Jo driving like a dervish! As there were 6 of us, 3 sat in the back on bench seats each way - great view, but very bumpy and dusty. We visited two ceremonial sights that had been partly restored. Very interesting, particularly as Hiva Oa was reputedly the last stronghold of cannabilism in the islands.One site had the cooking "hole" in a huge stone platform where the sacrifices were placed -spooky! At another site there were many tiki's in various states of decay. Both sites in peaceful settings - on hillsides under the towering mountains and all looking out to sea. The last stop was to visit the "smiling tiki" , off the main road down a slippery muddy track! The time frames for the constructions is very vague. In the cemetery are the graves of Paul Gaughin, who spent his last years on the island and Jacques Brell - a Belgian singer. Local lunch on the NE coast consisted of rice, raw fish in coconut, tough goat casserole, breadfruit french fries, and banana every which way! The following morning we visited the Gaughin museum and his restored Maison du Jouir" (House of Pleasure) before stocking up on veg / salad (lettuce only available in very small quantities and every other day!) from the truck in the main street and then heading off to the island of Tahuata, where we spent the night in a beautiful bay with a white sandy beach fringed with palm trees. First swim in clean, clear water since the San Blas Islands and the seemingly ever present water line algae was removed again! A bay we could have stayed in longer, but we are on a time line now to get to Papeete by the 27th to meet Sues, Rob, Olivia and James and then Kate on the 3rd of June - which we are very much looking forward to.
We departed friday morning for the 480 mile crossing to Manihi. The first 24 hours was great sailing in 20 knots of SE breeze and we covered 200 miles, but from there the wind decreased until there was no wind and the sea was "oily" calm, so the last 2 days after many sail changes we motorsailed (lack of wind 2 days before it was forecast!). Sunrise and sunsets magnificent with reflections on the smooth sea. No fish seen or caught, no other boat seen or heard ( although there is a single handed catamaran sailor on that route that hasn't been heard from in over a week and people are getting very anxious about him)and all in all a very uneventful trip.
We arrived at Manihi too late for the midday low tide to enter the lagoon and the high tide was forecast for 4.33 pm. The rule of thumb is that you enter the pass into the lagoon at slack water which is approximately 1 hour after each low or high tide. This would have meant we would enter at dusk and then navigate to the anchorage in dark - not good.
After some discussion with another yacht already in the lagoon on VHF, we decided to enter the lagoon just before high tide, having sat outside for an hour and a half and watched the water movement. This we did at about 4.15pm with no difficulty. We passed some locals snorkeling (free diving to 90 feet!) in the entrance to the pass, who very quickly came up behind us in their boat and one of the yachties who was with them jumped on board and guided us to the anchorage which was a great help even though the lagoon is well marked - there are many sandy shoals and pearl farms - either active or unused in the lagoon. There are 6 other boats in the anchorage and we were greeted like long lost friends! After a celebratory drink with a couple of our new friends, we were ready for bed well before cruisers midnight!
Today we will explore the village (population of atoll approx 600 people) - the welcoming percussive sound of drums as we waited outside the pass yesterday afternoon is luring us there to explore........ A dinner is planned ashore at "the hotel" tonight. Fernando -fisherman, pearl farmer and cruisers friend can organise anything and everything and we will catch up with him this morning and arrange for a deisel delivery, and then there are the black pearls.......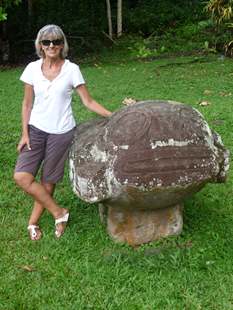 ---