Return to Papeete

Boundless 1
Richard Clennett
Sun 19 Jun 2011 02:49
17.35 S 149.36 W
The weather was not particularly kind while we were at Bora Bora, with wind gusting to 30 knots and frequent rain showers. However, we had some good times, a lot of laughs and some good snorkeling. A family dinner with Rob, Sues, Olivia, James, Kate and Dave at "Bloody Mary's" - a local institution with a great atmosphere and sand underfoot in the restaurant was good fun, but service very rushed which was a shame. We were amused by the security guard on crossing duty to ensure patrons got safely across the road to the dinghy dock!
Kate and Dave went wake boarding the next morning, with Dickie and I in the boat as ballast! Unfortunately (don't laugh those of you who know me well.....) as Dave took a tumble, the ski rope flipped over my head, taking my latest prescription sunglasses with it and jettisoning them into 30 metres of water - now, how could that happen??????? I certainly don't have a good record with sunglasses on boats!
A walk ashore in the town revealed a supermarket, coffee shop, many pearl shops and not much more. There are many lovely looking resorts - bures over the water, around the lagoon, but not a lot of activity otherwise.
Dickie, Dave, Kate and I spent one afternoon in the dinghy in the gusts and showers, looking for coral gardens which were marked on the map so we could continue our snorkeling exploits, but after several downpours and many laughs we gave up! Also dinghied to Matira Beach, lovely sandy beach and clear water. The GFC has certainly had a huge impact on tourist numbers here.
And then it was time for Kate and Dave to head back to Papeete - so we headed to Raiatea in decreasing wind and seas so they could hopefully catch a flight out the following morning while we waited for the wind to abate before limping back. With the help of Robbie's friend at the "Moorings" charter base, transfers and flight times and accomodation in Papeete were all organised and we all enjoyed a final BBQ lamb dinner together on "Boundless".
Of course the next morning dawned still and clear, as we dinghied Kate and Dave in to meet their shuttle and sadly say goodbye. After reprovisioning we headed to Motu Taomu,
in the entrance to Passe Teavapiti where we spent the rest of the afternoon snorkelling in the pass and exploring the reef and then had dinner with Sues, Rob Olivia and James on their boat.
Wednesday morning early we headed for Moorea, motor sailing with very little wind, anchoring in Baie de Opunohu at 2.30 am on thursday morning. The passe through the reef is well lit with, lead lights, and we had been there the week before so headed straight for the anchorage.
Up for a swim in the lovely clear lagoon, before hearing that the head had arrived and work could begin on the engines on friday and our marina berth was waiting, so we hotfooted from there to Papeete.
The helpful marina crew again helped us moor stern to on the outer wall and then we enjoyed dinner with Sues, Rob, Olivia and James at their hotel before they caught the 1am flight home.
Bob and Elaine from Pipistrelle, who we met in Las Palmas and who also sailed in the ARC are herein the marina, so we had an excursion to the roulottes last night with them and are heading to the Intercontinental Resort with them tonight to watch the "Grande Danse de Tahiti" reenact the dance that seduced the crew of HMS Bounty !
Andrew arrives later tonight. The engineers will return on monday and hopefully we will then have an idea of when we can head back to Moorea and continue our journey.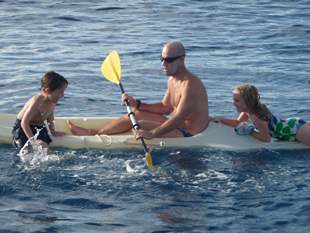 ---