Brest to Iles de Glenan

Moondance
Chris & Sally Longstaff
Sun 23 Jul 2006 17:41
To Brest
A very windy and troubled night in L'Aberwrach, leaving us with a few frayed nerves, and no Bow Thrusters !
On to Brest, via the inside track at Ushant and down the notorious Chenal du Four. Exhilarating sail with the wind and a good sea behind. 30 knots gusting round Ushant and into a gentle breeze while we ate lunch in the Chenal du Four. Which was jolly considerate. Around the headland and another blast into the estuary at Brest ….in the company of an Ovni, a very fast Cat and a rather snooty Oyster (wouldn't wave at Maddie, or make faces back at me)
As we reefed our sails, a most beautiful sight….another Southerly 135 with full cutter rig at full speed across our bows! Cinquante
A day of rest while we take additional crew (!) and their baggage (!!) on board…….Florence, Katherine and Tara. Friends of Lauren.
Cinquante are arriving to refuel……and talk Bow Thrusters!
PS John and Carol arrived and were a great help and very encouraging in all matters of free-spirit cruising……despite us accidentally arcing their own B/T in an exploration of wire location!
New crew retired to beach for essential conditioning.
Belle Ile
Lovely weather, not very much wind but nevertheless we have arrived in paradise.The Iles de Glenan only accessible in good conditions, they could not have been better.
We found James who is on a course at the renowned sailing school here and had a BBQ on the beach watching the sunset.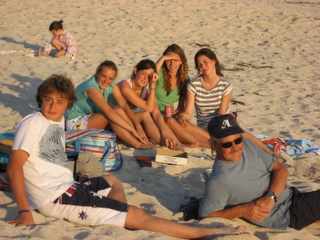 A late read of a late British newspaper tells us of the Israeli strikes against The Lebanon. Is the grotesque and barbaric nature of this accentuated because we are in such a beautiful place and time?
James tells of hostility towards the lone American boy here at the sailing school (and to some extent against the English). A small weather vane on the mood in Europe? Suntan lotion squirted in the eyes of a young American boy. The perpetrator was expelled from sailing school, but will no doubt harbour more resentment at home.
And finally from the IIes du Glenan ….an experiment in anchoring (not being discussed further here) saw Moondance drift serenely out of the channel towards the open sea at a very late hour while skipper and crew were on the beach. This business of sailing maintains a serious and unpredictable edge. ……and there is a fine line between adventure and disaster. We sail on………
---