Preparations and Farewell Party

s/y Geronimo - Atlantic Crossing Autumn 2011
World Wide Water Events B.V.
Sat 19 Nov 2011 18:18
The last days were a nice variation between works in preparing the provisions and relax at many parties. Buying enough food for six men for an ocean crossing would not be a problem in Holland or Scandinavia. But in Las Palmas, things are different. The shops are closing at the most unexpected hours, for siesta, fiesta or something else the ma

ñ

ana Spanish came up with. This resulted in about six rides to the city center, lots of nice discussions with local grocers, and hours of strategic stowing. Some details of our shopping list: 1 pata negra, wasabi (for the sushi to catch), duck breast. Conclusion: with Chris as Captain Galley, we will survive in the most pleasant way.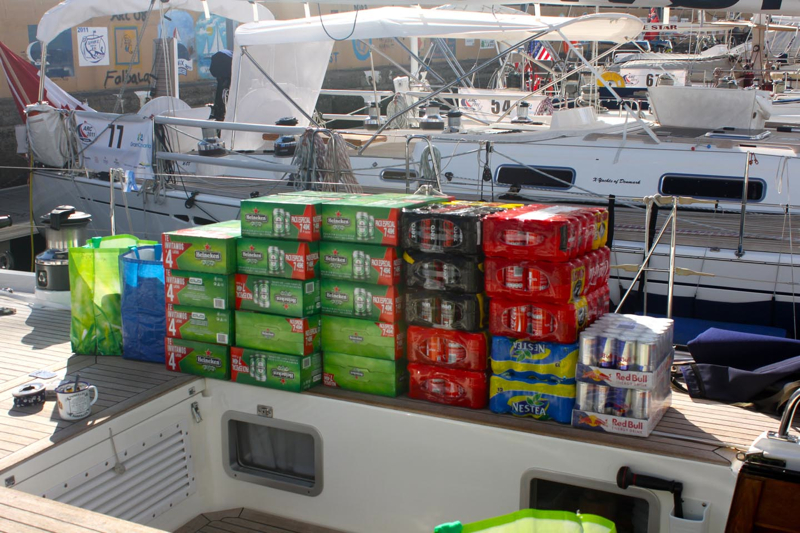 Some of the drinks that needed strategic stowing
Besides the hard work there has been enough time for meeting the other teams, dancing at crazy fancy dress parties, and the 'borrel' we organized for the Dutch participants at the Geronimo decks.
Dutch Party - borrel - onboard Geronimo
Tomorrow 14:00 Central European Time the ARC2011 will start. We will start, and be on the ocean for two or three weeks. Getting off with 220 vessels under the supervision of the Spanish navy, helicopters and lots of smaller boats, will be a hectic but beautiful experience.
---