Camarinas, Muros and Ilas Cies

Freespirit
Sun 10 Sep 2006 15:48
Leaving our berth (right) in La Coruna with Real Club Nautico in background
Since La Coruna we have had very little wind, some sun, a bit more fog (always at the vital moment whilst negotiating a narrow channel with heavy traffic) and a lot of time spent creating or recovering from hang-overs. Camarinas was a mere 54 nm hop with a welcoming yacht club at the end of it. We arrived and it was apparently dead. On closer inspection we discovered the bar and a delightful lady behind it took one look at us and agreed to make a piella from scratch especially for us. It was very good but judging from the impact on the crew I am thinking of using a similar diet for the Atlantic to reduce wear and tear on the heads.
We had a very fruitful morning having breakfast ashore and finding the local fishing shop right at the back of the town. Using paper and pen, pigeon French and sign language we set ourselves up for Atlantic fishing for under €100! Very excited, we set off for Muros trailing 2 hand lines on bungee cord off the back of the boat. The results so far have been less than satisfactory. One lure has been taken by some enormous fish that got away (unseen by us, of course); the other pink skuid lure has attracted a flock of seagulls continuously for the last 3 days and proved so attractive that one of them unfortunately got caught up in the hook and had to be freed by Angus. Final score - Free Spirit zero, fish one hundred and eighty! We are beginning to suspect that the Camarinas fishing shop might have been manned by a representative of the Spanish fishing union. Whatever the cause, more work is required if we are to live off fresh fish crossing the Atlantic.
Tim concentrating very hard as skipper for the day, leaving Camarinas
Muros was a lovely little fishing town. After several attempts to get the anchor to hold we eventually swung peacefully in the bay and launched the dinghy to go ashore. A very authentic looking bar and restaurant tempted us in with excellent calamari with the first beers and then proceeded to dump on us some of the worst cooking that we have had so far. We struggled through and wandered the back streets to find solace in a couple of digestive aids. After nearly flagging at the penultimate stop we found an excellent little place on the sea front and let ourselves out after it became obvious that we were keeping the barman up late. Surprisingly, no-one was lost over the side as we returned in the dinghy to our anchorage.
Muros - good place, long way back in the dinghy
Angus was a little slow to get going the following morning - we thought it was probably the fish. A viscious session of swabbing the decks soon had him put to rights and we motored AGAIN with no wind and fog to Ilas Cies. There was some sun, more unsuccessful trawling, tuna pasta for lunch; the water maker stopped working but to compensate for this disappointment I made bread on board for the first time. No-one is more surprised than me at the stunning success of the bread making skills kindly passed on to me by Simon Tuckey in Seaview last week but it really is a revelation to be able to create fresh bread so easily. If only we had the fish the experience would have become biblical. We had a solitary anchorage to die for on the Ila del Norte (part of the Ilas Cies nature reserve) and plunged in for a bracing swim in the late afternoon sunshine. Wonderful.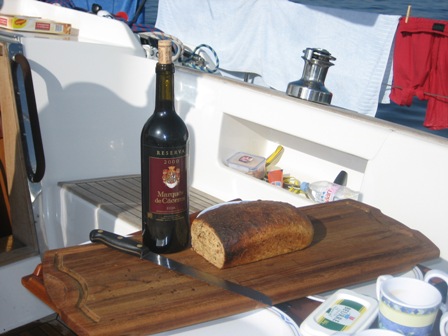 Loaf, no fishes!
Supper on board (you may have noted that we are not stinting too much on the food and drink) and we went ashore on a beautiful sandy beach to explore. A couple of bars, table football and pool. What more could a chap wish for? We were not too late back and turned in for an early start to provision and lunch in Bayonna and move down to Vienna do Castelo in the afternoon.
A couple of circuits round the boat should soon shift that carbo-loading
Alone at anchor in this bay - Ilas Cies
---