Day 12 - 850 nm to go

Freespirit
Fri 8 Dec 2006 22:26
We are currently at 16 14N and 46 45W and probably less than 5 days from the finish line. It has taken us almost 48 hours to return to our fast downwind sail plan after the breakages and problems on Wednesday. Yesterday we repaired the damaged spinnaker track but did not find a suitable opportunity to raise the genoa again. We sailed overnight with the reefed main and jib but it was a bit slow in spite of strong winds. This morning we set out to switch back to the genoa and started to experiment with sail changes at 1000. With a short break for lunch, it took us until 1900 to get back to the twin headsails on the right course for the finish. Basically, the wind kept shifting, putting us on the wrong gybe and each time we got ready to put up the genoa the wind came up too much to risk it unfurling as it went up. Whenever there is cloud cover and squalls around, the wind veers about 20 degrees and the particular course we wanted to steer today required us to switch the sails from one side to the other four times. Each attempt at a sail change needs at least 4 of us on deck and takes a fair amount of setup time with the sea we have running and the wind strength. Anyway, we finally got settled at dusk today, the speed has gone back up to 9+ knots and we are gunning for a few more places over the next 4 days.
Wattie was on domestic chores today so we have eaten like kings all day. We celebrated the 1000 nm to go milestone a day late at lunchtime today and are starting to turn our conversation to the arrival in St Lucia, the choice of first cocktail in Rodney Bay, whether we will be seasick when we get on dry land after over two weeks of this motion etc etc. The start seems a very long time ago but the days have rushed past and merged together so that none of us can quite believe that we have been at sea for 12 days.
The boat is moving around quite a bit as we have started to surf again. The noise level is up and there is a very annoying roll from the seas behind us. But we are happy to be fast again.....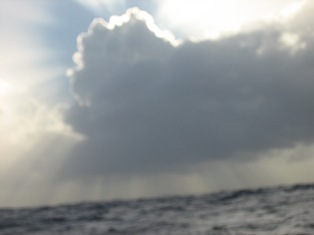 A classic Atlantic squall - this one missed us!
Wattie cooking chicken satay...some of it stayed off the floor!
---