Day 3 - 24 45.7N 18 27.0W

Freespirit
Tue 28 Nov 2006 10:58
After a slow night under a reefed main and goosewinged jib we have finally switched to the downwind Atlantic sail plan that I set up with Pete Sanders (whilst walking in the Lake District with Sally's parents in July). Colin has taken a wide-angle photo of the rig with a contraption that only he could have brought along on this trip and I will try to get it onto the blog shortly. We are restricting ourselves to one photo per diary entry so will try to make them worthwhile.
The crew were a bit mutinous yesterday after about 6 hours of hard work with the spinnaker so we have calmed everything down today and will probably leave this arrangement up for most of the trip. It requires no attention for most of the time (unless we get hit by a squall) and allows us to sail dead downwind, which is how the trades run to St Lucia. I have initiated a new watch system to allow rotation of the pairings with 5 crew instead of the original 6 planned and we are settling down very well.
We are fairly keen to get a position report having received nothing yet from the ARC so if anyone has seen the ARC website placings map please email us our rough position.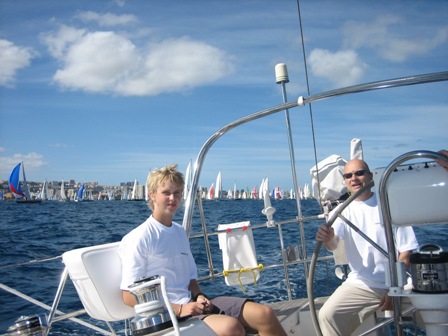 Looking back at the fleet just after the start!
---