23/05/2018

Saro's Gyda
Derrick Thorrington
Sat 9 Jun 2018 19:03
A relaxed start was followed by the "need for a bit of exercise" so the OS map was scrutinised and a run devised on the opposite side to Salcombe. A nice little circular route taking in East Portlesham. It was actually lovely except for the bit where the map showed heavily bunched contours. This represented a very long and very steep hill, upwards of course. We both managed to puff our way up and the reward was that the rest of the run was gently downhill.
The day was hot and sunny and Salcombe was pleasantly quiet. We enjoyed a potter in the town, a few little jobs (D) and a little swim (A). Lovely!
We set off mid afternoon as planned, to time our arrival at the Chenal du Four for the right state of tide and enjoyed a rather slow but very relaxing sail in the sunshine, watching the coast gradually disappear. After dinner the wind died so we had to resort to motoring.
Mine was the first watch. The sea was smooth, it was pleasantly warm and as the sun went down, we were accompanied for more than 2 hours, by pods of dolphins, zooming in from both sides and playing alongside and at the bow. The wind gradually filled in just right for D's watch. We hoisted the sails, poled out the genoa and set our new wind pilot, Hydra, to steer for us. The night passed uneventfully despite the large numbers of ships and fishing boats around us.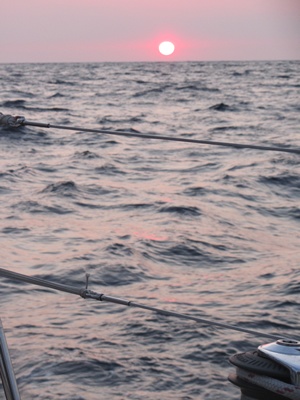 ---