01/07/18 Pembrokeshire

Saro's Gyda
Derrick Thorrington
Sun 8 Jul 2018 15:57
The next decision was whether to try to continue east and have a good look at the Bristol Channel or whether to head north to Pembrokeshire and then to Anglesey. The winds for the next few days favoured Anglesey so off we headed for Milford Haven. From Padstow area this was a mere 70 miles, a day sail!
After making this decision we were treated to the most glorious sunset in the west and a simultaneous moonrise in the east. Amazing!
Initially there was no wind so we had to motor for the first hour. The wind then suddenly arrived from the NE and aalmost immediately built up to a F6. We had a great sail in the sunshine, this time visited by Bottlenose dolphins as well as the more common, Common dolpins! We marvelled at the size and power of the bigger bottlenoses compared to the prettier and smaller commons.
After dashing along for 8 hours the wind suddenly stopped so we motored the last 2 hours, finally coming to anchor in West Angle Bay in the entrance to Milford Haven, a gorgeous rocky armed bay with a big sandy beach at it's head.
We spent the following day walking around Angle Headland, enjoying the interesting little village on its lagoon on the opposite side of the headland and couldnt resist a dressed crab salad at the little cafe on the beach before returning to Saro's Gyda. (D rowing, A swimming as usual! You can imagine the comments that we get...)
Angle Dinner. Moules a la cidre et creme. "Hand gathered Polzeath mussels"!
Skomer was our next port of call. We were keen to see if there were as many puffins there as when we last visited in 2007. We were not disappointed. We found our way into the little bay on the south side of the island, into a world of puffins, puffins, guillimots, puffins, razorbills, puffins and fulmars with a few oystercatchers to make up for the raucous din put out by all the auks en masse.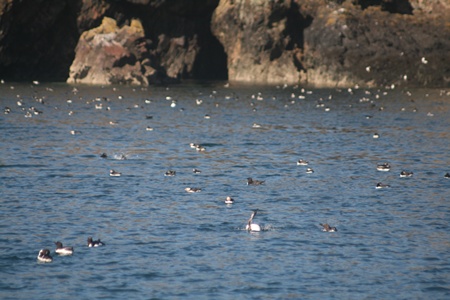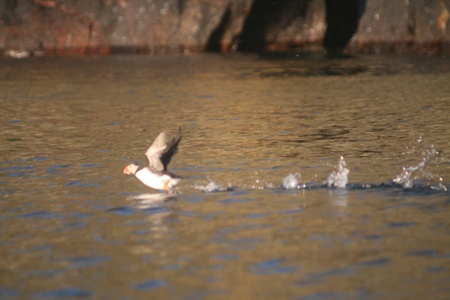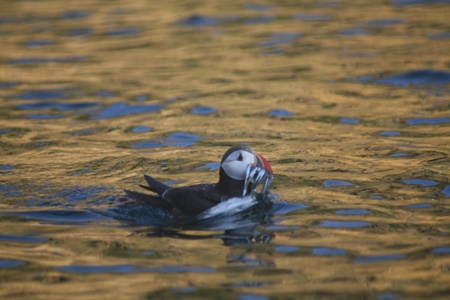 The wind was not being very helpful for going to Anglesey, consistantly blowing from the N or NE. More debates as to where to go. Whilst pondering this we enjoyed a few more days in Pembrokeshire, anchoring off St Davids Head on another (non) surfing beach and having a good circular walk and then revisiting one of our favourite little ports, Solva, set in a deep cleft in the high cliffs. An extremely pretty village, harbour and rugged hills surrounding. Very friendly harbour master who, on our first visit encouraged us to dry out against the quay due to a forecast gale and then announced that there was no charge as we were "Stormbound"! Lovely.
---