The Canaries 29,14.00N, 13,30.00W

Saro's Gyda
Derrick Thorrington
Thu 11 Nov 2010 20:08
We had eventually come to the end of navigable Portugal and therefore the obvious question was "What next?" We had had quite major wobbles about setting off across large expanses of ocean but now, with the encouragement of our sailing friends, we plucked up courage and bravely headed out for the Canaries. 580 miles of Atlantic, approximately 5 days and nights at sea.
We had a good forecast of NE winds for the whole time so settled down to a routine of 3 hourly watches at night (0800 – 2000) and taking turns to catch up on sleep during the day as and when required. We both expected the long hours of darkness to be a bit tedious but surprisingly, after a couple of nights settling in to the routine we both found the nights more interesting. We had no moon so were treated to 5 gloriously starry nights. The astronomy book came out and several planets, stars and constellations were identified. It was interesting to notice how the positions of the stars changed overnight.
The only downside was a crick in the neck from looking up for too long. (Does anyone know of a physio round here?) Thankfully there were few ships and fishing boats to worry about when we were off shore so other night time activities included reading, tidying out the food lockers, trying to learn Spanish and contemplation whilst watching the bright trail of phosphorescence.
Sunset at Sea
The first day was a bit lumpy so we were unable to do much but after that we were both able to read and conduct our lives surprisingly normally, even sitting down at the table together for most meals. We had 2 days of good strength wind, approx F4, but after that it became very light. We were not able to use our engine constantly as our fuel capacity is limited, so sometimes progress was rather slow. Highlights of the days were seeing pilot whales, having dolphins play in the bow wave and wake, a conversation over VHF with a skipper of a huge motor yacht and a call from the Moroccan Navy asking us to clear the area!
We had set off on Tues 2nd Nov at and by sunrise on Sun 7th were in sight of land, seemingly great lumps of rock on the horizon. These slowly materialised into small individual islands off the N coast of Lanzarote and the slightly larger island of Graciosa, our intended landfall.
We were amazed at the islands that we passed, each one simply an erupted volcano, slopes, craters and the occasional cone. Very black soil and sparse scrubby vegetation. Actually stunningly beautiful rising out of the blue sea.
Land Ahoy Northern Lanzarote
Bt 1430 we were tied up in the little marina in La Sociedad, the only occupation on the island, 6 x 3 miles in size. We immediately got to know our neighbours, two French couples with excellent senses of humour, and reacquainted ourselves with other people, previously encountered on our voyage.
After a bit of a rest, the following day we set off to explore. Walking through the little village and out into the hinterland this place felt far more African than European with it's hot barren landscape, heat and absolute aridness. We circumnavigated 2 volcanoes then returned for a welcome dip.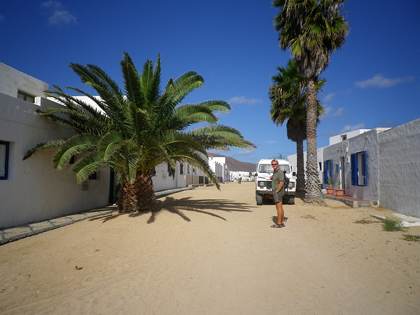 The main street. The main road.
We noticed a 26ft Folk Boat in the marina and so went to say hello. The result was and invitation to Green Flash and several beers later, the young German couple had become firm friends. They are also intending to cross the Atlantic. He is a Naval Architect and she a Physio!
The cliffs of Lanzarote from Graciosa.
Heading off to Lanzarote next. It sounds very interesting.
---